UNDERARM SWEAT PADS
For light to moderate sweaters, armpit pads offer added protection for those unruly sweat events. How do you know if underarm sweat pads will work for you?
What Are Underarm Sweat Pads?
Underarm sweat pads are pads attached directly to the skin or armpits that absorb sweat. Also called garment guards, sweat shields or armpit pads, underarm sweat pads come in a few forms. The most popular armpit shields are peel-and-stick disposable pads. Others are washable, reusable cloth pads. They work best when applied to dry, clean-shaven armpits. Types of underarm sweat pads include:
Garment shields that fasten around the torso or clip onto a bra
Adhesive, underarm sweat pads that adhere directly to the skin
Sweat pads that stick to the inside of your clothing
Washable pads worn with snaps, tapes, pins or sewn in
If you experience extreme underarm sweating or have sensitive skin,
underarm sweat pads are not recommended.
The Dark Side of Underarm Sweat Pads
Underarm pads do not work for everyone and have significant downsides. Sticking sweat pads to
your skin and clothing every day creates a host of issues. For example:

Armpit pads are often visible through your shirt. Underarm sweat pads are thick and bulky. Depending on the style and type of fabric, they are often embarrassingly visible through your shirt.

They cause rashes and skin darkening. The adhesive on armpit pads and the daily application can irritate skin and leave it darkened or discolored. The pads can also be painful to remove

One size doesn't fit all. Underarm sweat pads typically only come in one size and don't always fit properly. If you're using an adhesive pad, once it's stuck, it can't be adjusted easily.

They're heavy and uncomfortable. Underarm sweat pads trap sweat in place. Over the course of the day, sweat loosens the sweat pad's adhesive qualities, causing leakage and extra uncomfortable weight.

Sweat pads require embarrassing maintenance. Sweat pads don't always stay in place. They can get heavy, fall off or need to be switched throughout the day.

They can ruin your clothing. The adhesive on some sweat pads leaves a sticky residue that's difficult to remove from clothing. They're not great options for expensive fabrics or special items of clothing.
They add daily frustration. Using sweat pads daily adds another frustrating step to your routine. From applying them daily to ordering a weekly or monthly supply, sweat pads add another task to your to-do list.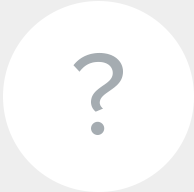 Who Do Underarm Sweat Pads Work For?
Underarm sweat pads don't solve the problem of sweating and only work in unique situations.
If you suffer from occasional nervous sweating or just need extra protection for a presentation, they are a good temporary solution. But if you sweat profusely or have been diagnosed with axillary hyperhidrosis, underarm sweat pads aren't a sustainable option.
An Effective Alternative to Sweats Pads
If you're a heavy sweater, you need a sustainable solution to underarm sweat. Fortunately, there's a less annoying, natural and economic alternative to underarm sweat pads. The secret is in your undershirt.
Thompson Tee sweat proof undershirts keep you dry and confident all day long. The Hydro-Shield technology is integrated in the underarms of every Thompson Tee to completely block sweat and odor. The ultra-thin, durable hydrophilic membrane is secured in a layering and stitching system so you don't have to stick, sew or attach anything. Just throw it on and go.
Here's how it works. The lightweight Hydro-Shield technology traps heat and moisture. As you move, the unique design allows sweat to evaporate so it doesn't seep through to your outer layer. The result? Relief from wet marks and yellowing that quickly destroy your clothing and confidence.
Unlike bulky underarm sweat pads, the sweat proof barrier stays put throughout the day, so you don't have to adjust the placement or worry whether it's visible to others.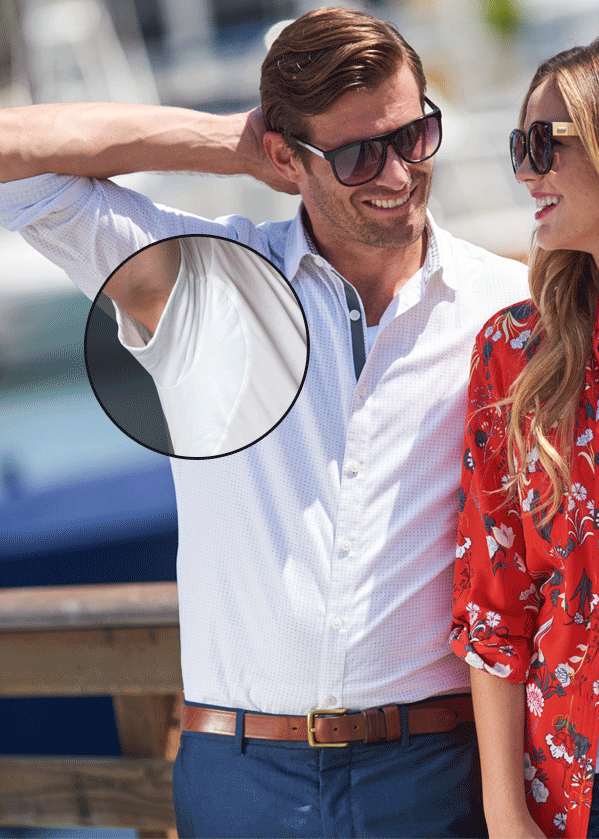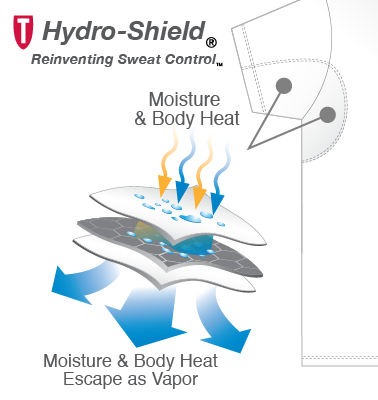 The Only Integrated, Truly Sweat Proof Underarm Barrier
To fight the appearance of sweat marks, Thompson Tee co-founders Billy and Randy spent more than 10 years designing the only patented sweat proof barrier called Hydro-Shield, which is embedded in the underarms of every Thompson Tee to fight sweat all day long.
Hydro-Shield sweat proof technology consists of an ultra-thin and durable hydrophilic membrane within a fully integrated layering and stitching system engineered to block moisture.
This lightweight layering system traps heat and moisture and allows it to evaporate rather than seep through to your outer layer – providing relief from wet marks and yellowing that quickly destroy your clothing and your confidence.
And the sweat-blocking effect won't wash off over time. The sweat proof properties are native to the shirt and aren't made with chemical treatments found in many water-repelling fabrics.
Unlike bulky underarm sweat pads, the sweat proof technology stays put throughout the day, so you don't have to fuss with adjusting the placement or worry whether it's visible to others. Most importantly, you eliminate embarrassing wet marks and pit stains – all while wearing a comfortable and breathable T-shirt.
What are other people saying about The Thompson Tee?
Thompson Tee Withstands 150 Degree Weather
TV reporter Jason Pederson put the Thompson Tee to the test by exercising in 150 degree weather to definitively answer just that.
Check out his results after running 500 yards and hundreds of steps in a dress shirt and Thompson Tee.
Thompson Tee Customer Shares His Story
Working in corporate sales operations, Joe Dopirak was desperate for a solution to his embarrassing underarm sweating, but nothing seemed to work. Then he found the Thompson Tee.
Watch this video to learn how the Thompson Tee helped Joe subdue the effects of hyperhidrosis, avoid invasive treatments and medications and regain his confidence.
"Results may vary based on individual user and are not guaranteed."
Try a Thompson Tee For Yourself
RISK FREE FOR 30 DAYS
We gladly accept returns or exchanges on all opened or used Thompson Tee shirts up to 30 days from purchase date so feel free to wear it, wash it and try it.