Are Armpit Pads Right for You? The Best Underarm Shields for Sweat
Armpit pads, garment guards, dress shields – you may have run across these products when looking for a solution to underarm sweating.
But how do you know if they are the best solution for your problem?
Let's be honest, for many like myself, deodorant or antiperspirant just aren't enough to keep you dry throughout the day.
To avoid pitting out in public and ruining expensive clothing, some people turn to armpit pads for extra sweat protection.
But not all underarm sweat shields are created equal. And it's important to understand the differences before putting them to the sweat test.
What Are Armpit Pads?
Armpit pads are disposable cotton pads that stick to your skin or clothing to absorb excess sweat. When applying directly to the skin, armpit pads work best on dry, clean-shaven armpits.
Some underarm sweat pads can handle more than one use. For example, dress shields, garment guards and garment shields are washable, reusable shields that attach to your clothing.
There are different types of sweat pads & shields on the market, including:
Garment shields that fasten around the torso or arm
Underarm pads that adhere directly to the skin
Sweat pads that stick to the inside of your clothing
Shields that must be worn with snaps, tapes, pins or sewn into your clothing
Armpit shields that attach to clothing such as a bra
Will Armpit Pads and Sweat Shields Work for You?
If you'd classify your sweat as light to moderate, armpit pads can help block the appearance of underarm sweat stains. However, there are situations where armpit sweat pads aren't the answer:
1. When wearing expensive clothing
When wearing sweat pads that attach to your clothing, the adhesive can stick to your shirt and potentially ruin it. It's best to avoid sticking them onto expensive materials, dress shirts or any clothing you wouldn't want to potentially ruin.
2. When wearing very loose-fitting clothing
Sweat pads that adhere to the inside of your clothing don't always capture all the sweat. If the underarm of your shirt or button-down doesn't sit closely to your underarm, sweat may find a way to soak into your shirt instead.
3. When wearing very tight clothing
Sweat pads can be visible when worn with tight-fitting clothing. You can trim the sweat pads to conceal their appearance, but it may undermine the sweat-absorbing effect
4. If you have sensitive skin
Armpit pads can leave a rash or cause skin darkening, so if you have sensitive skin, it's best to avoid sweat pads that adhere directly to your skin. If signs of redness or irritation occur, you should stop usage immediately.
5. In stressful or nerve-wracking situations
Sweat pads don't always stay in place and often require embarrassing maintenance. Sweat can also loosen their adhesive qualities, causing leaking. If you're giving a presentation or in any stress-inducing situation, you may want to opt for another alternative so you don't have to fumble with the sweat pads in public.
6. If you have hyperhidrosis
As a sufferer of axillary hyperhidrosis, I've tried nearly every product imaginable to contain my underarm sweat, armpit pads included. When using them, however, they began leaking within a matter of minutes and did nothing to release the sweat, so they felt heavy and loose. If you also sweat profusely, armpit sweat pads may not work.
The Top 5 Armpit Sweat Pads
You have many options when it comes underarm sweat pads. Here are the best armpit pads for stopping sweat:
The Best Underarm Pads — The Only Integrated, Truly Sweat Proof Barrier
Stick-on pads never worked for me — so I spent over a decade developing a safe and affordable solution to excessive underarm sweating. Today, Hydro-Shield is the only patented sweat proof armpit pad on the market. And best of all, it's integrated into the underarms of every premium Thompson Tee undershirt.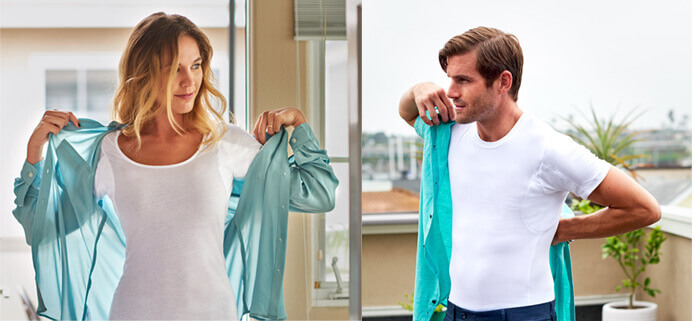 This lightweight layering system traps heat and moisture and allows it to evaporate rather than seep through to your outer layer – providing relief from wet marks and yellowing that quickly destroy your clothing and your confidence. Because the sweat proof properties are native to the shirt and aren't made with chemical treatments found in many water-repelling fabrics, they won't wash off over time.
Unlike underarm sweat pads, the sweat proof technology stays put throughout the day, so you don't have to fuss with adjusting the placement or worry whether it's visible to others. Most importantly, you eliminate embarrassing wet marks and pit stains – all while wearing a comfortable and breathable T-shirt.
If you've tried underarm sweat pads without success or just want a seamless, easy alternative, try Thompson Tee risk-free today!