Best Undershirts for Sweat
An effective sweat proof T-shirt saves you from embarrassing wet marks and yellow stains. Learn how to navigate the types of sweat-blocking shirts on the market and find one that works for you.
Your Guide To Choosing The Best Undershirt For Sweat
In the ongoing search for a solution to sweating, brands have unloaded thousands of products and jargon on hopeful consumers. Unfortunately, you may be left more confused and disappointed than relieved from excessive underarm sweating.
With so many terms like moisture-wicking, quick-dry and anti-sweat flooding the market, you may have trouble choosing the best product for your sweating situation and distinguishing the duds from the sweat-blocking warriors.
But by understanding how these fabrics work, you can choose the best undershirt for sweat, stop wasting money and start seeing results.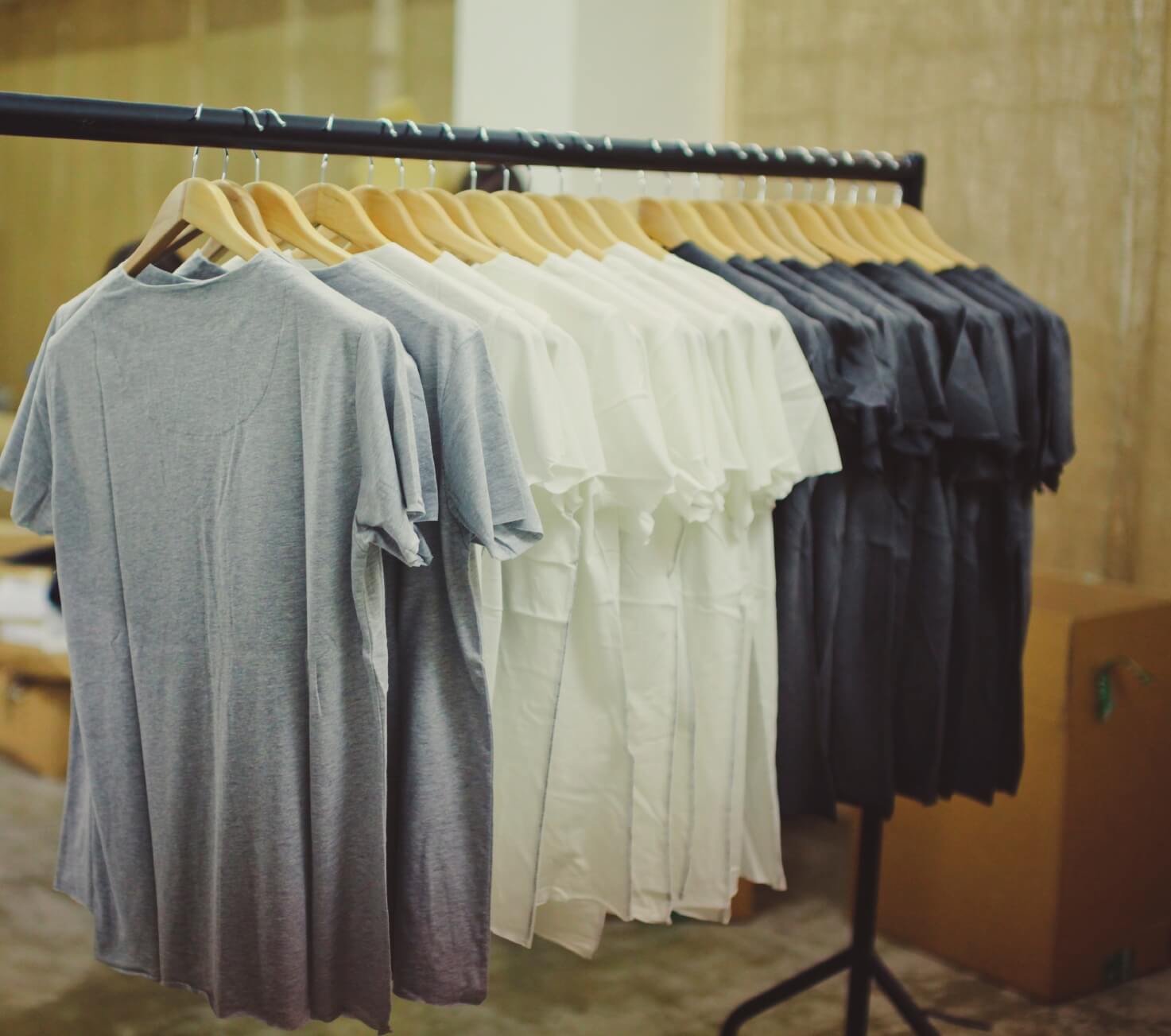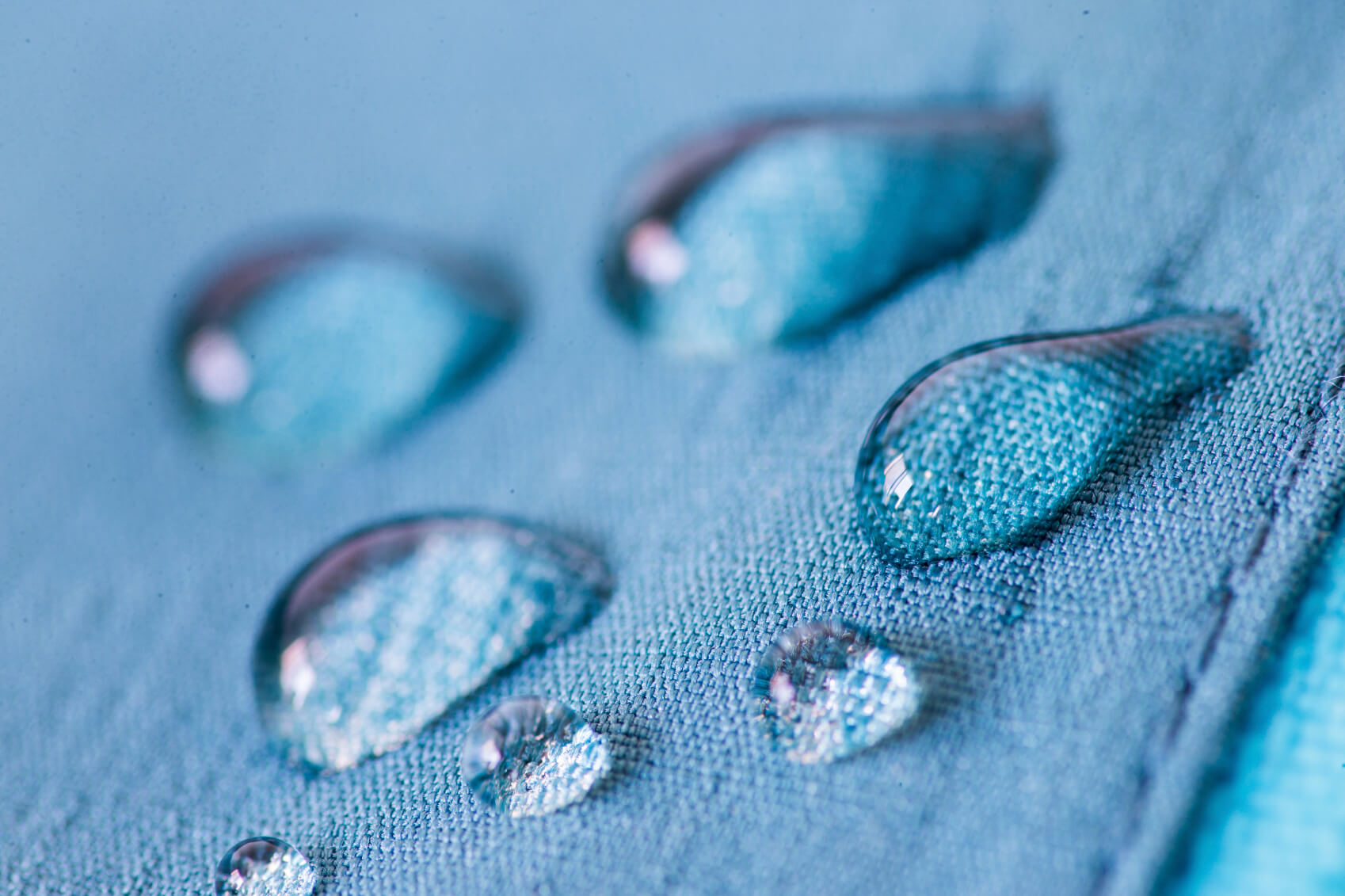 How Fabrics React To Moisture
First, it's important to understand how different materials respond to moisture. When most fabrics make contact with liquid, they generally react by repelling or absorbing it.
Fabrics that repel liquid push the moisture toward the outer layer where it can evaporate. Materials that absorb water lock it in and are more hard-pressed to release it.
"Wicking" - another term for repelling - is another common term used to describe many sweat-fighting shirts on the market. Shirts that wick sweat away from your body transfer perspiration away from the skin and push it through to the outer layer of your clothing.
In your search for a sweat solution, you can think of fabrics as water-loving (those that absorb moisture) and water-repelling (those that push it away). Here are a few common ones you'll find:
Natural, Water-Loving Fibers:
Cotton: Quality, lightweight cotton is one of the most breathable fabrics and offers some airflow for drying out the dampness. Because cotton is a natural fiber, it absorbs moisture rather than repelling it (forcing the sweat to sit on your skin).
Rayon from Bamboo: Rayon from bamboo is a high-quality, absorbent, breathable and ultra-soft material. It's also a hygienic and hypo-allergenic option due to its resistance to odor, mold, mildew and bacteria - even after multiple washings.
Linen: Linen is a natural fiber that is lightweight, breathable & absorbent. It also doesn't cling to the body, which can keep you feeling cooler.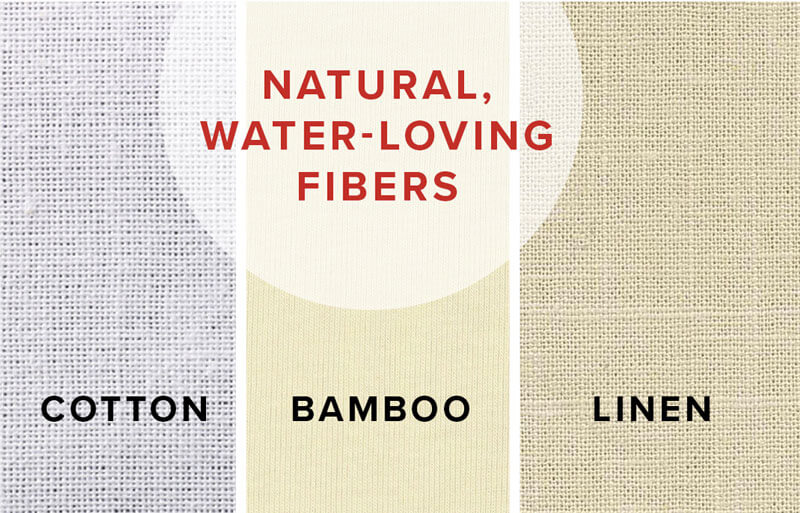 Synthetic Water-Repelling Fibers:
Polyester: Polyester is a durable yet water resistant fabric, but don't let these words fool you. "Water resistant" means it doesn't absorb sweat. Instead, the moisture sits on your skin or gets pushed to your outer layer.
Rayon: Rayon is lightweight & doesn't trap heat, but because it's a synthetic fabric, it repels water and doesn't absorb it (i.e., not a good solution for heavy sweaters).
Cotton/ Lycra Blend: While cotton is an absorbent fabric, when combined with lycra, it forms a heavy, deadly sweating combination.
How To Spot The Right Sweat Proof Shirt
Now that you know how natural and synthetic materials respond to wetness, it's time to find the fabric that will work best for your needs.
Before purchasing a 'sweat proof' shirt, you need to define your purpose. Do you want a shirt you can exercise heavily in and still feel cool? Are you searching for an undershirt that will absorb sweat and keep it from showing through your dress shirts or outerwear? Or do you just want to know the most lightweight, breathable fabrics for everyday use?
These situations will lead you to very different materials and products.
For example, if you're seeking a workout shirt that keeps you feeling dry and comfortable, you may be disappointed by a natural cotton T-shirt that contains and conceals sweat. Conversely, if you're looking for an undershirt to protect your dress shirts or outwear and avoid sweat marks, a dry-wicking shirt could make your clothes even wetter.
Here are some basic guidelines for three common sweating scenarios:
When searching for general clothing that will keep you cool, opt for natural fibers like cotton, linen or nylon, not synthetic ones (e.g., polyester, rayon, spandex).
For athletic-minded sweaters, dry-wicking fabrics can be effective. These shirts are usually made one of two ways. Either a brand alters the fiber or applies a laminate to make them more absorbent or blends water-absorbing & water-transporting fibers to offer the best of both worlds.

When searching for workout gear that will keep you comfortable and dry through heavy exercise, try to avoid shirts that have been coated with water-absorbing properties. These will wash off with time. Instead, opt for polyester blends that wick sweat away from the body to keep you feeling cool.
If you suffer from hyperhidrosis and need to contain and conceal underarm sweat, it's wise to avoid wearing moisture-wicking fabrics (made with synthetic materials) underneath your clothing because they will transfer sweat from the body to your dress shirt, making sweat marks more visible.
General clothing

YES - Natural fibers like cotton, linen or nylon

NO - Synthetic ones like polyester, rayon, spandex

Hyperhidrosis/conceal underarm sweat

NO - Wearing moisture-wicking fabrics (made with synthetic materials)

Athletic-minded sweaters

YES - Dry-wicking fabrics can be effective
The Best Undershirt For Sweat
When exercising, sweating heavily isn't just normal; it's expected. Gaping sweat marks signal that you worked hard.
Unfortunately, the same doesn't hold true in the business world. Sweating while working at your desk or giving an important speech only makes you appear nervous.
For those who sweat excessively throughout the day but don't want a heavy, sweat-soaked undershirt weighing them down, Thompson Tee is the perfect solution.
Thompson Tee sweat proof undershirts are made with 100-percent premium combed cotton and natural rayon from bamboo. Combed cotton is a super soft, strong and high-quality fiber that will hold up through the most intense sweat events and at least a year's worth of washes.
Rayon from bamboo is also a soft yet durable material that makes for the perfect form-fitting T-shirt. The result: T-shirts that will last months - even years - saving you money on replacing undershirt after undershirt.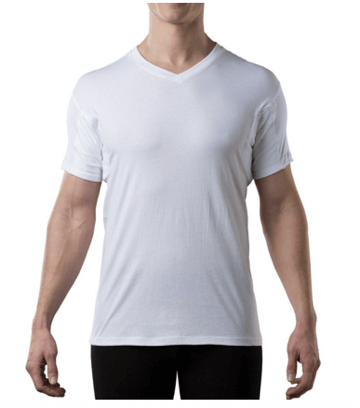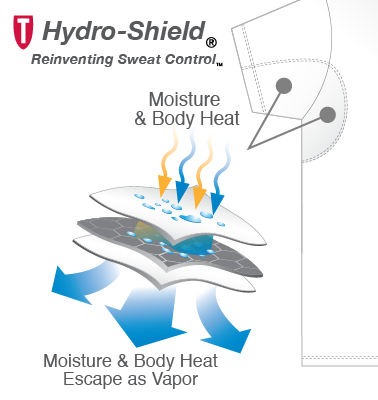 The Only Patented Sweat Shield
The Thompson Tee's patented sweat proof underarm barrier also allows armpit sweat to escape and evaporate so you aren't carrying around your sweat all day long.
The Hydro-Shield technology embedded in the underarms of every premium Thompson Tee absorbs underarm sweat and releases it as vapor, which means no more sweat marks or embarrassing yellowing that destroys your wardrobe investment and self-confidence.
What are other people saying about The Thompson Tee?
Thompson Tee Withstands 150 Degree Weather
TV reporter Jason Pederson put the Thompson Tee to the test by exercising in 150 degree weather to definitively answer just that.
Check out his results after running 500 yards and hundreds of steps in a dress shirt and Thompson Tee.
Thompson Tee Customer Shares His Story
Working in corporate sales operations, Joe Dopirak was desperate for a solution to his embarrassing underarm sweating, but nothing seemed to work. Then he found the Thompson Tee.
Watch this video to learn how the Thompson Tee helped Joe subdue the effects of hyperhidrosis, avoid invasive treatments and medications and regain his confidence.
"Results may vary based on individual user and are not guaranteed."
Try a Thompson Tee For Yourself
RISK FREE FOR 30 DAYS
We gladly accept returns or exchanges on all opened or used Thompson Tee shirts up to 30 days from purchase date so feel free to wear it, wash it and try it.