The Best Shirts to Stop Sweating
Disclosure: Some of the links below are affiliate links, meaning Thompson Tee earns a small commission if you make a purchase.
Some of us are just really sweaty. Whether it's a medical condition, or you just tend to sweat more than your friends, sweating is a part of daily life. But when sweat stains start to creep through your clothes, it's time to do something about it. Luckily, we can help. Here are the top shirts that help adults with sweat stains.
---
The Best Shirts To Stop Sweating
The key to finding shirts that stop sweating is the material and design. Breathable, lightweight and natural fabrics keep moisture away while heavy, synthetic materials breed it.
To help you with pit stain prevention, we've rounded up both outerwear and undershirts that keep you dry.
Here are a few of our favorite sweat blocking dress shirts.
Lawrence Hunt's No Sweat Dress Shirt
If stress sweat frequently ruins your work presentations, interviews or dates, you'll want to check out Lawrence Hunt's No Sweat dress shirts.
Most designers don't make dress shirts with 100 percent cotton because they wrinkle easily. Instead, they use synthetics like polyester which trap heat and cause you to pit out.
Each Lawrence Hunt dress shirt has a wrinkle-free, 100 percent cotton bodice so you can feel cool and look well-pressed at the same time.
The coolest thing about these shirts? The soft, stretchy, moisture-wicking underarm gussets are made from recycled plastic bottles.
Save the planet and your pits by investing in this phenomenal dress shirt.
Save 30% on Lawrence Hunt dress shirts today.
Mizzen & Main's Miller Dress Shirt
Hot, stiff, easily wrinkled and dry clean only. That pretty much sums up everything we hate about traditional dress shirts.
Thank goodness for Mizzen & Main, a company that makes sweat-resistant clothes perfect for your busy lifestyle.
Their moisture-wicking, quick dry, machine washable, stretchable and wrinkle resistant dress shirts come in five sizes, three fits and over 25 colors and patterns.
Our favorite is the Miller shirt. The modern spread collar and back darts keep you looking crisp and tailored. The poly-spandex blend makes you feel like you're wearing a soft t-shirt instead of a button-down.
This shirt is so comfortable and indestructible; you could fall asleep in it and wear it to a meeting the next day.
Ministry of Supply's Aero Dress Shirt
Do you make stealthy "bathroom" runs on a regular basis to air out your pits at work?
You're not alone.
Most button-downs lack proper ventilation and induce sweat stains — but not Ministry of Supply's Aero dress shirt!
Each armpit of the Aero shirt has laser-cut ventilation holes, so your pits can breathe easy all day long.
Choose from 10 sizes and two different fits — standard or slim. And don't forget to break up with your dry cleaner before purchasing one. Like Mizzen & Main's shirts, the Aero is machine washable and wrinkle-resistant.
No matter your size or shape, this shirt will keep you sweat stain-free from your morning commute until dinner.
Kenneth Cole AWEAR TECH Dress Shirt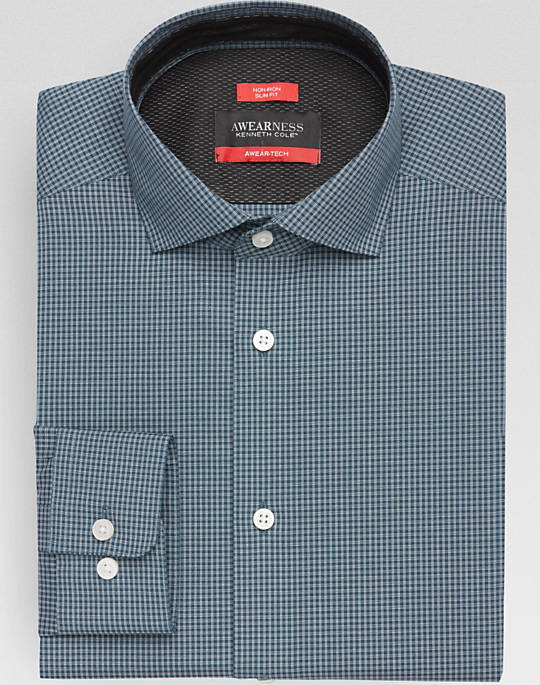 If you're looking for a shirt that fits you impeccably and keeps you confident, try the Men's Wearhouse Kenneth Cole AWEAR-TECH dress shirt.
The shirt comes in 27 sizes and is made with a 76/22 cotton-poly blend.
The AWEAR-TECH technology senses body heat and moisture so when you're hot it releases sweat and heat as a vapor. And when you're cold, it retains heat to keep you warm.
Say goodbye to sweat stains and the office AC shivers. No matter the season, the Kenneth Cole AWEAR-TECH shirt keeps you comfy.
Twillory's Doer Performance Shirt
You wouldn't spend good money on an office computer that doesn't work, so why would you pay for a dress shirt that fails to keep you dry on busy work days?
Twillory understands that your work wardrobe should be functional and stylish. That's why they make a button-down that looks like a dress shirt on the outside and feels like a t-shirt on the inside.
The hyper-breathable, 4-way stretch fabric and moisture wicking technology keep you calm, cool, collected and dry under pressure. The non-iron treatment on the material keeps you looking fresh from morning to night no matter what the day brings.
If you want an undershirt that does more, we highly recommend Twillory's Doer Performance shirt.
Undershirts That Help Adults With Sweat
Many of the dress shirts listed above focus on keeping your body cool and "wicking" away moisture. They are made of technical, synthetic performance fabrics such as polyester that don't absorb as much moisture as cotton or linen. The wicking fabric pulls moisture from your body and pushes it to the exterior of your shirt where it can evaporate quickly.
While they may keep you cooler, sweat-wicking shirts can also make sweat marks much more visible, especially if you're a heavy sweater.
That's where sweat proof undershirts can help.
Our Favorite Sweat Blocking Undershirt Brands
While outer shirts that stop sweating are a great option, you most likely can't afford to overhaul your entire wardrobe to only sweat proof, performance wear materials.
The purpose of a standard, cotton undershirt is to absorb sweat, provide an insulating layer in colder temperatures and even compress or "slim" your profile. However, if you're an excessive sweater, a basic undershirt isn't enough to stop sweat stains. You need extra protection. There are underarm pads that attach to sleeves, but these can be cumbersome and uncomfortable to wear. And wearing multiple undershirts can be stifling.
Check out our guide to choosing the best undershirts for sweat and take a look at a few of our favorites below.
Thompson Tee's Slim Fit V-Neck Sweat Proof Undershirt
The Thompson Tee is guaranteed to prevent underarm sweat from staining your clothes or your money back!
Made with patented Hydro-Shield technology, every Thompson Tee has an underarm sweat guard integrated into the shirt sleeve. It absorbs sweat and releases it into the air as a vapor to prevent sweat marks, odor and yellow stains.
While the Slim Fit V-Neck undershirt is one of our best-sellers, we offer a wide variety of sizes, styles and colors for both men and women.
Try a white, black, grey or beige shirt in 100% cotton or a rayon-bamboo blend today! Wear it, wash it and return it if it doesn't eliminate 100 percent of your armpit sweat stains.
Ejis' Micro Modal Sweat Proof Undershirt
Ejis offers black, white and grey men's sweat proof undershirts in both cotton and micro modal materials.
Each undershirt is made with a single layer that stops armpit sweat from transferring to your shirt. The micro modal shirts are two times softer and 50 percent more absorbent than cotton.
Kleinert's Sweat Resistant Undershirt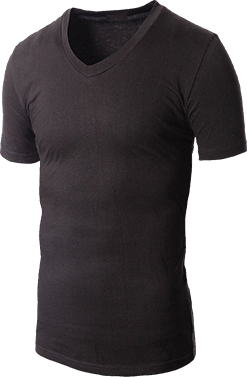 Kleinert's 100 percent cotton sweat resistant undershirts offer sweat protection for your entire torso.
They sell two different shirt designs: one with absorbent underarm shields and one without so you can decide which level of protection you need.
Kleinert's treats every shirt with a special chemical that makes them water, stain and odor resistant. Choose between a black or white shirt in a V, deep V or deeper V neckline.
SweatShield's Sleek Undershirt
SweatShield offers white crew and V-neck sweat proof undershirts.
Like Ejis, SweatShield makes their shirts with micro modal fabric to give you maximum absorbency. The ultra-soft material feels like "second skin" while shielding your shirts from wet marks.
ItsDri's SweatProof Undershirt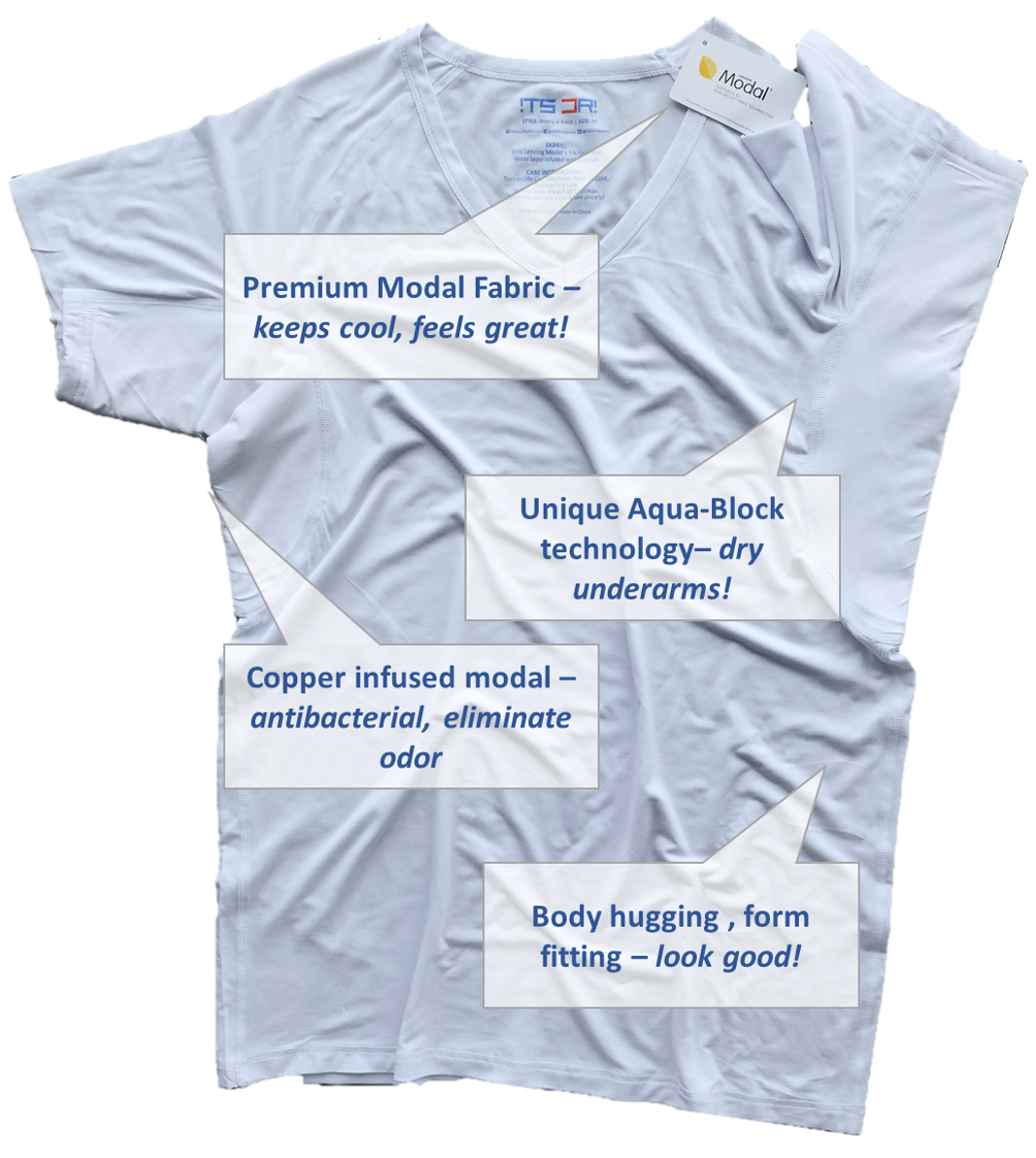 ItsDri also offers sweat proof undershirts for both men and women.
Each shirt has a three-layer underarm guard that traps and evaporates sweat. The copper infused inner layer prevents bacterial growth and keeps B.O. away. Their promise to you? No wet marks or yellow stains on your outer shirts.
ItsDri offers white and beige styles in four sizes: small, medium, large and extra-large.
Have you tried any of the sweat-wicking dress shirts or sweat proof undershirts listed above? We'd love to hear your reviews below.
For more information on undershirts for sweat, check out our resource page.