The Best Undershirts to Wear Under Dress Shirts
Are you supposed to wear an undershirt under a dress shirt? What's the best color? How do I choose the right one?
Selecting the right undershirt for a dress shirt or suit seems like a simple decision. But the options, colors, styles and fabrics available have made picking an undershirt a complicated choice.
Here are six rules you should follow when choosing an undershirt for your dress shirts. Plus, we'll share our favorite undershirts. (Spoiler alert: our undershirt made the list.)
Do I Need to Wear an Undershirt Under My Dress Shirt?
The short answer? Yes, you do.
Undershirts serve three main purposes. First, they're an extra layer to keep you warm under lightweight dress shirts.
Second, undershirts protect your dress shirt from sweat and deodorant stains.
Dress shirts are an investment. Whether you wear them daily or only on special occasions, they're wardrobe pieces you want to last for a long time.
Wearing an undershirt not only prevents sweat stains, it preserves dress shirts so they last longer (and helps you save on your dry cleaning bills.)
Finally, undershirts provide an added layer of privacy under sheer or light-colored dress shirts.
Check out our favorite sweat resistant dress shirts.
Tips to Find the Best Undershirts for Dress Shirts and Suits
There are a lot of undershirts out there. Here are a few rules for choosing the right undershirt for your dress shirt or suit.
Wear an undershirt, not a T-shirt: Undershirts are typically more fitted and cut to wear under a dress shirt. T-shirts don't lay as well underneath a dress shirt, especially if it's fitted. Plus, if you're a heavy sweater, they won't have the same effect as a sweat proof undershirt.
Select a snug fit: You don't want the sleeves to be bulky — extra, loose fabric will press against the seams and show through your dress shirt, creating a frumpy appearance.
Match the cut with the occasion: Are you going to a black-tie wedding? If you're wearing a tie, you'll be fine with a crew neck-style undershirt. However, if you're going to a beach wedding sans tie, you might want to unbutton a few buttons (especially when you hit the dance floor). In that case, choose a different cut like a V-neck undershirt so, it doesn't show through underneath.
Don't wear a white or black undershirt with light-colored dress shirts: Wearing a white undershirt with a white dress shirt is often the default choice. But it's a mistake. The stark white outlines of your dress shirt will easily show through. Try a heather gray or nude undershirt instead.
Don't wear sleeveless undershirts under dress shirts: The purpose of an undershirt is to protect your dress shirts from pit stains and sweat marks. Sleeveless undershirts have less coverage and are more visible under dress shirts.
Make sure you can tuck in your undershirt: Test the length of your undershirt. You should be able to be tuck it in comfortably and retain full range of motion. To test it, tuck in the undershirt and raise your hands. It should still feel snug and comfortable.
The Best Undershirts for Dress Shirts
Now that you know what to look for, here are a few of our favorite undershirts.
Sweat Proof, All-Around Undershirt: Thompson Tee
Thompson Tee's sweat proof undershirts have patented, Hydro-Shield underarm barriers to block armpit sweat from passing through to your dress shirt. Plus, its integrated sweat barrier still allows body heat and perspiration to escape to make sure you always stay cool. (Bonus: they're also extra-long for the perfect tuck.)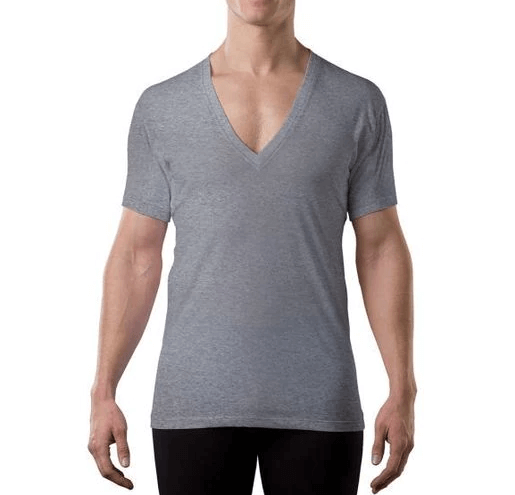 Performance, Quick-Dry Undershirt: Uniqlo
Uniqlo's AIRism t-shirt includes quick-drying technology to keep you feeling cool.
One note on the quick-dry undershirts — performance fabrics are sweat-wicking, meaning they push sweat away from your body. While they'll keep you cool, they aren't the best option for preventing pit stains. If you sweat a lot, it would be best to choose a different, sweat-friendly option.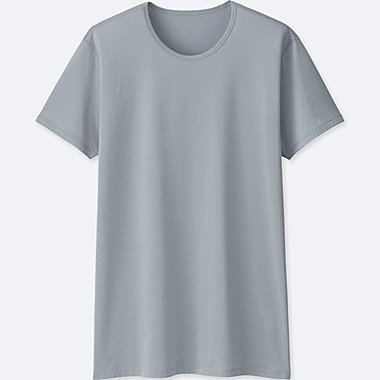 Classic Undershirt: Lacoste
Lacoste's tag-free, slim fit, V-neck tees is a classic undershirt that fits a variety of occasions. However, they don't have any added sweat protection, so it may not be the best if you sweat profusely.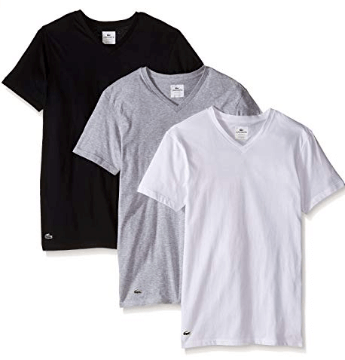 Ready to Try the Thompson Tee?
Whether you want to get down on the dance floor without worrying about pit stains or just want to get through your next work meeting sweat-free, our sweat proof shirts fit the bill for every occasion. Check out our men's shop and try a sweat proof Thompson Tee risk-free today for 20% off with code TEES20.