Excessive Sweating at Night: Causes and Solutions
Everyone sweats during those gut-wrenching moments, like asking out a date or speaking before a crowd. But if you experience excessive sweating at night, a deeper issue might be to blame.
How much you sweat depends on the situation, your DNA, medical conditions and other factors. You might sweat more than others at night — regardless of temperature. So what separates night sweats from normal sweating?
What Are Night Sweats?
Sure, most people experience night sweats when sick or during the dead of summer. But according to WedMD, real night sweats consist of "severe hot flashes occurring at night that can drench your clothes and sheets and that are not related to an overheated environment."
Excessive sweating at night can also fall under the umbrella secondary hyperhidrosis — a sweating disorder typically caused by a medication or medical condition. A telltale sign of secondary hyperhidrosis is generalized sweating — meaning you sweat profusely all over, not one specific area (like your armpits). Another red flag is sweating heavily while sleeping.
What Causes Night Sweats?
Night sweats interfere with healthy sleep patterns and soil your sheets, leaving you with piles of unwelcome laundry. Fortunately, you can take steps to overcome secondary hyperhidrosis. But before you learn to nix night sweats, you need to isolate the underlying cause. Here are a few leading causes of night sweats and ways to potentially reverse it:
Medications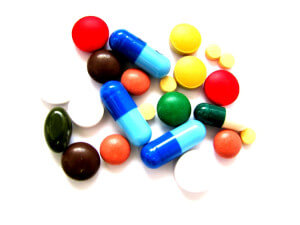 If you constantly sweat at night, it could simply be a side effect of a prescription drug. Common drugs attributed to secondary hyperhidrosis include:
Antidepressants such as Protriptyline and Nortriptyline
Nonsteroidal anti-inflammatory drugs
Blood pressure medications
Pilocarpine, a drug that prevents dry mouth
Cancer treatments
Oral diabetes drugs and prescription insulin
Even dietary supplements can cause excessive sweating at night. Common sweat-causing supplements include zinc and iron.
If you suspect one of these medications is causing your night sweats, consult with your doctor. Obviously, forgoing certain medications you rely on could pose greater health risks than sweating at night. It's always wise to talk to your doctor before making any health-related decisions.
Medical Conditions
Many medical conditions have also been linked to night sweating, including:
Menopause and pregnancy : Hormonal changes that happen during menopause can cause symptoms such as hot flashes, flushing and sweating during sleep. Carrying the extra weight of a baby also induces pregnancy sweats at night.
Infections: Tuberculosis, bacterial infections, HIV and abscesses can cause nocturnal sweating.
Cancer: People with undiagnosed cancer frequently experience secondary symptoms that include fever and extreme sweating. The most common type of cancer known to cause night sweats is lymphoma.
Hyperthyroidism: Heat intolerance and excessive sweating are common symptoms of an overactive thyroid gland.
Hormone disorders: Other hormone conditions, such as carcinoid syndrome and pheochromocytoma, also trigger sweating and flushing.
Neurologic conditions: Stroke, autonomic neuropathy and other neurologic conditions can cause increased sweating and night sweats.
Alcoholism: Drinking alcohol can increase your heart rate and widen blood vessels in your skin, triggering sweat. Alcoholics also experience night sweats when going through alcohol withdrawal.
If you've recently been diagnosed with one of these conditions (or could be at risk), excessive sweating at night might be a symptom. The most effective way to stop night sweats is to treat the underlying illness.
If treating the illness doesn't do away with your night sweats, consult your doctor about other possible solutions. TheraVida is one company that manufactures drugs for secondary hyperhidrosis, though the long-term effects are still unknown.
How to Stop Night Sweats
Treating medical conditions can take time. But there are other lifestyle changes you can make today to stop sweating at night.
Try these bedtime tips to reduce night sweats:
Avoid wearing tight, restrictive or heavy clothing to bed.
Keep the temperature cool in your room. For optimal sleep, keep your bedroom temperature between 60 and 67 degrees Fahrenheit.
Avoid heavy blankets and sheets. Instead, opt for breathable fabrics made of bamboo or microfiber.
Stay away from alcohol, caffeine and sweat-inducing foods before bed.
Stress and a lack of exercise are other contributors to night sweats, so take proactive steps to reduce stress and work regular exercise into your routine to reduce excessive sweating at night.
Wear a Sweat Proof Undershirt to Bed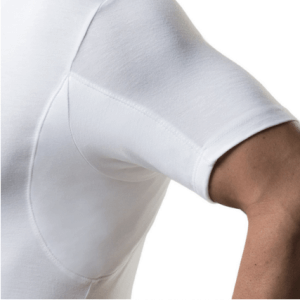 Severe night sweats can jolt you up mid-sleep and just feel uncomfortable. But if you're pregnant, have a medical condition or rely on a medication that causes night sweating, night sweats might be a fact of life. Wearing a sweat proof undershirt like Thompson Tee can help you forget about sweating and sleep more soundly through the night.
Thompson Tee's sweat proof technology has helped thousands of men and women manage excessive underarm sweating. The shirts completely absorb underarm sweat so it won't bleed through to your sheets and leave you feeling drenched.
Score 20% off Thompson Tee's today with code TEES20.
Of course, the only way to pinpoint the cause of night sweats is to consult a doctor. We hope you found this information helpful in your search for a solution!
What other ways do you cope with excessive sweating at night?
*PLEASE NOTE: As with any medical related issues, it's best to seek the advice from a qualified medical practitioner. The information provided is not to be used or relied on for any diagnostic purposes and should not be used as a substitute for professional diagnosis and treatment.