Axillary Hyperhidrosis
Millions of men and women deal with excessive underarm sweating every day.
But for some heavy sweaters, it qualifies as a medical condition.
What is Axillary Hyperhidrosis?
Axillary hyperhidrosis is a condition where people sweat up to five times the amount that's necessary to regulate body temperature, primarily in the armpits. Like other forms of primary hyperhidrosis, severe armpit sweating is a medical condition itself — and not the side effect of a medication or other medical condition. Research shows that hyperhidrosis can be genetic, so if a family member suffers from the condition, you are more likely to inherit it.
This type of excessive underarm sweating tends to begin during puberty, but symptoms can appear up to age 25. Strangely, people who have axillary hyperhidrosis don't experience the symptoms while sleeping.
To outsiders, heavy armpit sweating might seem like a cosmetic condition that doesn't pose any serious side effects. But constantly stressing over the appearance of underarm sweat marks and working to conceal them can affect your psychological well-being and overall quality of life.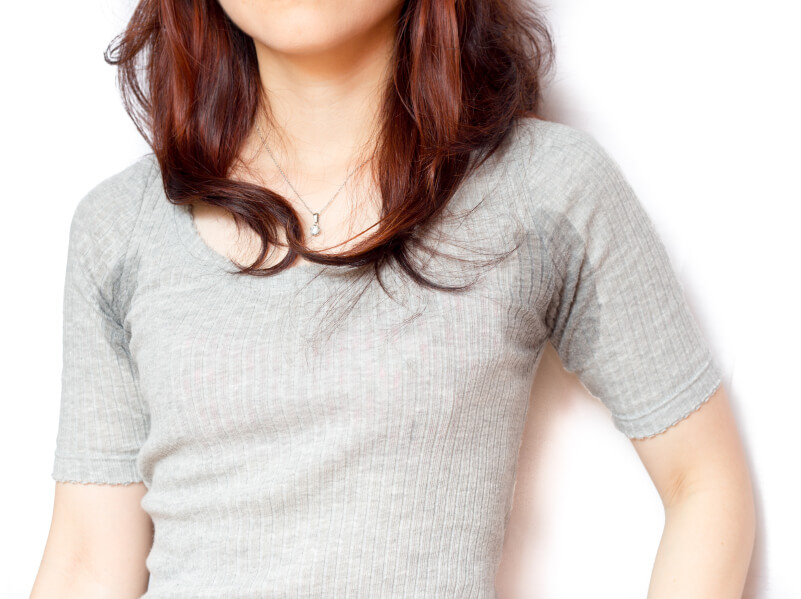 "Excessive underarm sweating can prevent people from climbing the corporate ladder and fulfilling their professional goals. Constantly worrying about sweating can also make you vulnerable to anxiety and depression."
How Does Axillary Hyperhidrosis Affect You?
Agonizing over the appearance of underarm sweat marks is mentally draining. The energy needed to prepare for sweat events before leaving the house, shower multiple times a day and constantly check for signs of pitting out demands your full attention.
Many Thompson Tee customers have shared their frustrations with axillary hyperhidrosis. Some avoid going out in public or socializing with friends due to the embarrassment of excessive underarm sweating.
For others, excessive underarm sweating has prevented them from climbing the corporate ladder and fulfilling their professional goals. Constantly worrying about sweating can also make you vulnerable to anxiety and depression.
Many people who suffer from axillary hyperhidrosis deal with similar side effects, including:
Reduced confidence and self-esteem
Loss of concentration at work
Fear of social situations
Anxiety about sweating
Added cost of replacing T-shirts and outwear due to yellowing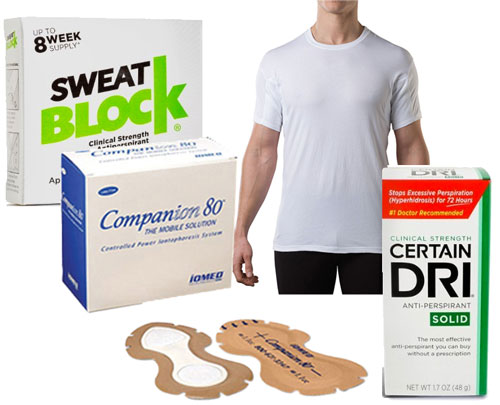 Solutions For Primary Axillary Hyperhidrosis
There is no known cure for excessive underarm sweating, but some solutions can minimize the effects:
Antiperspirants
Oral medications
miraDry
Iontophoresis
Underarm surgery
The Thompson Tee
BOTOX injections
Lasers
SweatBlock
*PLEASE NOTE: As with any medical related issues, it's best to seek the advice from a qualified medical practitioner. The information provided is not to be used or relied on for any diagnostic purposes and should not be used as a substitute for professional diagnosis and treatment.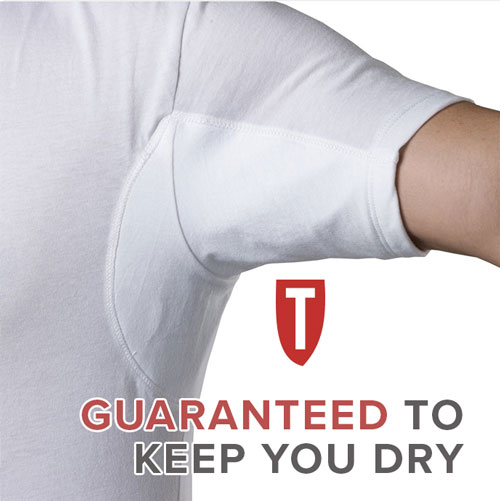 Your Armpit Sweat Savior: Sweat Proof Thompson Tees
Obvious sweat marks are embarrassing and avoidable. That's why Thompson Tee co-founders Billy and Randy spent more than 10 years developing the only patented sweat proof technology called Hydro-Shield. The sweat shields are embedded in the underarms of every premium Thompson Tee undershirt to fight sweat all day long.
This lightweight layering system traps heat and moisture and allows it to evaporate rather than seep through to your outer layer – providing relief from wet marks and yellowing that quickly destroy your clothing and your confidence.
"I just wanted to say thank you... as a long time sufferer of hyperhidrosis, I was at the point of considering surgery to ease the issue . I have had years of literally sweating straight through on to my dress shirt before even leaving the house. I was skeptical about your product as I didn't believe anything could stop the sweating I had. How wrong I was Your product has changed my life."

Steve A.
What are other people saying about The Thompson Tee?
Thompson Tee Withstands 150 Degree Weather
TV reporter Jason Pederson put the Thompson Tee to the test by exercising in 150 degree weather to definitively answer just that.
Check out his results after running 500 yards and hundreds of steps in a dress shirt and Thompson Tee.
Thompson Tee Customer Shares His Story
Working in corporate sales operations, Joe Dopirak was desperate for a solution to his embarrassing underarm sweating, but nothing seemed to work. Then he found the Thompson Tee.
Watch this video to learn how the Thompson Tee helped Joe subdue the effects of hyperhidrosis, avoid invasive treatments and medications and regain his confidence.
"Results may vary based on individual user and are not guaranteed."
Try a Thompson Tee For Yourself
RISK FREE FOR 30 DAYS
We gladly accept returns or exchanges on all opened or used Thompson Tee shirts up to 30 days from purchase date so feel free to wear it, wash it and try it.