Sweating On Stage? 1 Performer's Secret to Dry Pits in the Spotlight
It's here. You've been practicing for months. You step out onto the stage. The spotlight swings over to you, encapsulating you in a bright blaze of light. The nerves hit, and that's when you feel them — pit stains creeping through your shirt.
There's nothing worse than hitting the stage with sweaty armpits. Sweating on stage is distracting to the audience and keeps you from fully getting into character.
It happens to everyone. Musicians, rock stars, actors, even during work presentations. Performing in front of a crowd is a naturally stress-inducing situation. And if you experience excessive sweating, the spotlight can cue your sweat glands and put your performance to the ultimate test.
How to Stop Sweating on Stage
While there's no cure for excessive sweating, there are ways to manage it. Here are five ways to stop sweating on stage.
Keep a spare change of clothes handy. If you're able to, keep a second costume or change of clothes in your bag. Swap them at intermission so you're ready for your second act.
Stay hydrated. Performing on stage is a physical job. When you're hydrated, your body doesn't have to work as hard to regulate your body temperature, helping you sweat less.
Use a clinical-strength antiperspirant. Unlike deodorant, (there is a difference), antiperspirants clog your sweat ducts and stop sweat at the source. Clinical-strength antiperspirants have a higher amount of aluminum (the active ingredient that prevents sweating) than their standard counterparts.
If you need even stronger antiperspirant, talk to your doctor about prescription antiperspirants.
Pro tip: Follow the instructions on your antiperspirant — most need to be applied the night before for full effectiveness.
See our guide to prescription antiperspirants here.

Wear a sweat proof undershirt when performing. Wearing an extra layer under your costume can soak up your sweat and stop pit stains from forming. Try this one from Thompson Tee. It has integrated armpit barriers built in to soak up armpit sweat and prevent sweat marks from forming.
Avoid triggering your sweat. Alcohol, too much caffeine, spicy foods and smoking all trigger sweat. Stay away from spicy food and caffeine before your big performances.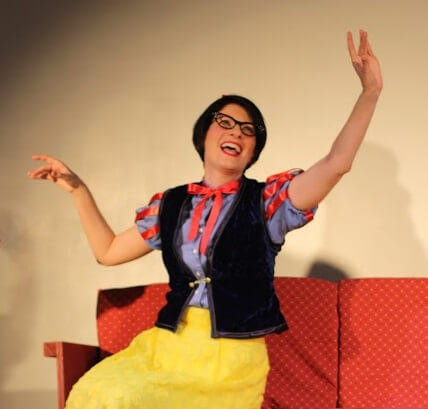 One Customer's Story of Sweating On Stage
Thompson Tee customer Cari Keebaugh knows the feeling firsthand. As a community theater member and someone who sweats more than normal, she is no stranger to the self-consciousness associated with stress sweating on stage.
But with the help of Thompson Tee, she no longer has to worry about sweat soaking through her costumes and stealing the show. Read Cari's story below to learn how the Thompson Tee keeps her confidence intact and allows her characters to shine onstage.
"Even good fairies sweat. I found that out the hard way.
As a participant in community theatre (and as someone who naturally sweats a lot), I know what it's like to be self-conscious about sweating ... onstage and in front of hundreds of people.
It was when I was playing a mythological winged creature who doesn't have sweat glands that I discovered Thompson Tees — thank goodness! Since then, I've worn a Thompson Tee under every costume for every role. The slim fit of the underarm area and the scoop neck make this undershirt far more discreet than other brands I've tried, and the shirt doesn't get in the way of my costumes. The results are much better than with other brands, too.
Thompson Tees keep me confident onstage, no matter what role I'm playing. As a bonus, by the end of production runs my costumes aren't ruined by excessive sweat, and they don't smell like they've been through a swamp (even if my character has been). I ALWAYS wear a Thompson Tee under my costume when I tread the boards!"
- Cari Keebaugh
Don't let armpit sweat upstage your performance. Try a Thompson Tee risk free today!