The Best Natural Deodorant for Heavy Sweating
Armpit sweating sucks, and finding a healthy solution is even more frustrating. I've dealt with the condition axillary hyperhidrosis my entire adult life and always struggled with the idea of layering toxin-laden antiperspirants on my armpits. I was determined to find the best natural deodorant that could withstand the wrath of heavy underarm sweat. After years of experimenting, I put 8 high-rated products to the test to answer: What deodorant works best?
Here's what I found.
Choosing Natural Deodorants to Test
In my previous post explaining natural deodorant labels, I discussed the difference between deodorant and antiperspirant. Antiperspirants block your sweat ducts with aluminum compounds so you sweat less while deodorants lack aluminum and only protect against odor.
Many natural deodorant brands have concocted healthier formulas to reduce the effects of underarm sweat without aluminum. But even the strongest over-the-counter deodorant or antiperspirant can't prevent underarm sweat for people who sweat heavily.
After years of wearing sweat proof Thompson Tees (well before we launched the company), I've trained my underarms to sweat less. Now stress sweating isn't an issue for me. As a result, I've been able to switch to natural deodorant. By using natural deodorants, I also eliminate the daily (often twice daily) application of potentially health-compromising chemicals that don't work well.
How to make antiperspirants work harder for you.
My Search for the Best Natural Deodorant
When researching "natural" deodorant options, I found that few followed through on their promise to be completely natural and organic. I narrowed down my search to 8 options because they are some of the healthiest options I could find.
When testing these natural deodorants, I based my feedback on the following criteria:
How well they neutralize odor
How long they neutralize odor
The texture and application
Safety
Melting point
I purchased all of the deodorants tested, and none of the brands are aware of my review.
As a disclaimer, I suffer from axillary hyperhidrosis, so these results apply to people who sweat excessively. The average person may experience different results.
Here's my feedback on some of the top natural deodorants: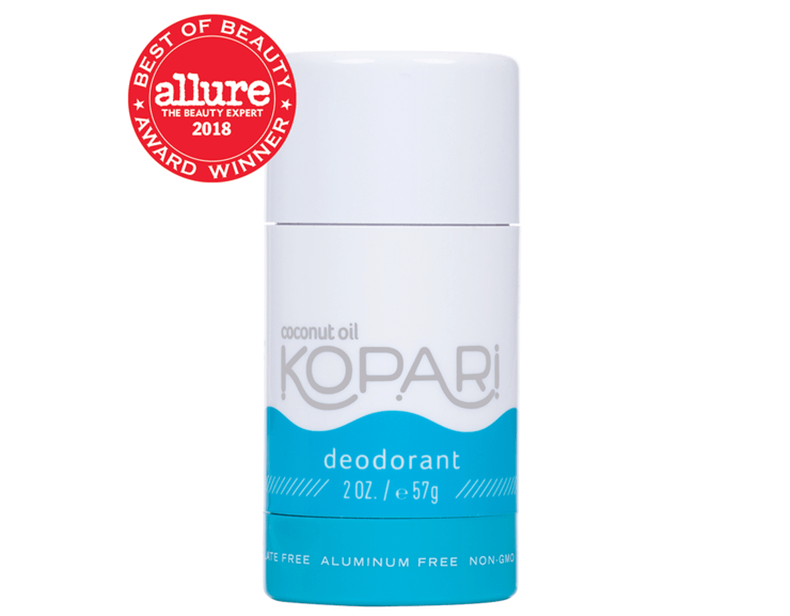 Pros:
No aluminum, parabens, sulfates, silicones, GMOs or baking soda
Made with naturally antimicrobial and anti-bacterial coconut oil and coconut water
Glides on smooth
Doesn't leave white, sticky residue
Cons:
Contains synthetic fragrance and alcohol
Takes 2-4 weeks to become effective
Makes you sweat and smell more than usual during the first few weeks of usage
100% pure, organic coconut oil is the main ingredient in every product Kopari creates and their deodorant, Coconut Deo, is no different.
This natural deodorant is everything you'd want it to be and then some. It's aluminum-free, paraben-free, phthalate-free, non-GMO and silicon-free. It glides on smooth and invisible and smells like sweet coconut milk.
Fair warning: If you switch from an aluminum-based antiperspirant to Coconut Deo, your pits will go through a detox phase. You may sweat and smell worse than usual for a few weeks while your armpits purge themselves of the aluminum that's built up in your pores.
Once you get through the detoxification process you'll experience noticeably drier and fresher smelling pits. To speed up the detox phase, Kopari recommends exfoliating your underarms to slough off dead skin and aluminum residue, applying a clay mask to your pits once in a while and drinking plenty of water.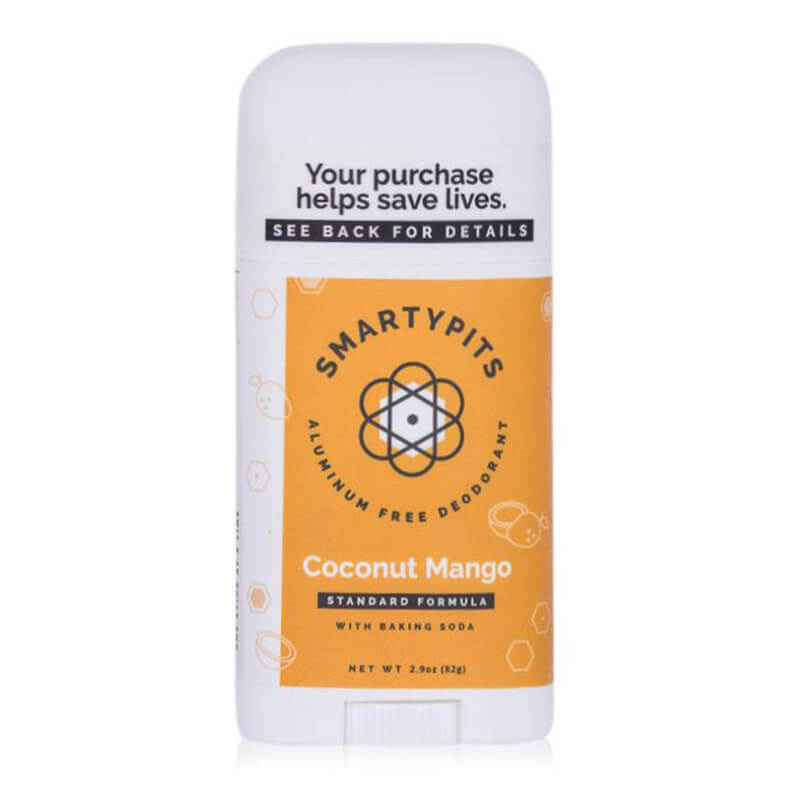 Phthalate free, paraben free, propylene glycol free and cruelty free
Baking soda-free option for those with sensitive skin
No endocrine disrupting ingredients
Includes plant-based powders that absorb sweat naturally
$0.30 from every large stick sold is donated to breast cancer research
Cons:
Difficult to apply because of the rough, dry texture
May stains light colored clothes
Smarty Pits offers two types of natural deodorants; one with baking soda and one without. Each contains all-natural ingredients like arrowroot powder, beeswax, avocado butter and coconut oil.
Both formulas come in eight different scents plus an unscented version. If you have sensitive skin, I recommend opting for the baking soda-free version which uses magnesium as a substitute.
Overall, this product works great at keeping odor and sweat at bay all day. However, it's rough and hard texture makes it difficult to apply. I recommend warming the stick up before applying to make it glide on smoothly.
The best thing about this brand? A portion of sales from each deodorant goes toward breast cancer research.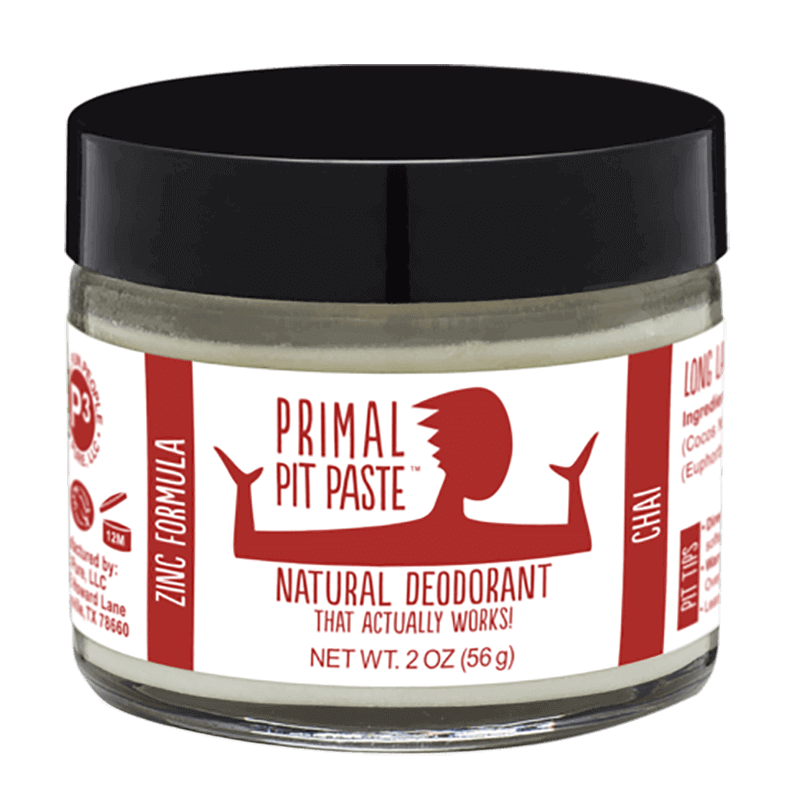 Pros:
Contains 100% natural ingredients
Has a stronger scent
Cons:
The coconut oil base could melt at 76 degrees
The deodorizing effects only lasted 4 hours
Caused yellow stains with heavy application
Left a residue after showering
Circular shape (I prefer the traditional long oval shape)
Difficult to apply
Despite the name, Primal Pit Paste offers both a deodorant stick and deodorant paste options.I tried three types of Primal Pit Paste deodorant sticks: Thyme & Lemongrass, Lavender and Coconut Lime.
As a base, Primal Pit Pastes use coconut oil — a popular ingredient in natural deodorants. But with a potential melting point of 76 degrees, I had to be sure not to leave it in my car (for those gym-going days).
Compared to other natural deodorants, the scent was decently strong. However, after 4 hours, I noticed some stink.
These deodorants also left a residue on my skin after showering and yellow stains on my white shirts. I previously thought only antiperspirants caused yellowing (a reaction from sweat and aluminum). But many of the natural deodorants tested also made my white tees yellow. As someone who sweats excessively, though, that could be due to my heavy application.
Because Primal Pit Paste only protected me for a few hours, I ruled out this product in my search for the best natural deodorant after a few uses.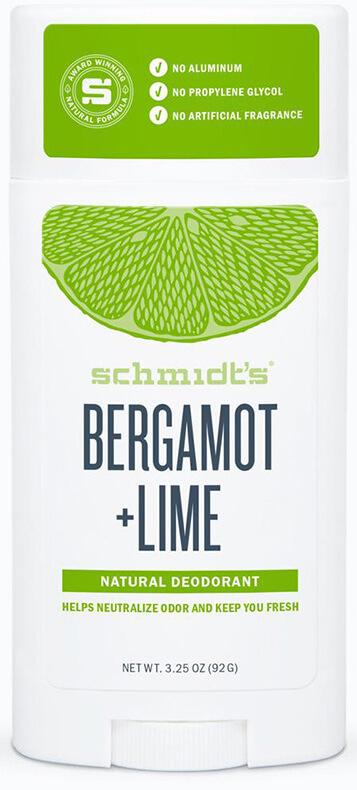 Pros:
Contains 100% natural ingredients
Has a stronger scent
Cons:
Melting point: Schmidt's suggested keeping it under 100 degrees to maintain the deodorant's original consistency and texture, but that isn't ideal during the summer.
Caused yellow stains with heavy application
The rough and sticky texture is not easy to apply
Made in Portland, Oregon, Schmidt's natural deodorant contains a mixture of natural ingredients including essential oils, arrowroot powder, shea butter, candelilla wax and coconut oil.
To my surprise, Schmidt's kept me mostly odor free for the whole day (with just one to two applications). As I applied more layers, however, my white tees began to turn yellow in the underarms. The rough, gritty texture also pulled out some armpit hairs during application (and clung to my shirt like papier–mâché when applied heavily).
Of all the natural deodorants tested, Schmidt's deserves an honorable mention for combating odor.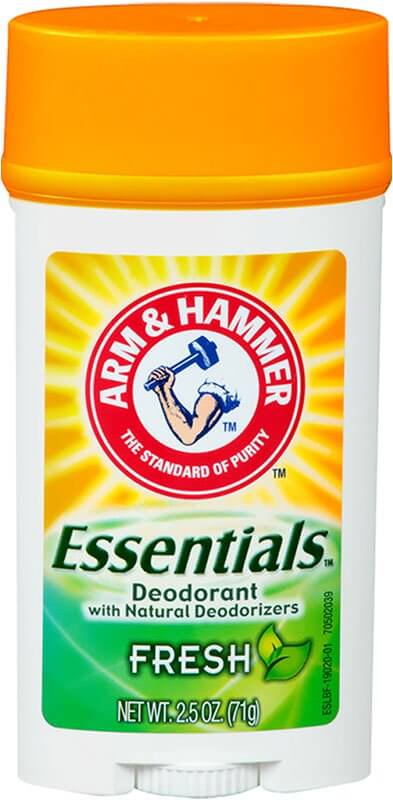 Pros:
Effective at stopping odor with one to two applications
Has a stronger scent
Low cost
Does not cause yellowing
Easy to apply
Won't melt in the car
Cons:
Does not contain 100% natural ingredients
Arm & Hammer Essentials is free of aluminum, parabens, colorants and animal-derived ingredients. I debated adding this product to the list because it contains one suspect ingredient, propylene glycol. However this has been my go-to deodorant for the past few years.
Arm & Hammer Essentials does work — especially for the price. If you're price-sensitive and the use of propylene glycol in deodorant doesn't bother you, I would recommend Arm & Hammer Essentials. A major plus is that after a few years of usage, I haven't experienced yellowing in my white shirts!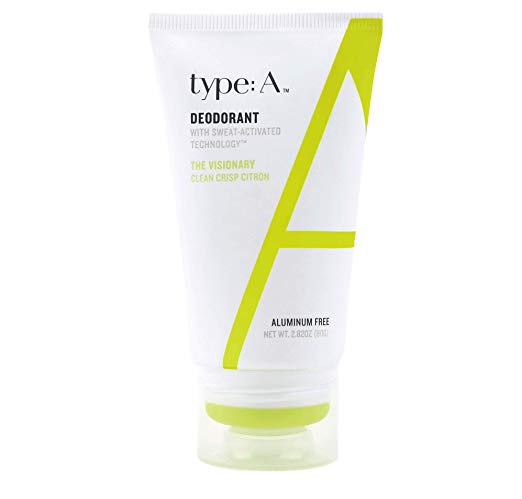 Pros:
Contains a powerhouse of naturally sweat-fighting ingredients including arrowroot powder, coconut oil, beeswax, vegetable glycerin and more
Easy, mess-free application
Protection lasts all day and improves as you sweat
Cons:
Contains some synthetic ingredients, including heptyl undecylenate, dimethicone and diisopropyl adipate
As a newcomer to the natural deodorant scene, type:A adds a new twist to your daily hygiene routine. Its sweat-activated technology works harder as you perspire, and for me, sweat protection lasted all day.
The tube applicator also allows you to squeeze out the deodorant and swipe it onto your armpits, rather than apply the cream with your hands. This made application super simple and mess-free. Plus, the cream dries quickly, goes on clear and doesn't leave any nasty residue behind.
If you're looking for a trusty natural deodorant that's safe on clothes and tough on sweat, give type:A a try.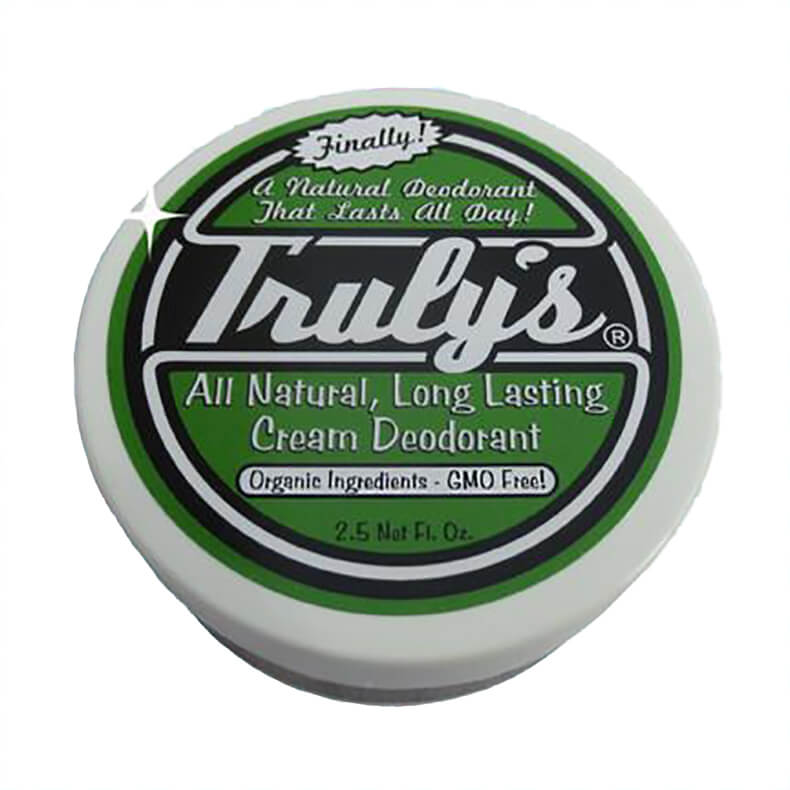 Pros:
Contains 100% natural ingredients
Cons:
Poor scent
The deodorant wore off quickly
You have to apply by hand
Truly's Natural Deodorant is a cream deodorant that you apply by hand. I was drawn to the product for its organic ingredients, including powdered sugar — which actually kills bacteria in large amounts (who would have thought?) Of all the natural deodorants, Truly's has one of the purest ingredient lists.
Unfortunately, after applying Truly's in the morning, the deodorant wore off by noon. Rubbing cream on my armpits by hand also wasn't an ideal experience.
For excessive sweating, I would not recommend this natural deodorant solution.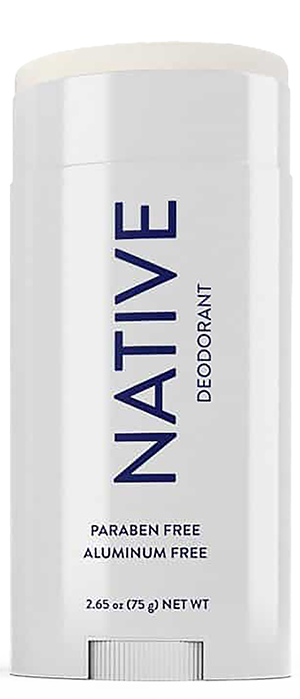 Pros:
100% natural ingredients
The best odor-fighting effectiveness (perfect for excessive sweaters)
Awesome scent (in order of effectiveness: Coconut & Vanilla, Citrus & Herbal Musk, Eucalyptus & Mint)
Cons:
Caused yellow stains
Contains "fragrance" (not sure why the ingredients aren't listed)
Difficult to apply but easier than Primal Pit Paste and Schmidt's
Melting point: The deodorant is designed to withstand 90-degree temperatures for up to 8 hours, which isn't ideal during the summer months.
Of all the natural deodorants I tested, Native Deodorant was by far the most effective in combating odor — lasting until the next day! As someone who sweats profusely, this is huge.
Although Native had the best scent of any natural deodorant, my reservation is the ingredient "fragrance." This catch-all can signal a product contains chemicals. After reaching out to the brand, the rep reassured me Native uses natural oils to create the scent. According to the website, Native refers to these oils as "fragrance" per FDA recommendations.
After a couple uses, I noticed my white shirts began to yellow. I reached out to the brand again, and the rep recommended I apply less and wait for it to dry.
As someone who sweats profusely, I was blown away by how well Native worked in neutralizing odor. Native has become my go-to natural deodorant when wearing dark-colored shirts.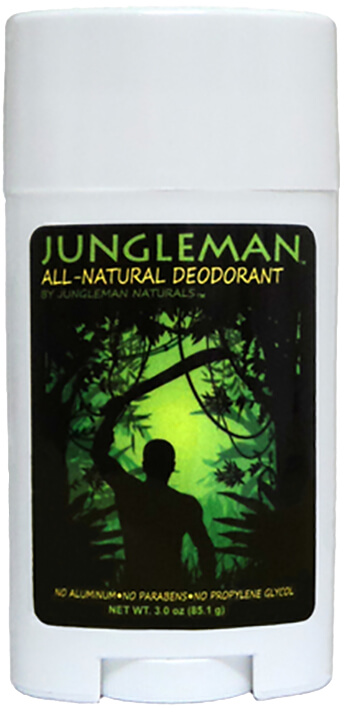 Pros:
100% natural ingredients
Easier to apply
Cons:
Very weak scent
Deodorant odor effects only lasted 2 hours
Melting point unknown
With a simple ingredient list of corn starch, palm oil, baking soda and tea tree oil, Jungleman Naturals is a great option for men and women with sensitive skin. As one of the few natural deodorants that doesn't use wax or shea butter, the stick also glides on a tad smoother than the rest.
I tried both Junglemint and Junglejuice deodorant sticks and noticed both had a weak scent. They also failed to protect me past 9:30 a.m. (just 2 hours after applying). Again, I sweat heavily, so the results may differ for the average person.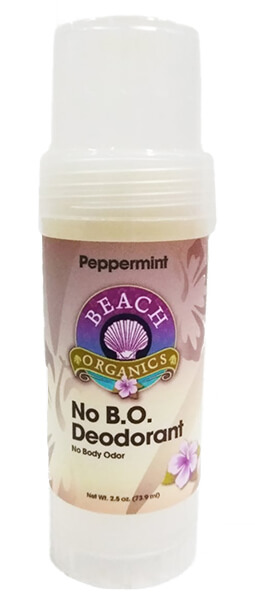 Pros:
Certified organic ingredients
Strong scent
Cons:
The coconut oil base could melt at 76 degrees
The deodorizing effects only lasted 4 hours
Caused yellow stains with heavy application
Circular shape (I prefer the traditional long oval shape)
Beach Organics Skincare offers an organic natural deodorant with simple ingredients like organic coconut oil, organic cornstarch, baking soda, organic beeswax, essential oils and vitamin E.
I tried the Lemon Lavender scent and found the results (and packaging) to be very similar to Primal Pit Paste. While the natural deodorant scent was fairly strong, I began to smell after a few hours. Like other natural deodorants containing beeswax, the deodorant also left a residue on my skin after showering.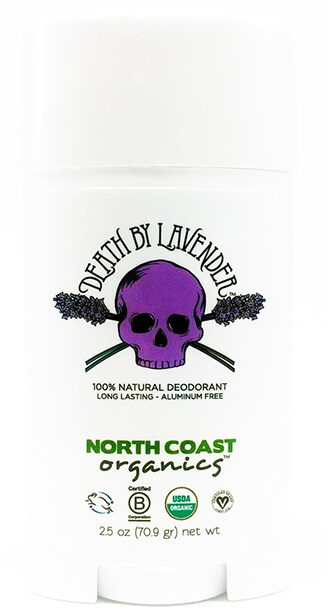 Pros:
100% certified organic, vegan ingredients
No noticeable yellowing
Cons:
Not crazy about the scent
The deodorizing effects could be stronger and last longer for excessive sweaters
Melting point unknown
As an organic-certified, vegan and edible natural deodorant, North Coast Organics goes the extra mile to provide a truly healthy deodorant solution. I tried the Revolver scent, which did not smell great to me, but I preferred it over the others. With scents like Death by Lavender, Coconut and Blood Orange, there are plenty of scent options, though.
From an efficacy standpoint, North Coast Organics did a decent job of fighting odor for someone with axillary hyperhidrosis. I also didn't notice any yellowing, which was relieving.
Read more natural ways to stop sweating.
The Most Effective Natural Deodorant for Heavy Sweat
I commend the brands listed above for honoring their brand promise and offering truly natural deodorant solutions. Few chemical-ridden deodorants work for people with axillary hyperhidrosis, so searching for an effective natural deodorant was a tall order.
After testing these products, I now wear Native deodorant with dark-colored clothing and stick with Arm & Hammer Essentials when wearing light-colored clothing.
As of today, I would award Arm & Hammer Essentials as the best natural deodorant for people who sweat heavily. Here's why:
It's effective enough
It's natural enough
It won't melt in your car during the peak of summer
It doesn't cause yellow staining
What are the best natural deodorants you've tried? I'd love to hear in the comments below!