What to Expect When Switching to Natural Deodorant
You need to a way to mask underarm sweat and odor but prefer to avoid harsh chemicals. You might turn to natural deodorants as a healthier, gentler alternative to aluminum antiperspirant and other chemical-laden products. But before you buy, you should understand what to expect when switching to natural deodorant.
What to Expect When Switching to Natural Deodorant
When scanning the shelves for natural deodorants, labels can be deceiving. I set out to find the most effective natural deodorant for heavy sweating and discovered truly healthy ingredients to stop sweat.
Through testing more than 20 natural deodorants, I uncovered some serious drawbacks with certain ingredients and brands. Before going natural, here's what to expect when switching to natural deodorant:
Natural deodorants are harder to apply
I failed to find a formula or brand that didn't feel like a hard, gritty ChapStick when applied. (The combination of shea butter, baking soda and wax created this feeling).
To help with application, natural deodorant instructions typically recommend holding the product against your underarms for a few moments before swiping on to allow your body heat to soften the solution. While pressing the deodorant against your skin does help with the application — it's not ideal when rushed in the morning.
If you dislike that gritty texture, opt for a cream deodorant that doesn't contain wax.
Some natural deodorants leave a residue
When testing natural deodorants, I noticed some left a residue on my clothes and skin — even after showering. Schmidt's natural deodorant uses a candelilla wax that didn't seem to leave any residue. That's likely because candelilla wax is thin and smooth while beeswax is thicker and stickier.
To avoid residue on your skin and shirts, choose a natural deodorant that doesn't contain beeswax.
Many natural deodorants melt in the heat
Coconut oil is commonly used as the base of natural deodorants. But because the oil has a melting point of 77°F, many natural deodorants melt much easier than their non-natural counterparts.
As someone who keeps deodorant in my gym bag, natural deodorant melting is a concern for the summertime. Avoid storing your natural deodorant in hot climates to maintain its solid form.
Some natural deodorants cause yellowing
When testing natural deodorants, yellow stains began to appear on my white shirts. I'm unsure which ingredients caused the yellowing, and applying multiple layers (as I did) could also contribute to yellowing. But after using Arm & Hammer Essentials with white tees for years, I know the mixture doesn't cause yellowing.
Many natural brands lack strong scents
The ingredient "fragrance" is found in many cosmetic products and often implies the product contains chemicals. The fact that some natural deodorants are unscented makes sense. But for heavy sweaters, scent is essential to shield B.O. If you're concerned about odor, always choose scented natural deodorants.
Baking soda can irritate the skin
Baking soda is one of the most effective natural deodorizers out here. But if you have sensitive skin, the formula can cause redness and rashes. When using natural deodorants on sensitive skin, make sure to apply a light layer and gradually experiment with more to prevent potential discomfort.
Natural Ways to Reduce Sweating
Many natural deodorants work well for people who sweat mildly. But in the dead of the summer or in stressful situations, you need an extra layer to prevent embarrassing wet marks.
When going the natural route, few products effectively shield sweat all day. Thompson Tees are sweat proof undershirts that maximize the effectiveness of your natural deodorant — without compromising your health.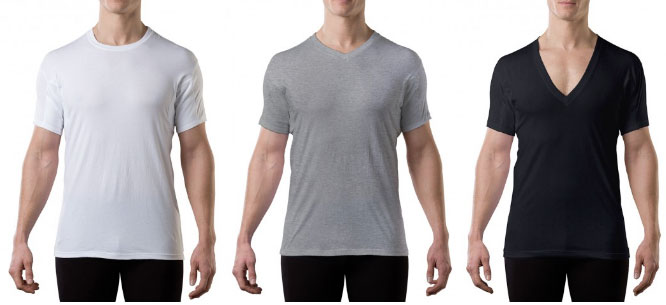 Made from high-quality cotton and rayon from bamboo, the undershirts contain patented underarm shields that lock in moisture and release it as vapor. As you go through the day, sweat never reaches your dress shirt or tee. With multiple style and fit options, you can wear the sweat proof undershirts discreetly beneath virtually any dress shirt.
If you're concerned about sweat, we encourage you to try one risk-free. Feel free to tear off the tags, take the shirt for a test drive and even wash it if you'd like.
Not a heavy sweater? No sweat! Try a fitted Premium Undershirt made with 50% Supima cotton and 50% MicroModal blend, and infused with revolutionary Odor Shield™ technology. You'll love this versatile piece that you can wear as an undershirt or T-shirt while keeping body odor at bay.
What other natural ways to reduce sweating do you swear by?