How to Find the Right Sweat Proof Thompson Tee for Your Sweating, Fit & Style Needs
For some people, buying undershirts is an afterthought. But if you sweat heavily throughout the day, the undershirt you choose is a key tool to help you manage your sweat.
But it's more than just blocking sweat. We know that you have distinct fit and style preferences. To help you purchase the right Thompson Tee for your needs, we created a style guide based off personal experiences and real customer feedback to help guide your purchase.
How do Thompson Tee's sweat proof undershirts work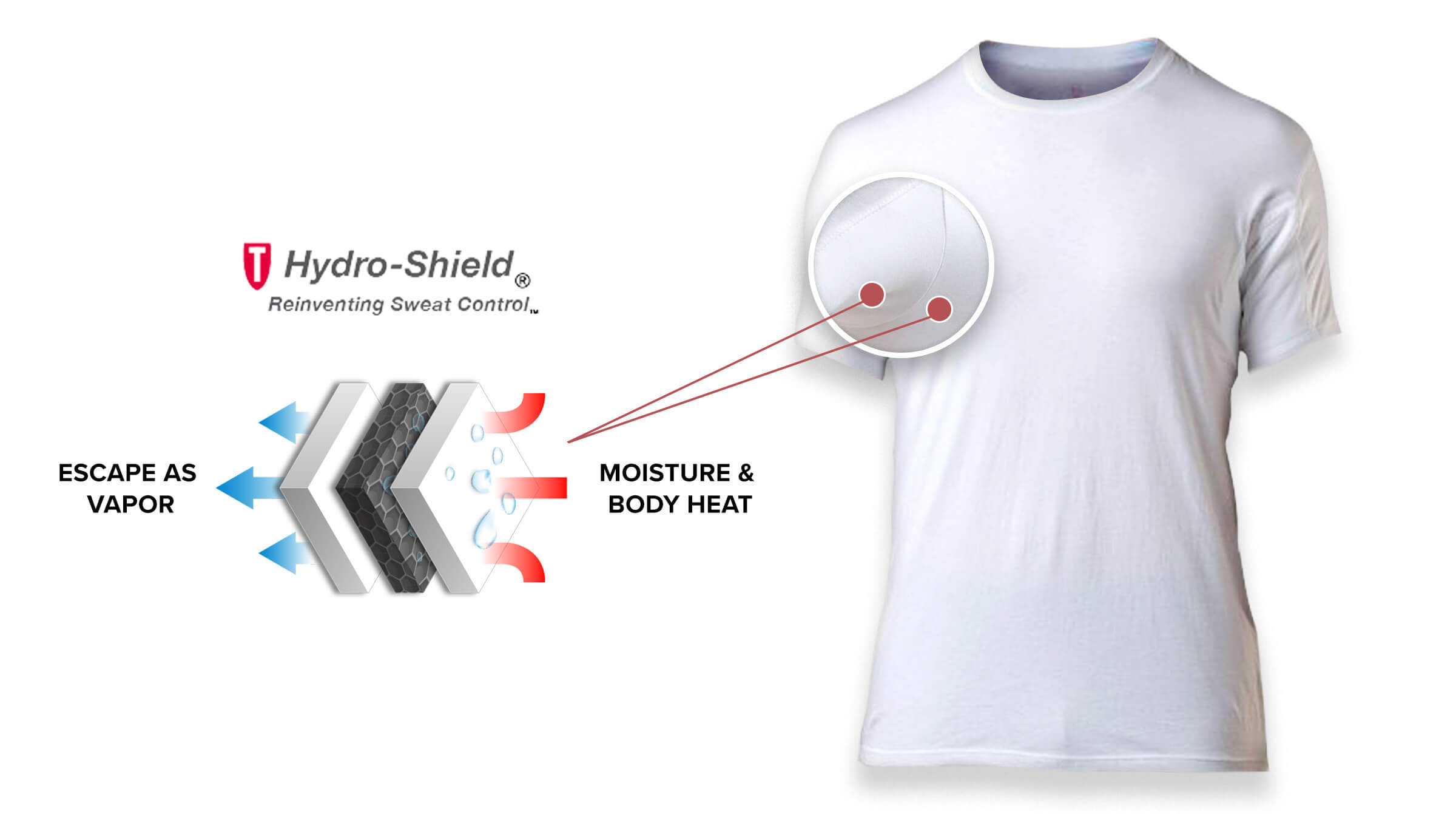 We designed our sweat proof undershirts to conceal any trace of underarm sweat. Every undershirt has a patented, clinical-grade sweat proof material, called Hydro-Shield, that blocks moisture from passing through. Other competitors' products use chemically treated material that washes out over time. The Thompson Tee Hydro-Shield technology have native properties, meaning they are part of the fabric and won't lose their effectiveness over time.
Slim Fit Vs. Original Fit: Which Is Right for You?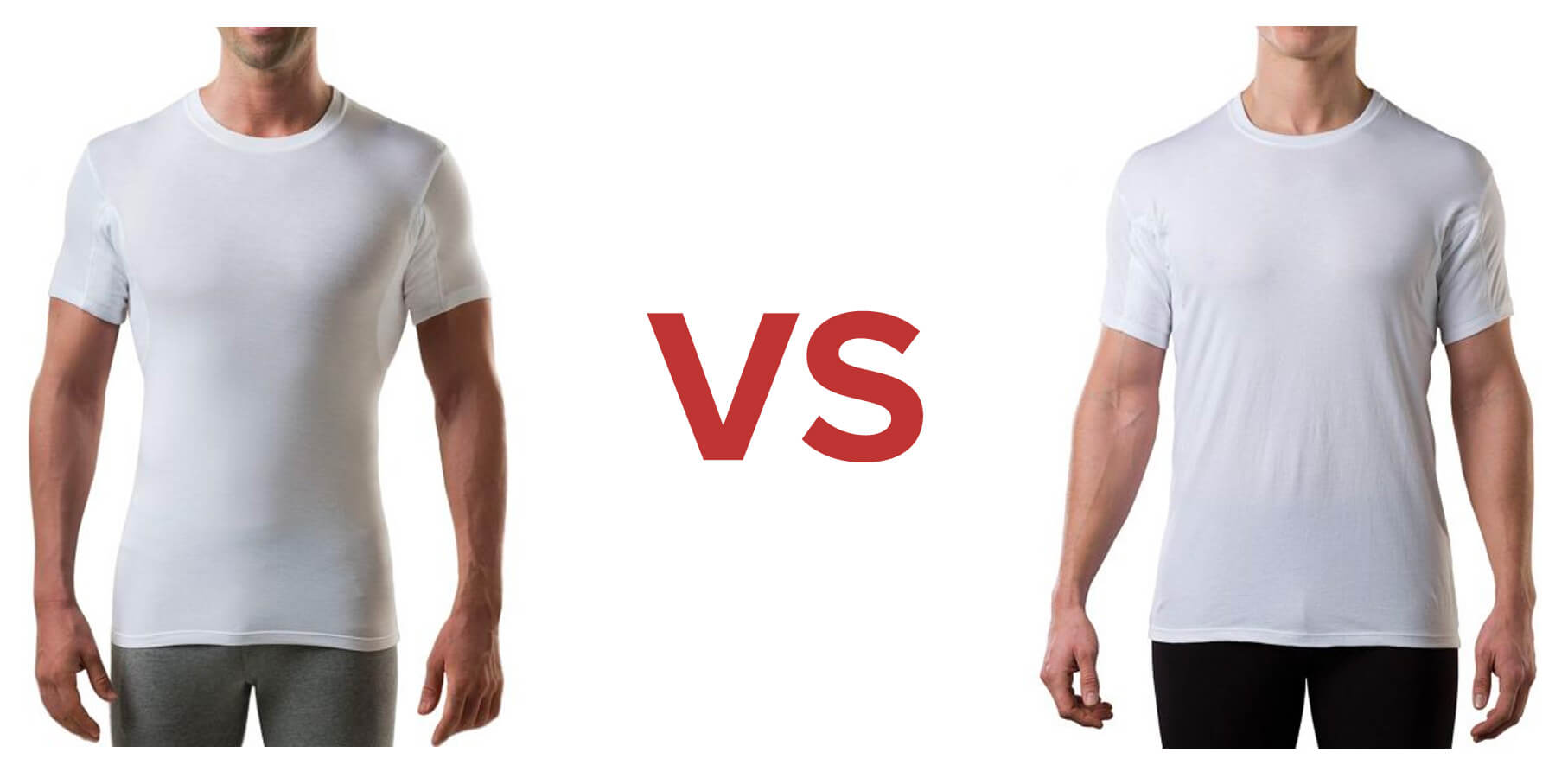 Both our men & women's sweat proof T-shirts come in two main styles: Original Fit and Slim Fit. Each include our patented Hydro-Shield technology that traps sweat and allows it to evaporate rather than soak through your shirt.
When wearing an undershirt nearly every day, you need a product that will last — and protect your clothing investment. We use premium combed cotton and high-quality rayon from bamboo to create superior sweat proof T-shirts. We chose to use bamboo because it's an ultra-soft, durable material that hugs the body, providing a slimmer fit compared to the cotton version.
We created our sweat proof Thompson Tees to follow typical T-shirt sizing. If you wear a size large in most undershirts, you will probably want to order a size large in your Thompson Tee. Our Slim Fit undershirts are intended to fit tighter than the original version.
Here are both our men's and women's sizing charts for reference:


Beyond body measurements, there are a few other factors that could affect the size and style that suits you best:
1. Your Sweating Level

All Thompson Tees are guaranteed to block 100% of underarm sweat. But if you're looking for the most sweat protection possible, it's important to know that our sweat proof underarm panels are scaled to size, meaning a size 2XL shirt will have a larger underarm barrier than an XL, for example.
What Women Need to Know
Due to design limitations, our Women's shirts have smaller underarm barriers than the men's styles. However, they are also scaled to size, so if you're in need of more sweat protection, try a size up.
For extreme sweaters, some women prefer to wear Men's shirts for the extra sweat protection. We recently rolled out XS sizes for both our Regular and Slim Fit Men's shirts, which could be a great option for women who experience severe axillary hyperhidrosis.
2. Your Fit Preference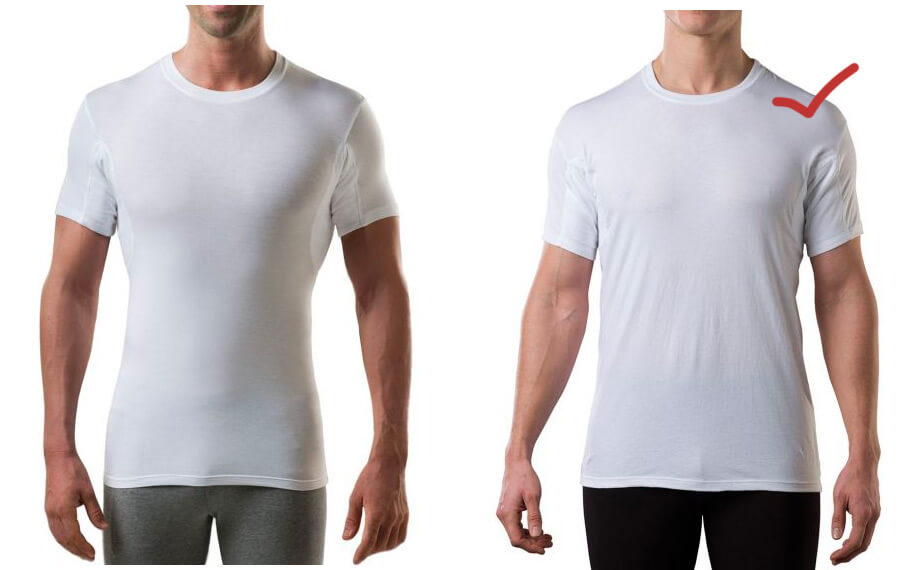 For most people, the shirt and size you choose will ultimately depend on your fit and style preferences. For example, both our Men's and Women's Slim Fit shirts are intended to fit snug, making them more discreet underneath your clothing. The Original Fit provides a little more breathing room for those who prefer a looser undershirt. If you're looking for the most sweat protection but like the fit of a typical T-shirt, you may want to try a size up in the Original Fit shirts.
3. Your Style Choices & Color

Choosing the right Thompson Tee also depends on your style. Think about what you wear daily. Do you wear a suit to the office every day? Dress shirt? How do you like your clothes to fit? For example, if you wear slim fit dress shirts and prefer more fitted styles, the Slim Fit option may be a great choice.
The colors you wear also matter. All Thompson Tees are available in white and black. Based on our customer feedback, we also just introduced a new heather gray. The new heather gray color helps disguise undershirt lines better so you don't see the outline under a white dress shirt.
For the guys who want to hide the fact they're wearing an undershirt (and show a little chest), the Men's Original Fit Deep V-Neck is also a great option.
The bottom line? If you're still unsure about which sweat proof Thompson Tee is right for you, try one risk-free today. We make it easy for you — put it to the test for 30 days to make sure you've found the perfect solution to your underarm sweating.
Which factors influence your Thompson Tee purchase? Or what other questions can we answer for you? We'd love to hear in the comments!