Sweat Proof Undershirt Review: itsDri, Ejis, Sweatshield, Kleinert's & Thompson Tee
We created the Thompson Tee to save others from the embarrassing effects of underarm sweat. Thompson Tee is the only patented sweat proof undershirt you can trust to stay dry.
But, we also know we're not the only option. In this sweat proof undershirt review, we'll compare how Thompson Tee stacks up against other brands like itsDri, Ejis, Sweatshield and Kleinert's.
Sweat Proof Undershirt Review and Comparison
In the fight against axillary hyperhidrosis and everyday sweating, people spend money aimlessly on products that overpromise and underdeliver. It's easy to be lured in by miracle cure "solutions" and hyperhidrosis surgeries that don't work.
While other products might look similar to Thompson Tee, none have the patented technology and design to back up their sweat proof promise.
To help you understand how Thompson Tee and other undershirt brands differ, we've consulted customer reviews, done extensive research and compiled key differentiators to help those looking to buy a sweat proof undershirt. Here are a few factors to consider when selecting a sweat proof undershirt:
How to Choose a Sweat Proof Undershirt
Sweat proof technology
Sweat absorption
Evaporative ability
Price comparison guide
Fit and length
Style options
Return policy
1. Patented Sweat Proof Technology
We poured over 15 years of hard work (and sweat), 100 different fabric considerations and 30 prototypes to create the sweat-blocking shirts you see today.
Our integrated, advanced Hydro-Shield technology is composed of a sweat proof barrier that includes an intricate stitching and layer system. Within the layers, a looped-knit fabric soaks up the sweat and an ultra-thin, medical-grade film blocks moisture from leaking through. It even earned a patent from the U.S. Patent and Trademark Office.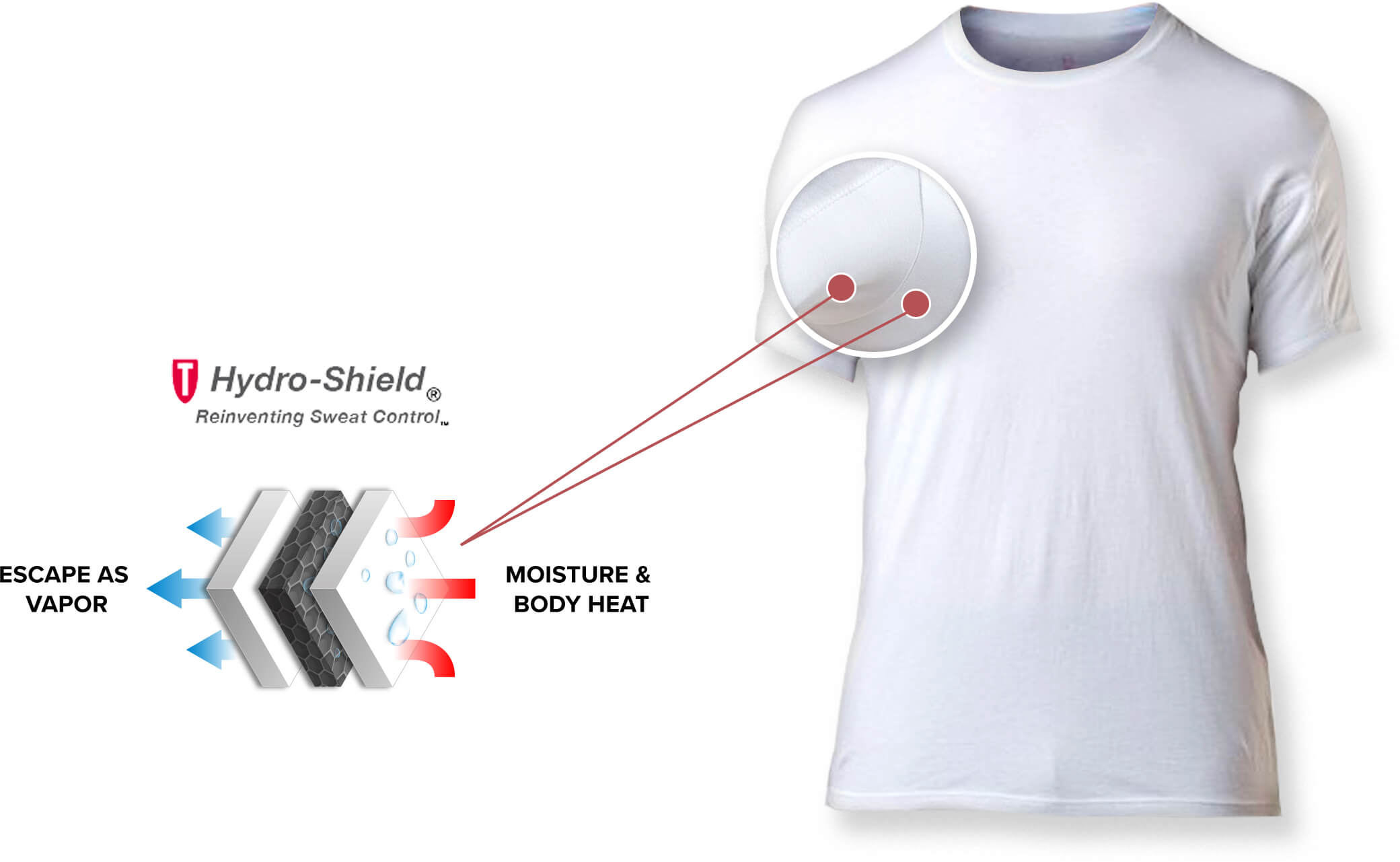 Competitors don't utilize the same patented technology — Thompson Tee's Hydro-Shield technology is the only sweat shield barrier verified to conceal underarm sweat and odor. (Some itsDri and Ejis customers have pointed out that sweat still leaks through the underarm seams of their shirts.)
2. Sweat Absorption and Sweat Shield Design
Most moisture-wicking shirts push sweat out away from your body, which doesn't protect against wet marks. Thompson Tee's sweat shields are specifically designed to work with the natural movement of underarm sweat.
When testing and iterating Thompson Tee prototypes, we realized sweat tends to pull towards the front of the shirt.
We designed the underarm sweat barriers to ride lower in the back and higher in the front to create a more comfortable, functional undershirt that effectively absorbs sweat.
You might notice other undershirts like Sweatshield and Kleinert's use the same sweat shield design on both sides rather than developing custom panels for each side. It's an easier, cheaper design strategy. But cutting corners here limits the shirt's ability to absorb and block sweat.
3. Evaporative Ability
Once the sweat shields soak up your sweat, the proprietary layering system creates air pockets and facilitates reverse osmosis to evaporate sweat.
Our patented technology is the only sweat proof design that creates this effect, which is why 99 percent of customers have success with our shirts . Other undershirts fail at locking in your sweat because there is no way for the sweat to escape as vapor. One Kleinert's reviewer stated, "the sewn-in pads create a hot space under the arms, exacerbating the problem."
4. Price
When choosing a sweat proof undershirt, the price is always a factor. Here's a quick breakdown of the cost per shirt by brand:
Thompson Tee Undershirt : $26.99-$31.99
itsDri Undershirt: $35.00
Ejis Undershirt: $27.99-$36.99
Sweatshield Undershirt : $49.99
Kleinert's Undershirt : $25.99-$34.99
After 20+ years in the garment industry, we've developed strong relationships with our suppliers. These partnerships allow us to use high-quality materials like premium combed cotton and create U.S.-made shirts at a lower price point than our competitors, who manufacture their shirts overseas. Our efficient cutting design also minimizes fabric waste, meaning we can purchase less material and pass the cost savings onto customers.
5. Fit and Length
Thompson Tees are available in an original fit and slim fit design that's perfect for wearing under fitted layers of clothing.
One customer mentioned that the Slim Fit Thompson Tee sweat proof barrier "feels much neater" than others like Sweatshield, which feels more like a " like a nappy" (or baby's diaper).
Another Thompson Tee customer noted, "the thickness was not uncomfortable or bothersome, nor did it make me feel like I had pads under my arms. The Thompson Tee is surprisingly comfortable to wear, especially underneath multiple layers."
Thompson Tees are made with soft, natural materials like cotton and rayon, meaning they're more comfortable and will keep you cooler.
We also designed our shirts with extra length to ensure they stay tucked in without bunching. Other undershirts like Kleinert's and Sweatshield have extra length, but according to one reviewer, they're even longer and more cumbersome than Thompson Tees.
Since inception, we've made our shirts sleek and convenient so you can focus better on work, school or social interactions instead of worrying about sweat marks.
6. Style Options
People have different fit and style preferences when it comes to sweat proof undershirts.
We created crewneck, V-neck and deep V-neck options in four colors and two styles for men, and scoop neck and deep V-neck options in four colors and two styles for women. Thompson Tee offers the largest selection of sweat proof shirts to appeal to every fit and style need.
7. Return Policy
Different brands may work differently for you depending on your sweat issues. It's important to purchase from a brand that offers a money-back guarantee.
Thompson Tee accepts returns or exchanges within 30 days – even on opened or used shirts – so you can try them risk-free.
At the end of the day, we're here to help people. We've spent years battling hyperhidrosis and searching for the best solution to remedy sweat troubles. It's why we invested thousands of dollars into honing our design and patenting our sweat proof technology. Nothing excites us more than hearing how Thompson Tee has changed people's lives for the better.
We'd love to hear your sweat proof undershirt review. Let us know how Thompson Tee fares to other brands in the comments below!
Shop sweat proof undershirts now at ThompsonTee.com, or read more Thompson Tee customer reviews.