The Secret Sweat Guard: Meet Our Most Discreet Undershirt Yet
Mounting pressure at work and unavoidable stress sweat can do a number on your clothes. Wearing a sweat guard undershirt like Thompson Tee can help. By blocking sweat and extending the life of your pricey dress shirts, Thompson Tees refuel your confidence — and your wallet.
You don't want your co-workers and comrades to see the undershirt beneath your button-downs, though. Obvious undershirt outlines and peeking necklines are unattractive and unprofessional. But under your white dress shirts, those white T-shirt lines show without fail.
That's why we created our most discreet sweat proof undershirt yet: the deep V-neck in heather gray. Here's why it's the last undershirt you'll ever need.
Introducing Our Super Stealthy Sweat Guard Tee
Our goal is to help you prevent sweat marks and preserve your confidence. Our newest deep V-neck undershirt in heather gray helps disguise undershirt lines so they're less visible beneath your white dress shirt.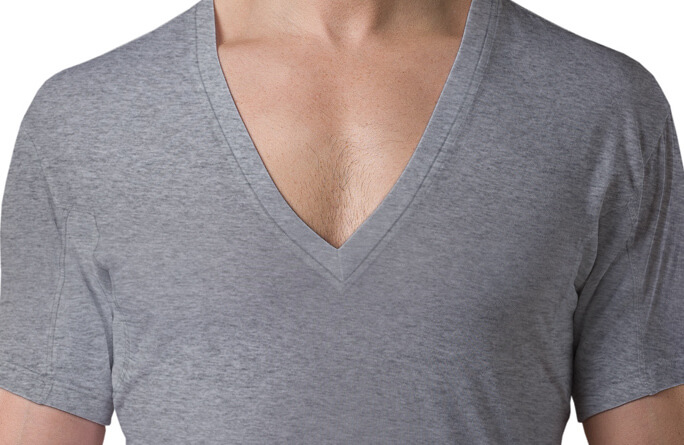 Need help finding the right Thompson Tee for you? Check out our size and style guide to narrow down your search.
So what makes gray undershirts more invisible than white?
Because gray more closely matches your skin tone than white, gray undershirts are less visible beneath your white dress shirts. And with our plunging neckline, you can show some chest (or not) without a noticeable undershirt cramping your style.
When you want added sweat protection — without compromising style — we've got you covered. With an ultra deep V-neck, our heather gray undershirts are virtually invisible under your white shirts.
Like all sweat proof Thompson Tees, the deep V-neck Thompson Tee in heather gray offers these benefits and more:
The patented sweat proof barrier completely blocks armpit sweat from passing through
Natural odor fighting properties
The integrated design provides a sleek, stylish and consistent look and feel
All Thompson Tees are made in the USA
Heather gray deep V-neck undershirts are made with 100% lightweight, premium combed cotton
The tagless lay-flat collar offers added comfort
Added length keeps the undershirt securely tucked in
They're safe to machine wash and dry
Have you tried our latest sweat guard undershirt yet? Give our deep V-neck in heather gray a try risk-free, and start owning your style and confidence again.