Thompson Tee Buyer's Guide: Choosing the Right Sweat Proof Shirt
For many people, buying undershirts is an afterthought. But if you have hyperhidrosis or sweat heavily, the undershirt you choose is key to helping you maintain comfort and confidence throughout your day.
However, you shouldn't have to compromise your own distinct fit and style preferences to stay dry. As creators of the best sweat proof shirt on the market, Thompson Tee understands your struggle. That's why we've created a variety of fits, styles and colors to suit your needs.
So which Thompson Tee is right for you? We've created this style guide based on personal experiences and real customer feedback to help guide your purchase.
Jump straight to:
Technology
We designed our sweat proof undershirts to conceal any trace of underarm sweat. Our shirts differ from "sweat resistant" and "moisture wicking" shirts because they absorb and evaporate sweat rather than wick it away across other areas of your body.
Every undershirt contains Hydro-Shield®, our patented, clinical-grade sweat proof material that blocks moisture from passing through to your outer layers. Other sweat proof shirt competitors use chemically treated material that washes out over time. However, Hydro-Shield's native properties are part of the fabric, maintaining its effectiveness wash after wash.
In addition, we also carry undershirts for men that feature our revolutionary Odor Shield™ technology. These anti odor undershirts are infused with a natural, non-toxic hydrogen peroxide-based solution that eliminates 99.9% of bacteria and stays put for at least 70 wash cycles.
Note: Our anti odor shirts are available in crewneck and v-neck styles but do not contain Hydro-Shield technology.
Fabric
If you wear an undershirt nearly every day, you need a long-lasting product to protect your clothing. Our shirts are made with ultra-soft, lightweight material and feature tagless, lay-flat collars that avoid bunching.
Our Original Fit short-sleeved shirts are made of 100% premium combed cotton
Our Original Fit long-sleeved shirts and Premium Anti Odor shirts are made of 50% Supima cotton and 50% MicroModal blend
Our Slim Fit shirts are made of 95% rayon from bamboo and a 5% spandex blend
All of our shirts are machine washable and dryer safe for easy care.
Fit
Both our men's and women's sweat proof t-shirts come in two styles: Original and Slim Fit, both made with Hydro-Shield® technology.
For most people, the fit you choose will ultimately depend on your lifestyle preferences. Think about what you wear daily – do you wear suits or dress shirts often? If so, the Slim Fit option may be a great choice. The Original Fit will do the job if your daily wear is much more casual.

Original Fit
Our Original Fit tees provide more breathing room for those who prefer a looser undershirt. If you're looking for the most sweat protection but like the fit of a typical t-shirt, try a size up in our Original Fit shirt.
Slim Fit
Our Slim Fit shirts offer a sleek, subtle look and are intended to fit snugly, making them more discreet underneath your clothing.
Neckline
Crew neck, v-neck, or deep v-neck – which one should you choose? Choosing the right undershirt style depends on the type of clothing you usually wear.
| Type of Neckline | Best Choice For |
| --- | --- |
| Crew Neck Undershirts | Traditionally worn with most shirts, but the collar will be visible under open-collared shirts and low-neck sweaters |
| V-Neck and Deep V-Neck Undershirts | Shirts with low necklines, or to create a "no undershirt" look under open-collared shirts |
| Scoop Neck Undershirts | Low-cut dresses or shirts |
Thompson Tee offers the following necklines for men and women:
Men – Crewneck, V-Neck, Deep V-Neck (only available with original fit)
Women – Scoop Neck, Deep V-Neck, Crewneck (only available with original fit)
Sleeve Length
Whether you choose traditional short sleeve or long sleeve tees usually depends on personal choice and weather conditions. Long sleeve tees provide extra warmth under sweaters and jackets, while short sleeves provide lighter protection during warm months. Both sleeve styles can also be worn on their own.
Thompson Tees off the following sleeve lengths for men and women:
Short sleeves – Men and women
Long sleeves – Men only, original fit (Crewneck and V-neck)
Size
We created our sweat proof Thompson Tees to follow typical T-shirt sizing. For example, if you wear a size large in most undershirts, a large Original Fit Thompson Tee will probably fit you. However, our Slim Fit undershirts are intended to fit tighter than our Original Fit version to create a sleek profile.
Got a sweaty kid? You might be interested in getting a teen boy or girl a sweat proof tee for wearing under sports jerseys or just … being a teen. We've got you covered. Please see the sizing charts below. Younger teens most often fit our x-small and small sizes.
Here are both our men's and women's sizing charts for reference. We highly recommend taking measurements before ordering.


Beyond body measurements and style preferences, a few other factors could dictate which kind of t-shirt suits you best.
Sweat Level

All Thompson Tees are guaranteed to block 100% of underarm sweat. But everyone sweats differently. If you're looking for the most sweat protection possible, it's important to know that our sweat proof underarm panels are scaled to size. For example, a size 2XL shirt will have a larger underarm barrier than an XL.
Due to design limitations, our women's shirts have smaller underarm barriers than our men's styles. However, they are also scaled to size, so if you need more sweat protection, size up.
Among extreme sweaters, some women prefer to wear men's shirts for extra sweat protection. We offer XS sizes for our Regular and Slim Fit Men's shirts, which could be an excellent option for women who experience severe axillary hyperhidrosis.
Color
The undershirt color you wear matters. If you've always defaulted to wearing a white undershirt beneath your clothes, you might be surprised how good different colors look.
For example, a white tee will most always show under clothing – even (or especially!) white clothing and dress shirts. Try wearing a black, navy or dark green undershirt if your outer layer is dark. Alternatively, check out tan, beige or gray undershirts if you're wearing white or pastels.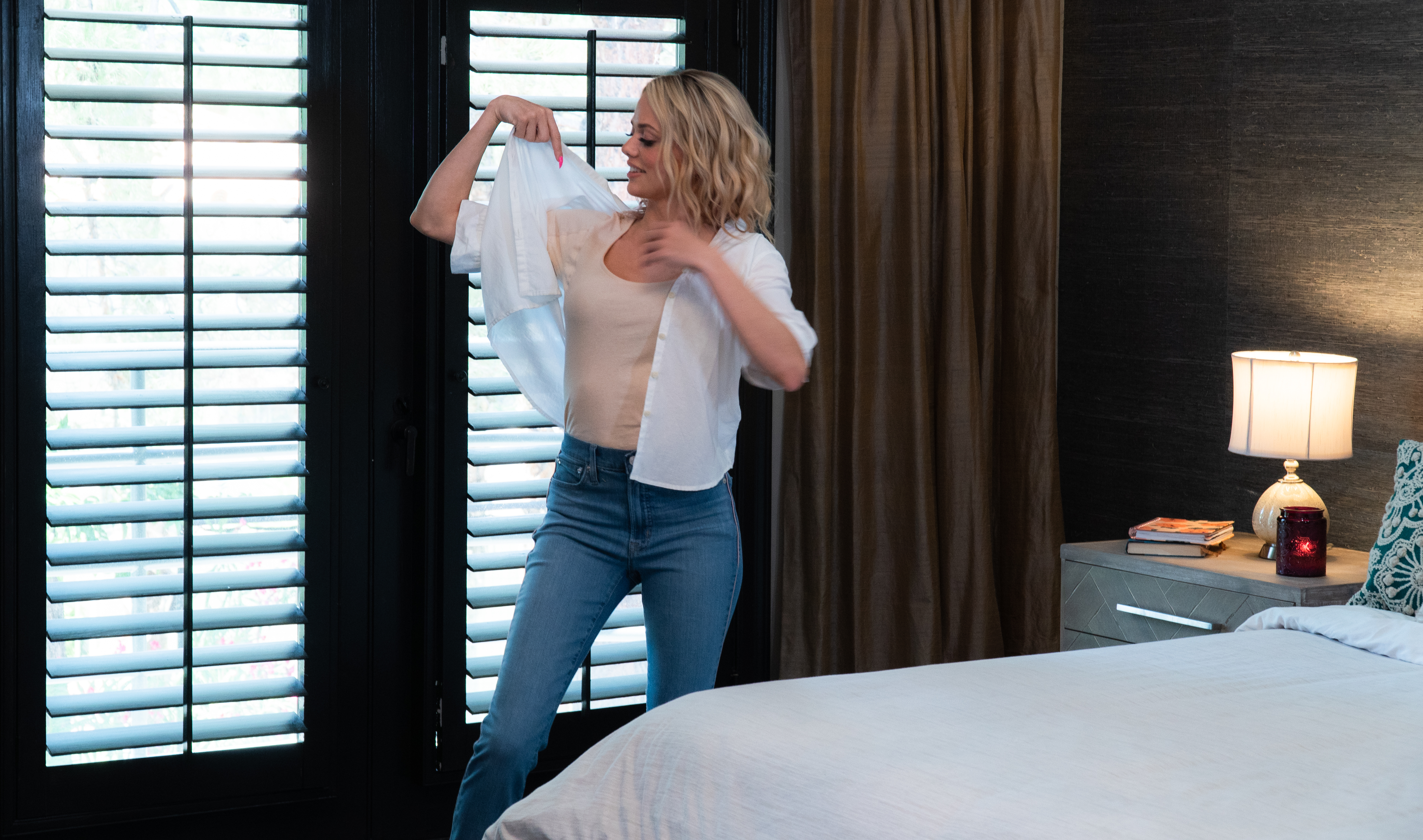 Remember the "one to wear, one for the wash, one for the drawer" rule. Thompson Tees are available in multi-packs so you always have a clean undershirt available.
Price
Remember, all clothing you purchase is an investment. Therefore, it's wise to protect your clothing from yellow sweat stains and odors that can be difficult or impossible to remove, increasing wardrobe churn and saving money long-term.
In addition, our sweat proof undershirts are a highly effective tool in preventing the embarrassing signs of excessive sweating that can impact personal hygiene and confidence. When you break down our shirts' longevity into cost-per-wear, we think you'll find that they are well worth it.
Both men's and women's styles start from $32.99 per shirt.
Buy more and save with our convenient multi-packs in men's Original Fit, Slim Fit, Original Fit Long Sleeve and Premium Anti Odor t-shirts – starting from $125.36
Likewise, women's multi-packs are available in Original Fit and Slim Fit styles – starting from $125.36.
Thompson Tee: Which Will You Choose?
Thompson Tees' quest to create the perfect sweat-absorbing tee began more than ten years ago, and we've now sold over one million shirts! Our sweat proof undershirts have helped thousands of people feel comfortable and regain their confidence.
If you're still unsure which sweat proof Thompson Tee is right for you, try one risk-free today. Yes, it's that easy — you're welcome to put it to the test for 30 days (wear it and wash it!) to ensure you've found the perfect solution to conceal your underarm sweating.
If you're buying for someone else and aren't sure about the size or style, our gift cards fit the bill perfectly.