Your Guide to the Best Deodorant for Men
Most of us can agree that personal hygiene is important. After all, nobody wants to be known as the smelly guy who doesn't take care of himself.
That's why wearing deodorant or antiperspirant is not only critical for your hygiene but also crucial for your social image and your ability to look presentable or professional.
Struggling to find the right deodorant? Take a look at our guide to the best deodorant for men to find a product that fits your needs and elevates your confidence!
The Best Deodorants for Men
What to Look for In a Deodorant
There's a lot to consider when choosing a deodorant. For instance, what ingredients will be most effective for your needs? Or, what application method is best?
As you're shopping for deodorant, keep these factors in mind:
Sweat level: Do you sweat a lot? An aluminum-based antiperspirant is probably best. But if you're concerned about toxins, you'll want to dig further to find an effective natural product. (If you sweat excessively, ask your doctor about prescription antiperspirants).
Ingredients: Always check the ingredients. If you're shopping for natural deodorant, be wary of products advertised as natural, but still contain chemicals.
Fragrance: Do you prefer scented or unscented products? Or, if your B.O. levels are on the higher side, consider a scented product for extra measure.
Price: Are you looking for a deodorant that costs as much as a cup of coffee, or are you willing to splurge on a more luxurious option (or even a subscription-based product)?
Application type: Deodorants come in many forms, like stick, spray, crystal or cream. How do they differ, and how do you determine which is best for your needs?
Read more: Deodorant vs. Antiperspirant: Do You Know the Difference?
6 Types of Deodorant
To help you make the right decision, let's review six different types of deodorants and their application methods:
Aerosol deodorants: Deodorant sprays have a powdery finish when dry and offer reliable protection. However, over-spraying may lead to inhaling harmful chemicals.
Roll-on deodorants: Roll-on deodorants are wet and cool when first applied, but require time to dry. This method might seem impractical when you're rushing in the morning, but many roll-ons do provide great protection against B.O. There's also plenty of natural options for sensitive skin.
Gel deodorants: Gel deodorants apply clear and leave no marks or stains on clothing. But they don't hold up as well under pressure, so gel deodorant might not be best for heavy sweaters.
Solid deodorants: Solid deodorants are effective and convenient, making them one of the most popular options. They're dry when applied and offer fantastic odor protection. However, solid deodorants are notorious for staining clothes. Plus, be mindful if you have sensitive skin - their thick formula can cause irritation and discomfort.
Cream deodorants: Cream deodorants use natural ingredients and prevent B.O. from occurring as effectively as other types of deodorants.
Crystal deodorants: Crystal deodorants are made of natural mineral salts and are safe for those with allergies and sensitive skin. If you're switching from a drugstore antiperspirant, expect to 'detox' for the first two weeks before your crystal deodorant starts to work.
Top 6 Deodorants for Men
We've narrowed down the best six deodorants for men. Check out our favorites:
1. The Best Natural Deodorant – Mountaineer Brand Natural Deodorant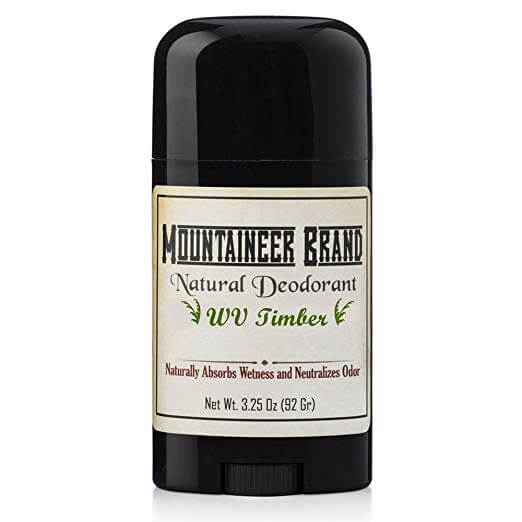 Mountaineer Brand Deodorant uses no aluminum, parabens, or artificial fragrances.
Ingredients include essential oils such as neem oil and tea tree oil that fight smell-causing bacteria, plus baking soda and arrowroot powder to absorb moisture and wetness. Coconut oil, Vitamin E, and shea butter also protects sensitive skin from discomfort and drying.
Choose from three varieties: Lime and Sage, Timber and Unscented.
2. The Best Antiperspirant – Dove Men+Care Dry Spray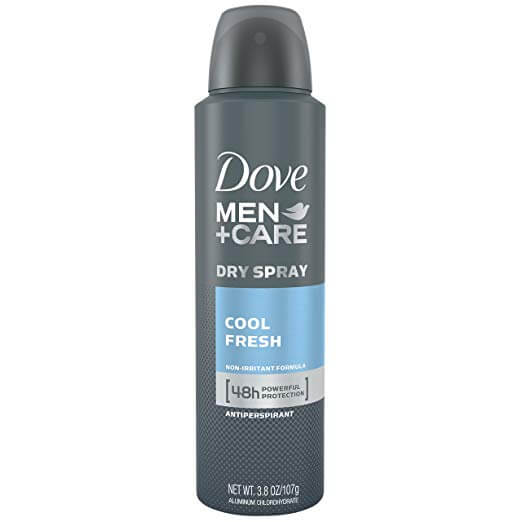 Sweat a lot? You'll need a trustworthy deodorant and antiperspirant combo that holds up through all your activities.
Dove Men+Care Dry Spray is an affordable and powerful option that'll help you stay dry and fresh all day.
Even though sticks and roll-ons are usually considered most effective, Dove Men+Care can protect you from wetness and B.O. for up to 48 hours. Plus, its moisturizing technology prevents irritation and discomfort.
3. The Best Subscription Deodorant – HELMM Deodorant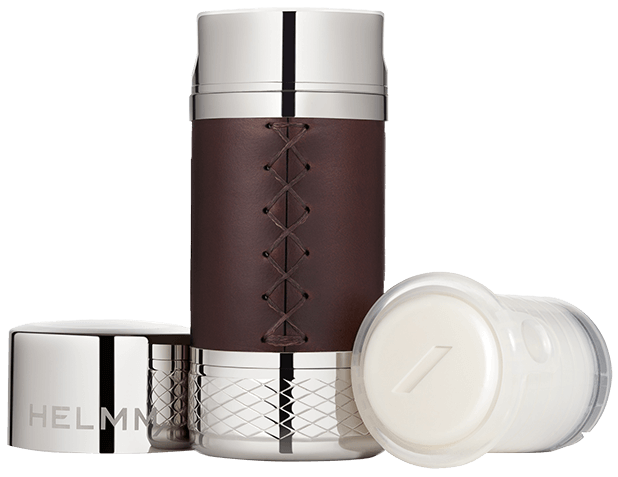 Love subscription boxes? Try the eco-friendly HELMM Deodorant. It's free of sulfates, parabens and phthalates, and its recyclable refill cartridges use 60 percent less plastic than drugstore brands.
HELMM market themselves as the first high-end men's deodorant. The product's sleek industrial design features a metal alloy container with hand-stitched Horween leather. The deodorant comes in four premium scents developed by Cecile Hua, an award-winning French perfumer.
4. The Best Deodorant for Sensitive Skin – Prospector Co Deodorant Spray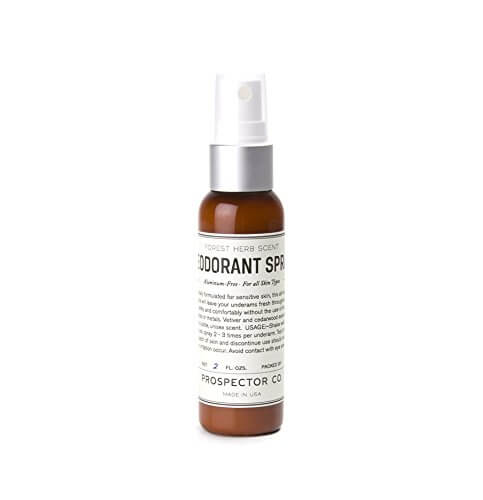 In need of a chemical-free option? Prospector Co Deodorant Spray is made especially for those with sensitive skin.
Ingredients include essential oils of cedarwood and vetiver with no artificial fragrances. This spray will keep you dry and fresh at no expense to your comfort and health.
5. The Best Crystal Deodorant – CRYSTAL Body Deodorant Stick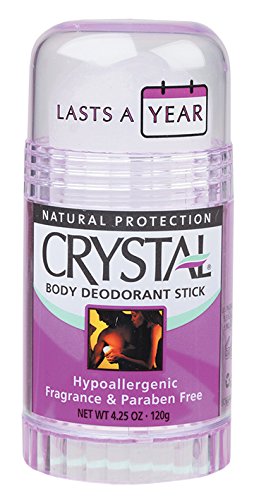 Mineral salt deodorants can be challenging to apply, but the CRYSTAL Deodorant Stick comes in a convenient twist-up format. Made by the pioneers in the industry, this product is free of harmful chemicals and is hypoallergenic.
It's pricey at around 20 dollars but can last up to one year.
6. The Best Cream Deodorant – Black Chicken Axilla Paste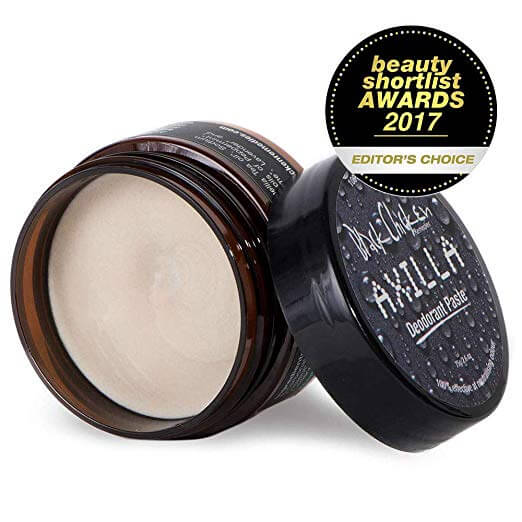 Another natural option on our list is the Black Chicken Axilla Paste, which is cruelty-free and vegan.
You'll find organic ingredients including coconut oil, shea butter and kaolin clay. The formula absorbs wetness and neutralizes odors without blocking sweat glands (if you sweat heavily, this product might not be for you).
It's easy to use: grab a pea-sized amount and gently rub into your armpits till it dissolves.
The Best Partner for Deodorant: The Thompson Tee
Sometimes, a standard deodorant on its own isn't enough to keep sweat and odor at bay.
That's why you need to arm your wardrobe with a quality sweat proof undershirt. The Thompson Tee provides 100% guaranteed protection against armpit sweat and odor.
Each sweat proof Thompson Tee is designed with patented Hydro-Shield technology that traps moisture in the armpits, allowing it to evaporate and escape as vapor. The Thompson Tee is guaranteed to prevent 100% of sweat from reaching and staining outer layers of clothing.
Double down on protection by combining a Thompson Tee with your favorite deodorant. You'll have a winning combination that helps you stay clean, dry and confident!