Professional Clothes for People Who Sweat
Finding professional clothes for people who sweat can be tricky.
You need workwear that's both comfortable and appropriate for your job - especially if you sweat easily or have hyperhidrosis. Whether you work indoors or outdoors, it's crucial to stay dry and feel confident throughout the day.
Dresses and button-ups can feel stuffy or tight, causing unwanted perspiration. And if your job requires you to move around between clients, meetings or site visits, you know it's a sweat disaster waiting to happen.
Luckily, we have some solutions for you. We've rounded up 10 essential work clothes for people that sweat. Arm your wardrobe with these pieces to keep your sweat (and worries) at bay.
The Best Professional Clothes For People Who Sweat
As you shop for sweat-friendly professional clothes, look for these features:
Clothing that absorb excess sweat, rather than wick it away, such as sweat proof undershirts
Lightweight, flexible materials that don't constrict movement
Stain and odor resistance
Wrinkle resistance
Air vents and gussets
Check out our top 10 work clothes for people who sweat:
We raved about Ministry of Supply's Apollo 3 dress shirt in our blog post, Dress Shirts That Don't Show Sweat. Because of Apollo 3's success, Ministry of Supply created an updated sweat-wicking shirt: the Aero Dress Shirt.
The Aero Dress Shirt is a modern cut shirt, designed without excess fabric to avoid bulk. It's available in slim, standard and classic cuts to provide the most flattering fit.
Features:
Built-in vents increase airflow to your armpits and pull sweat away from your body
Two-way stretch fabric helps you move comfortably
Naturally releases wrinkles with your body heat
Care: Machine wash, tumble dry
The Departure 2.0 is a stylish and functional addition to your professional wardrobe. Convertible roll-tab sleeves can be adjusted up or down to changing weather conditions.
Its classic style has a universal, slightly relaxed fit to keep you comfortable.
Features:
Flexion active stretch fabric
FreeDry® moisture wicking
FreeShade® UPF 50+ sun protection
Care: Machine wash, tumble dry
Professional clothes for people who sweat are a godsend. But if you want to preserve your style — and not empty your bank account — protect the clothes you already own with a sweat proof undershirt.
Thompson Tees have built-in underarm padding that soaks up sweat and keeps sweat stains and yellow marks away.
Sweat proof Thompson Tees come in various styles, sizes and colors. Wear it underneath your work clothes or on its own - it's guaranteed to keep you dry all day long.
Features:
Patented Hydro-Shield technology to soak up excess sweat
Prevents sweat and sweat stains from ruining outer layers of clothing
Care: Machine wash, tumble dry
When you sweat a lot, the last thing you want to wear is a jacket over your dress shirt. Haggar has you covered.
Whether you're going to an important meeting or a wedding, Haggar's Travel Performance clothing line is designed with stretch fabric to provide all-day comfort.
Features:
Moisture-wicking properties
Side vents for easy movement
Care: Dry clean only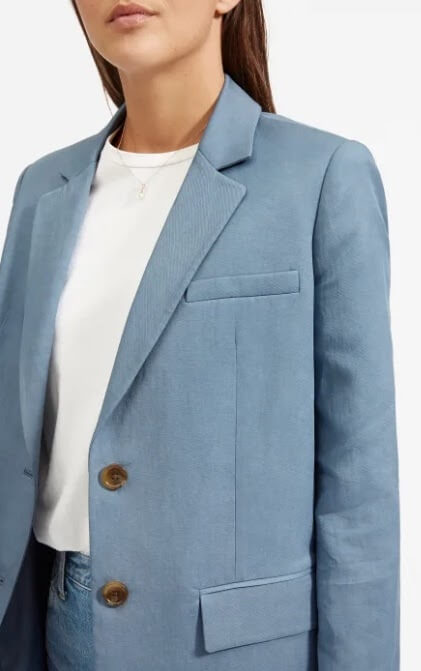 Everlane's women's blazer is menswear-inspired and slightly oversized. Its breathable cotton/linen blend keeps you comfortable in warm conditions, while a touch of stretch maintains its shape.
Wear this blazer to stay cool during important meetings, or pair it with jeans on casual Fridays.
Features:
Slight stretch for easy movement
Cuff buttons
Flap pockets
Care: Dry clean only
A practical wardrobe investment, L.L. Bean's Fitness dress can take you from work to play (or vice versa). Pair it with heels or boots and a cardigan or blazer.
This dress contains SPF and breathable stretch fabric that dries quickly to keep you cool.
Features:
Moisture-wicking properties
Retains its shape and resists pilling
Rated at UPF 50+ for reliable sun protection
Care: Machine wash and dry.
Workout gear isn't the only clothing you can find with Nike's famous Dri-FIT technology. The microfiber construction of these pants pushes sweat away, distributing it evenly throughout the fabric so that it evaporates quickly.
Hurley Dri-FIT Worker pants feel more like lightweight sweats or joggers than slacks. They're tailored at the waist for a professional look, with enough room in the butt and thighs to keep you comfortable. Say goodbye to butt sweat at work!
Features:
Moisture-wicking properties
Front zip stash pocket
Regular fit
Care: Machine wash, tumble dry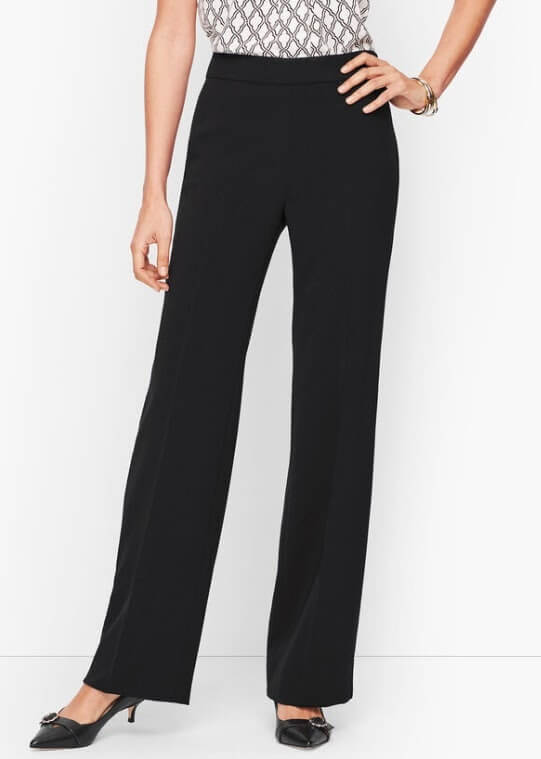 If you travel a lot (or even if you don't), Talbots' flattering wide-leg pants will get you from place to place with ease. You'll enjoy the lightweight, breathable fabric that drapes beautifully.
Wear these pants with other pieces from Talbots' Easy Travel Suiting Collection to create a variety of both professional and casual looks.
Features:
Wrinkle-resistant
Invisible side zipper
Care: Machine wash, tumble dry
When the weather gets colder, you need to layer up. Duluth Trading's Strongarm Cotton Crew Sweater keeps you warm on your commute, and cool in the office.
While most sweaters stifle and restrict movement, the Strongarm is stretchy and breathable. This cotton and nylon blend sweater boasts armpit gussets that ventilate and allow you to lift your arms without untucking your dress shirt.
Features:
Stretchy fabric for easy movement
Armpit gussets for ventilation
Rib-knit cuffs and bottom hem contain spandex to hold their shape
Care: Machine wash, tumble dry
Pendleton's Shetland wool sweater is naturally water-resistant, stain-resistant and odor-resistant. Contrary to popular belief, wool keeps you cooler than other fabrics. Wool is more expensive, but it's a far better fabric choice for people who sweat.
For maximum comfort (and minimum itch), layer this sweater over a long-sleeve tee, turtleneck or shirt.
Features:
Fabric: 100% Shetland wool
Relaxed fit
Care: Machine wash
Protect Your Work Clothes with a Thompson Tee
If you sweat a lot but can't afford to overhaul your professional wardrobe, protect the clothes you currently own with a Thompson Tee.
We're confident that our comfortable, sweat proof undershirts will protect your most essential workwear items and extend the lifespan of your wardrobe. You'll never have to throw away sweat-stained clothes again.
Each sweat proof Thompson Tee contains patented Hydro-Shield technology that traps moisture, allowing it to evaporate and escape as vapor. Thompson Tees are guaranteed to prevent 100% of sweat from reaching and staining outer layers of clothing.
Try a Thompson Tee risk-free today.