Professional Clothes for People Who Sweat
You don't have time to fret about sweat at the office. Still, you go to great lengths to appear dry. Maybe you carry an extra shirt in the car, stuff your underarms with paper towels — or even resort to painful maxi pads. The good news is there's an easier way. Professional clothes for people who sweat exist, and we've compiled a list of our favorite pieces.
The Best Professional Clothes For People Who Sweat
Whether it's 80 degrees in the office or 60, sweat has a way of creeping up. It drips down your arms, chest and back in meetings with your boss, stains your shirts and kills your confidence. Arm your wardrobe with a few of these pieces, and you won't ever have to think about sweat again.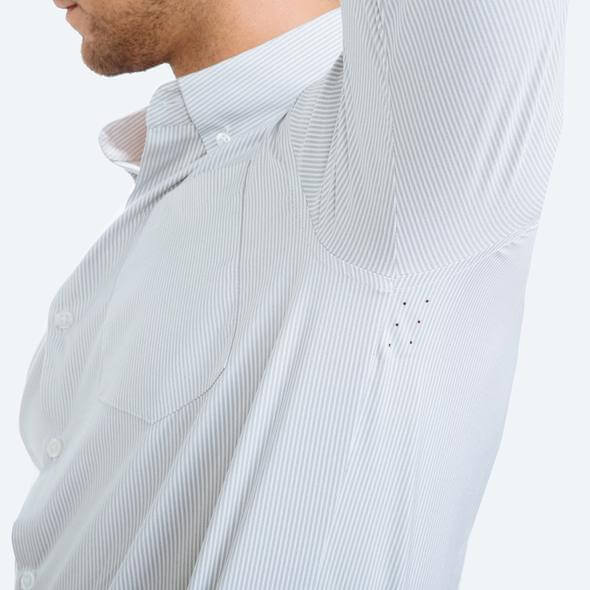 We raved about Ministry of Supply's Apollo 3 dress shirt in our blog post, Dress Shirts That Do Not Show Sweat. Because of its success, Ministry of Supply created another sweat-wicking dress shirt: the Aero Button Down. Customers claim it's "by far the best shirt that Ministry of Supply has ever made."
The Aero has tiny built-in armpit vents, which increase air flow to your pits and pull sweat away from your body to prevent sweat stains. This shirt also boasts a "2-way stretch fabric and ergonomic construction," so you won't have to worry about looking stiff and sweaty during meetings or presentations. Plus, it's machine-washable!
Professional clothes for people who sweat are a godsend. But if you want to preserve your style — and not empty your bank account — protect the clothes you already own with Thompson Tee.
This sweat proof undershirt has built-in underarm padding made of thin, absorbent and breathable material. It's called Hydro-Shield technology. These shirts soak up and release sweat into the air and are 100% guaranteed to keep sweat stains away.
Each Thompson Tee comes in various styles, sizes and colors for men and women. Wear it underneath your work clothes or on its own. It's guaranteed to keep you dry all day long.

Suitsupply specializes in office attire made from high-quality fabrics. And we love their wool cashmere Jort Blue Plain jacket. But I know what you're thinking: "Wool!? I'll be sweating bullets!"
Contrary to popular belief, wool keeps you cooler than other fabrics. It's spun into a soft, thin yarn that absorbs and wicks away sweat. Wool is more expensive than rayon or polyester, but it's a far better fabric choice for people who sweat.
The Jort Blue Plain jacket is perfect for formal business meetings or nerve-wracking client pitches.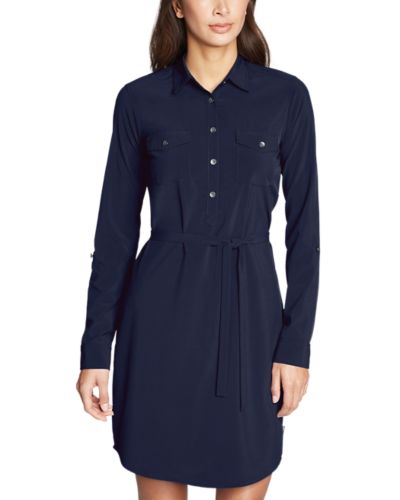 This chic and lightweight Departure Long-Sleeve Shirt Dress from Eddie Bauer is on the top of our list of professional clothes for people who sweat.
There's no need to worry about sweat with this dress. It's made with a flexible four-way stretch, all-over moisture-wicking fabric that's ideal for even your busiest workdays.
This dress even offers two front pockets and built-in sun protection (a generous SPF 50 to be exact), which makes it the perfect outfit for those who commute by foot or need to be on-the-go. Available in regular, petite and tall sizes, this versatile dress offers everything you're looking for and is a perfect addition to your workwear rotation.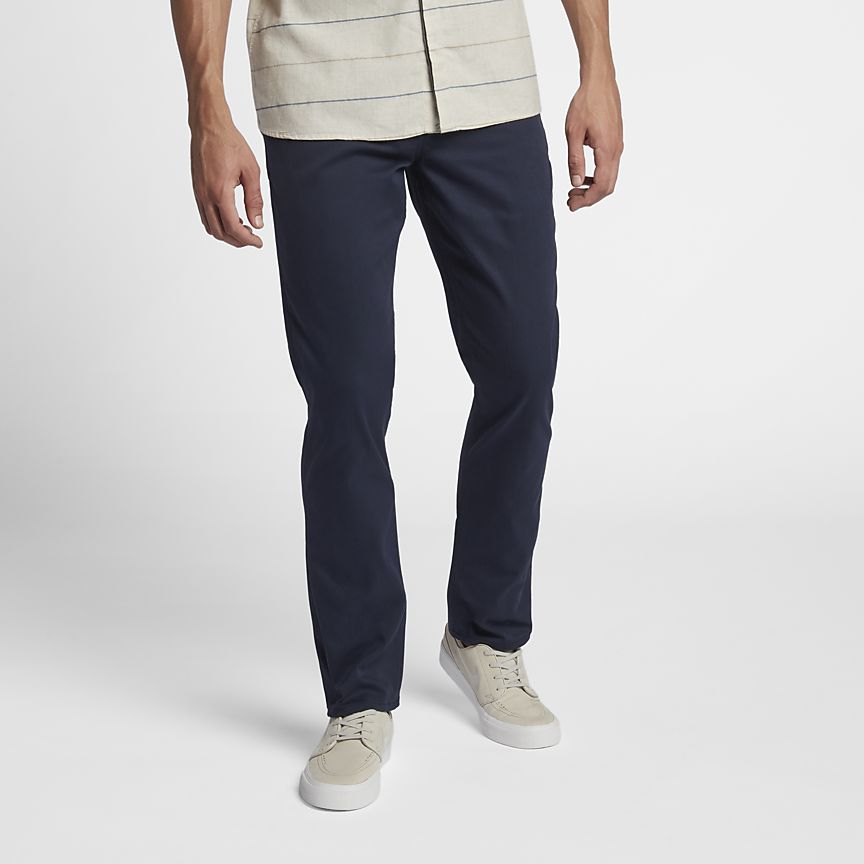 Workout gear isn't the only clothing with Nike's Dri-Fit technology. A variety of work-appropriate pants and shirts have this moisture-wicking feature.
A chino-style pant, the Hurley Dri-Fit Worker will keep you dry from nine to five. Made mostly with cotton, these pants feel more like lightweight sweats or joggers than slacks. They're tailored at the waste, to keep you looking professional, with enough room in the butt and thighs to let the breeze in.
Say goodbye to butt sweat at work!
Fashion law says you're not supposed to wear white after Labor Day, but with Old Navy's water-proof, stain-proof jeans, you won't be able to resist.
There's no way sweat or any other liquid will soak through these jeans. Don't want to take our word for it? Check out this YouTube video.
As the weather gets cooler, you'll need to layer up. Duluth Trading's Strongarm Cotton Crew Sweater keeps you warm on your way to work and cool in the office.
While most sweaters stifle and suffocate, the Strongarm is stretchy and breathable. It's designed with armpit gussets. These triangular pieces of fabric allow you to lift your arms without untucking your dress shirt. They also provide ventilation.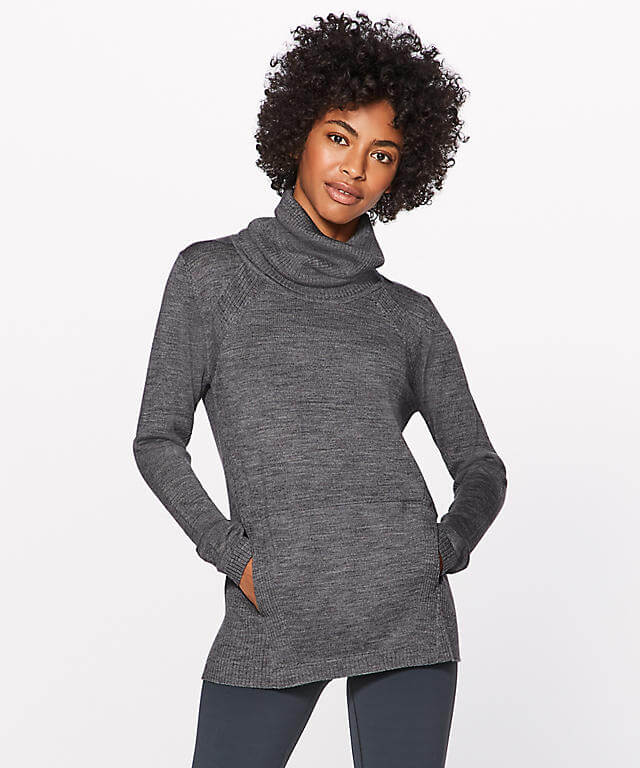 Lululemon's Sweat & Savasana Sweater is a great option for heavy sweaters.
Made with 100% Merino Wool, this sweater is naturally insulating, moisture-wicking, temperature regulating, breathable and soft to the touch. Basically, it's a miracle sweater ­— perfect for those days when the office thermostat can't make up its mind.
We're confident that these comfortable, office-friendly pieces can extend the life of your wardrobe and eliminate the need to throw away clothes ruined by sweat stains. What other favorite workwear pieces do you own that provide an excellent line of defense against sweat? We'd love to hear it in the comments below!