The Best Deodorant for Kids (And the Safest)
When your child reaches adolescence, their body changes. So, if you start to smell B.O. in the car ride home from school or soccer practice, it might be time for your little angel to start using deodorant. In this post, we'll break down the best deodorant for kids to help you make the healthiest, safest choice!
Looking For The Best Deodorant For Kids? Consider These 3 Things
Many cosmetics on the market today are filled with harsh chemicals. It's normal to have health and safety concerns about deodorant, especially if it's for your child. Here's what you need to consider to keep them healthy and safe.
Ingredients
Let's talk about a few ingredients you may want to avoid and why.
Easy Application
Ingredients aren't the only factor to consider. Rushing to get your kid out the door every morning? Buy them an easy-to-apply deodorant and have one less thing to worry about.
Roll-on and solid deodorants work best. Avoid sprays or messy pastes and look for the kind that goes on invisible. You'll save your child the embarrassment of discovering white marks on their shirt and have one less mess to clean up.
Long Lasting
Middle school and high school are tough enough. Your kid shouldn't stress about reapplying deodorant midday. A few swipes in the morning should keep them smelling fresh well past the last bell.
Don't automatically trust labels that say '24-hour protection.' Check out customer reviews to see if a deodorant ACTUALLY WORKS.
Now that you know what to look for, check out our list of the best deodorant for kids.
Top 4 Deodorants for Kids
Here are four effective, safe and healthy kids' deodorants to try.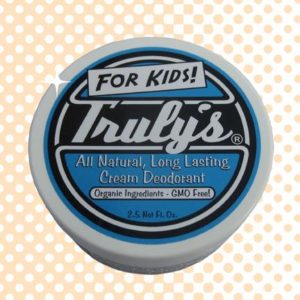 Truly's is on our list of Best Natural Deodorants for Axillary Hyperhidrosis and its kids formula works well too. Made with coconut oil, powdered sugar, baking soda and beeswax, Truly's is so organic you could eat it. It's also scientifically proven to prevent bacteria growth by a creating hyperosmosis.
What does that mean exactly? The sugar in Truly's mixes with sweat and fills the sweat glands with a thick fluid. This creates a sticky environment in which bacteria cannot live.
Pros
Comes with a money back guarantee
100% organic
Lasts all day
Has a 4.5 rating on Amazon with more than 200 reviews!
Only $8.99
Cons
Only offered in paste form and must be applied with the fingers.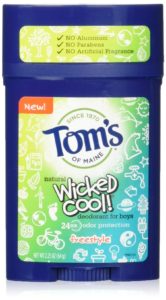 Tom's offers an all-natural deodorant for kids. Both the boys and girls' formulas are made with the same ingredients, so it doesn't matter which you buy. Vegetable oils, aloe, hops, sunflower seeds, citrus fruits and lemongrass work together to combat odor and smooth skin.
Pros
Easy-to-apply solid
Provides cooling sensation when applied
Sold at Target and Walmart for under $5.00
No chemicals
Cons
May not last your child all day according to numerous Amazon reviews.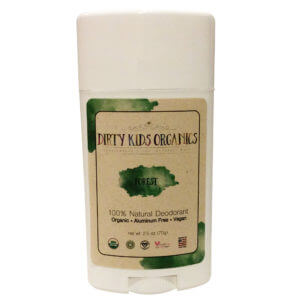 Dirty Kids Organics is a small family-owned business that provides all-natural, organic and environmentally friendly hygiene products for kids. Their deodorant contains coconut oil, carnauba wax, baking soda and essential oils.
The baking soda and coconut oil fight odor and bacteria while the carnauba wax seals the mixture on the surface of the skin.
Pros
Chemical free
Vegan and cruelty free
Handmade in the U.S.A
Long lasting
Cons
Must warm solid stick with body heat so it doesn't crumble during application
Costs $13.99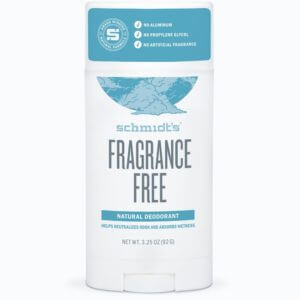 If your child struggles with sweat, B.O. and has sensitive skin, this is the product for them! Schmidt's for sensitive skin isn't labeled a 'kids' deodorant but it's gentle and safe for youngsters. Made with arrowroot powder and baking soda, it's one of the only natural deodorants that absorbs sweat AND stops the stink.
Pros
Has over 300 reviews on Amazon and four out of five-star rating
Great for kids who struggle with armpit sweat, odor and sensitive skin.
Costs $8.99
Cons
May not keep stench away entire day without reapplication
What If Deodorant Isn't Enough?
Sometimes, even the best kids' deodorant is not enough. If your child suffers from extreme sweating or body odor, they may have a more serious medical condition.
Talk to Your Pediatrician
Ask your pediatrician to evaluate your child for hyperhidrosis and bromhidrosis.
Hyperhidrosis or chronic sweating affects approximately 1.6% of adolescents and 0.6% of children worldwide. Children with hyperhidrosis may sweat through clothing daily, have low self-confidence and avoid social situations. To learn more read our blog post, Teen Sweating 101: Your Guide to Tackling Heavy Sweat Like a Champ.
Bromhidrosis (chronic body odor) also affects teens and children. If your child smells strongly of onions or garlic — even after a shower, they may have bromhidrosis. ( Click here for a complete list of bromhidrosis solutions.)
Get The Thompson Tee
If your child needs more protection, try a sweat proof undershirt like the Thompson Tee.
Made in a variety of sizes and styles it provides all-natural sweat and odor protection, is 100% made in the U.S.A., machine washable and durable.
Buy one risk free today and your child won't ever have to worry about armpit sweat stains or odor again!