How to Get Deodorant Stains Out of Shirts
It's Sunday — and that means time to face reality. You throw your dress shirts in the washing machine, feeling accomplished with your #adulting attempt. The cycle stops, and you inspect your shirts — only to discover deodorant stains still clinging to the underarms. How do you get deodorant stains out of your shirts if the washing machine can't do the trick?
Luckily, your deodorant-stained shirts haven't seen the end of days just yet. We've compiled the best methods for removing deodorant stains to keep your shirts looking as good as the day you bought them.
How to Remove Yellow and White Deodorant Stains
Deodorant stains form when excess deodorant or antiperspirant make contact with your dress shirt and mix with sweat. Even a little perspiration can produce a yellowish tint when combined with the aluminum in your antiperspirant. White, cakey deodorant marks can also end up on your favorite dress shirt if you layer on too much deodorant for the day.
Once a white or yellow deodorant stain appears, you're on the clock. Every minute counts to revive your shirt. It's much easier to remove fresh stains than ones caked into the fabric.
If you notice a fresh white deodorant mark, follow these steps first:
Steps to Erase White Deodorant Marks
You pile on deodorant before hitting the office, but no matter how hard you try, it still manages to end up on your shirt.
Remove those pesky white marks by rubbing one of these products on the affected area:
Fabric softener sheets
Nylons
Foam on dry cleaner's hangers
Baby wipes
Make-up remover
If you weren't so lucky — and the deodorant stain has already nestled into the fabric — you need to know how to get deodorant stains out of shirts.
Try these methods instead:
Natural Ways to Reverse Deodorant Stains
You can remove both yellow and white deodorant stains with ingredients you already have lying around the house. Here are a few natural stain removal methods:
Meat Tenderizer
Yes, that's right. You can tenderize a deodorant stain out of your shirt.
First, wet the stain with warm water. Then liberally sprinkle meat tenderizer (like this one from McCormick) on the area and massage with your fingers.
Wait at least an hour for the solution to set in the fabric, and throw the shirt in the wash as usual. It should come out good as new.
Aspirin
Your Sunday morning savior can also double as an effective stain buster.
Use a mortar and pestle to crush two aspirin into powder form. Then mix the powder into a half cup of hot water.
Pour the solution onto the stain, and let the mixture soak for a few hours before laundering.
Dish Soap + Hydrogen Peroxide
This magic combination can lift even the most vicious stains — like red wine, oil and deodorant. Start by mixing 3 tablespoons of dish soap with 6 tablespoons of hydrogen peroxide. Then take any kind of scrub brush and get to work — one to two minutes of scrubbing should get the job done.
Let the shirt sit for about an hour then toss it into the washing machine.
Salt

Unfortunately, salt can't cut through your layers of cakey deodorant. But it can help eliminate yellow stains. First, dissolve 4 teaspoons of salt in 1 quart of hot water. Use a sponge to apply the mixture to the fabric.
Keep working at the stain with the sponge until it disappears.
Lemon
The acidity in lemon makes it an effective stain fighter. Grab a lemon, and squeeze the juice directly onto the stain, soaking the area. Then add a teaspoon of table salt.
Follow by rubbing the mixture into the shirt thoroughly until the stain vanishes. Hang the shirt out in the sun to dry.
Exposing your shirt to the sun creates a bleaching effect that will brighten it up in no time.
White Vinegar
Like hydrogen peroxide, you should also keep white vinegar on hand to remove tough stains.
Combine 4 cups of warm water with 1 cup of white vinegar. Wet the stain with the mixture, and rub the material together with your knuckles.
If the stain still sticks around, try soaking it in a bucket of the vinegar solution for a few hours. Then toss the shirt into the washing machine.
Baking Soda
Use 4 tablespoons of baking soda and ¼ cup of warm water as a pretreatment on stained clothes. If the stain is older, leave the concoction on the fabric for about two hours before washing.
You can also try adding a small amount of white vinegar to the stain before you throw it into the washing machine for greater stain-fighting power.
Ammonia
Ammonia is another multi-purpose stain-removing agent you can use against deodorant stains.
Pretreat your stained shirt by sponging on a mixture of ammonia and warm water. (Be sure to use 50% strength ammonia.) Let the mixture sit then toss your shirt in the washing machine.
Chemical Methods For Eliminating Underarm Stains
Aside from household products, you can also purchase chemical sprays and detergents to get deodorant stains out of clothes.
Here are some products that work best:
OxiClean
Spray OxiClean Max Force onto a stained shirt, and let it sit for a few minutes before throwing it into the washing machine.
Lime-A-Way + Water + Tide Free and Gentle
In a spray bottle, combine 50% Lime-A-Way, 40% water and 10% Tide Free and Gentle. Dip the stain into the solution, and scrub it with a toothbrush.
Deo-Go
This spray was specifically designed to remove deodorant stains and build-up. It comes with a 100% guarantee, and each bottle can pretreat 20 garments.
Krud Kutter
Simply spray Krud Kutter on stained shirts, and let it sit for about 10 minutes before washing.
Prevent Deodorant Marks Before They Strike
Instead of allowing nasty deodorant stains to form, why not take some measures to prevent them altogether? Thompson Tee sweat proof undershirts absorb underarm sweat so it never reaches your shirt. You avoid those embarrassing sweat marks and stains and keep your shirts looking brand-new.
Not a heavy sweater? Try Thompson Tee's fitted Premium Undershirts, made with 50% Supima cotton and 50% MicroModal blend, and infused with revolutionary Odor Shield™ technology. You can skip the deodorant knowing the Premium Undershirt will keeping you smelling fresh all day long.
Try a Thompson Tee today and take 20% off with code TEES20.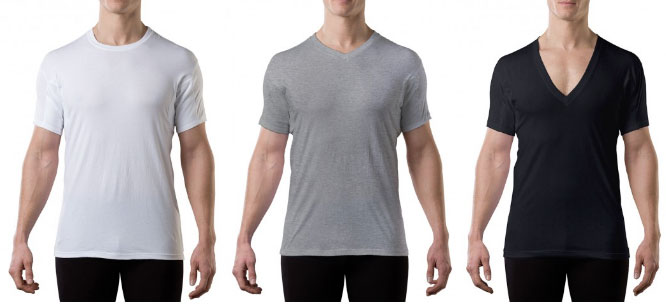 Get the complete guide to sweat stains here.
Add these new tips and tricks to your arsenal to remove deodorant stains for good. What other advice do you have for how to get deodorant stains out of shirts?