The Best Undershirts for Scrubs & More Ways to Stop Sweat
When you think of high-stress environments, hospitals top the list. You're on your feet for a 12-hour shift, shuffling from room to room in a high-stakes environment.
The flurry of stress and activity can contribute to unwanted excessive sweating. But as a medical professional, it's important to look presentable in front of patients and colleagues each day. So what's the best way to stay comfortable during those long shifts?
Wearing the right undershirt can prevent unsightly sweat stains and keep you cool and collected. If you're wondering what to wear under scrubs, we've got you covered. Today, we'll take a look at the best scrub undershirts to wear on the job.
What To Look For in a Scrub Shirt
First, refer to your hospital, medical office or department policy, as you might not be permitted to wear underscrubs.
Depending on your sweat levels and the intensity of your work environment, you'll want a high-quality, protective undershirt or underscrub that keeps you dry and comfortable all day.
Try to choose shirts made with natural materials like cotton, which are more breathable, durable and perform better than "sweat-wicking" materials. Synthetic fabrics actually trap heat and push sweat and odor outward (onto your scrubs), which isn't ideal for hiding sweat.
The Best Undershirts for Scrubs
Here's our roundup of the best undershirts to wear under scrubs.
1. Thompson Tee Sweat Proof Undershirts
Thompson Tee's patented sweat proof undershirts for men and women are made from premium combed cotton. They block 100% of armpit sweat marks and odor to help you stay dry all day (or night) long — guaranteed. Thompson Tees are also effective at preventing yellow pit stains from ruining your scrubs.
If you suffer from axillary hyperhidrosis, Thompson Tees are a safe and cost-effective solution. Or, if you're a stress sweater or situational sweater, you can count on Thompson Tees to keep you protected - even in the most unexpected situations.
For a snug yet comfortable fit, we highly recommend the slim fit style, available for both men and women.
Looking for a long sleeve shirt to wear under scrubs? Thompson Tees are also available in crewneck and v-neck long sleeve styles, made with 50% Supima cotton and 50% MicroModal blend.
2. Figs Super Soft Underscrubs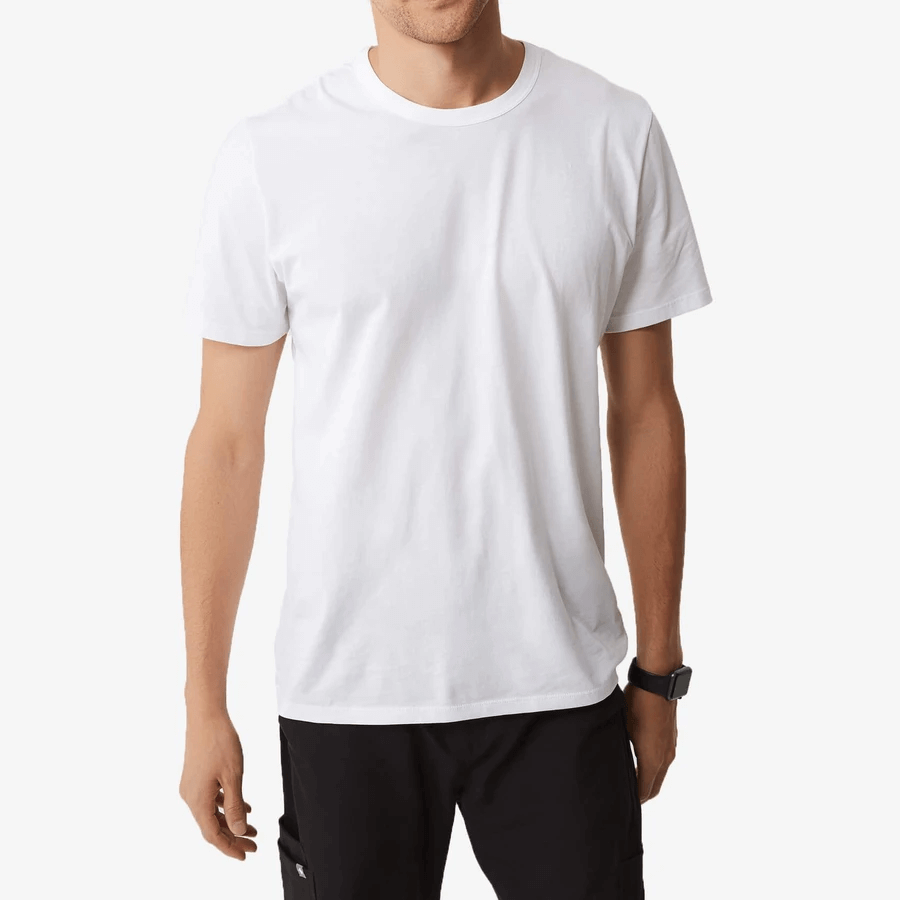 Figs offers soft, stylish undershirts for men and women to wear under your scrubs. We're a fan of their Super Soft Underscrub, made of 100% Pima cotton and available in both short sleeve and long sleeve versions.
Reviewers love the breathable material, soft texture and relaxed fit. Figs' undershirts also hold up well after numerous washes, which is important since laundry is always a priority with medical gear.
Keep in mind that these undershirts aren't built with any sweat-blocking capabilities, so if you're prone to heavier sweating, you might need something more resilient.
3. Uniqlo Supima Cotton Undershirts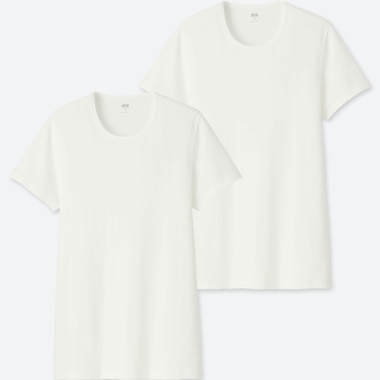 If you're searching for a super affordable, quality shirt to wear under scrubs, look no further than Uniqlo's Supima cotton crewnecks or v-necks.
These no-frills undershirts are made with 100% soft premium Supima cotton for optimal breathability. And, they're soft and stretchy so you won't ever feel constricted during those grueling shifts.
Uniqlo's Supima cotton undershirts boast anti-microbial and anti-odor capabilities, which makes these shirts ideal for light sweaters just looking for a little extra protection.
Long Sleeve Undershirts for Scrubs
Is it acceptable to wear long sleeves under scrubs? You'll want to refer to your workplace policy again, but generally speaking, long sleeve undershirts for scrubs are permissible as long as you can roll up the sleeves when necessary.
Just like their short sleeve counterparts, long sleeve underscrubs should be snug (but not tight) in order to allow for movement and breathability.
If you're wearing a long sleeve under scrubs to stay dry and warm, look no further than Thompson Tee's Sweat Proof Long Sleeve Undershirt, available in both crewneck and v-neck styles. Thompson Tee's long sleeve undershirts are perfect for wearing under your scrubs on colder days.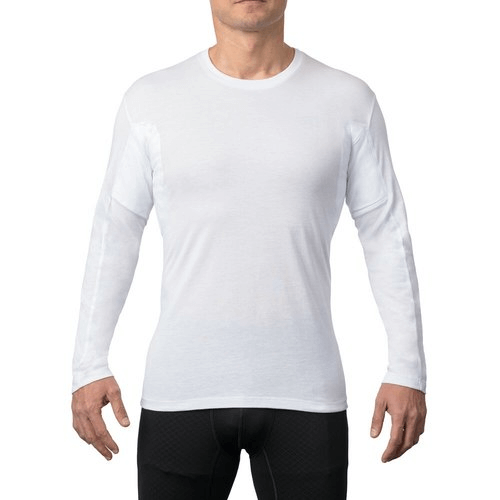 How to Stay Cool in Scrubs
Beyond wearing the right undershirt for scrubs, here are some more tips to manage sweat while you're in scrubs:
1. Choose Antiperspirant Over Deodorant
Antiperspirant and deodorant work very differently. Deodorant mask odor, while antiperspirant blocks your sweat glands to prevent sweating.
If you're concerned about heavy underarm sweating, opt for antiperspirant over deodorant. To get the most out of your antiperspirant, apply before you go to bed or after showering when your pits are dry. If you're already sweating when you swipe on antiperspirant, the aluminum compound can't properly block your sweat ducts.
For some individuals, over-the-counter antiperspirant may not be effective enough. If you need more protection, consider prescription-strength antiperspirant.
2. Drink More Water
On busy days, a 12-hour shift can fly by in a flash. Amid the hustle, drinking water often becomes an afterthought. But proper hydration can help ward off excessive sweat. Be proactive with hydration by bringing a large refillable water bottle to work, and be sure to take regular sips routinely.
3. Find Ways to De-Stress
Stress is a major source of sweat. To prevent stress sweating, find ways to unwind before, during and after your shift. For instance, take focused breaths to help you relax. Or, if you're able to, skip the caffeinated drinks, which stimulate your nervous system and your sweat glands.
4. Wear Biker Shorts Under Your Scrubs
If you sweat heavily around your waistline, try wearing biker shorts beneath your scrubs. It's a discreet way to hide sweat and stop chub rub. Choose longer shorts that don't ride up, so you don't have to pull them down throughout your shift.
Power Through Your Shift With a Thompson Tee
Feeling hot and sweaty during a long shift is uncomfortable. And when everyone can see your sweat marks, feelings of self-consciousness can feed into your stress and distract from what's truly important — providing the best care possible.
For all-around defense and protection against sweat marks, yellow stains and odor, Thompson Tee's sweat proof undershirts are your best bet.
Try a sweat proof short sleeve or long sleeve Thompson Tee risk-free today. Take 20% off with code TEES20.