The 6 Best Laundry Detergents for Odor and Sweat
If you regularly deal with excessive sweat or armpit odor, your clothes may be in less-than-pristine condition. But have no fear — with an effective odor-removing laundry detergent, you can easily make your clothes smell fresh again.
More tips: How To Get Odor Out of Clothes
We've rounded up the 6 best laundry detergents and treatments for odor to combat the stink!
The 6 Best Laundry Detergents for Odor and Smelly Clothes
1. Best Laundry Pre-Treatment for Odor and Sweat

For best results on tough stains and sweat odor, use OxiClean Odor Blasters as a pre-treatment soak. Or, add it to your wash for overall freshening and stain removal.
Specially formulated for use on smelly socks, musty towels, work and uniform smells, sweat stains and body odor
Chlorine-free
Color safe
Avg. retail price: $8.99 for 57 load size
2. Best Laundry Booster for Sweaty Clothes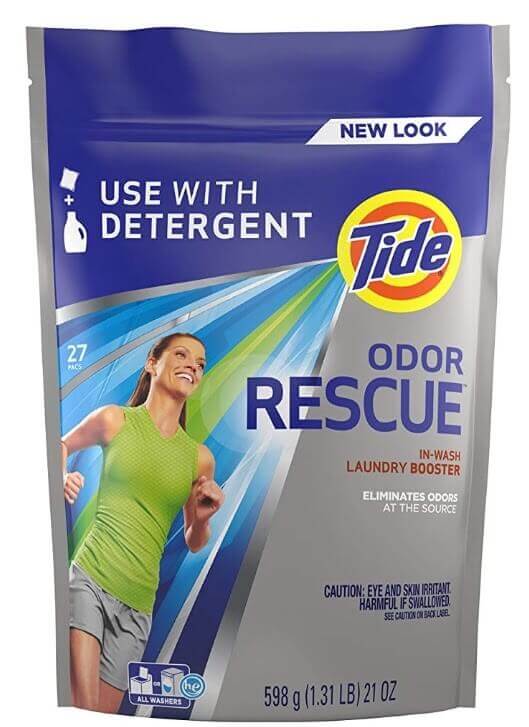 When your sweaty clothes need a little extra help, add Tide Odor Rescue In-Wash Laundry Booster to any detergent to eliminate sweat odor residue.
Cleans deep down at the fiber level to remove stains and odors
Helps eliminate odors at the source
Unlocks freshness with the added power of Febreze
Avg. retail price: $9.99 for 18 count package
3. Best Liquid Detergent for Strong Odors
Tide Plus Febreze Sport Odor Defense offers excellent cleaning and odor removal. Plus, Febreze helps your workout and athletic great stay fresh up to three times longer.
Targets tough, set-in stains and removes even week-old sweat odors
Contains unique scent-renewal technology that releases freshness as you move
Available in two formulas for use in regular and high-efficiency washing machines
Avg. retail price: $11.99 for 92 oz. bottle
Don't have time for laundry? Check out Anti-Odor Spray for Clothes.
4. Best Detergent Packs for Smelly Clothes
Can't stand measuring laundry detergent to a tee? With HEX Laundry Detergent Packs, there's no measuring or pouring necessary. Just toss one in, load and go.
Eliminates sweat smell with technology, not perfumes
Removes residue that other detergents leave behind
Protects fabrics from losing that new-clothes feeling
MSRP: $19.99 for 55 load package
5. Best Laundry Detergent for Gym Clothes
Sweat X Laundry Detergent is a specially formulated high-performance detergent that exfoliates stains, bacteria and infested sweat known to cause odor in activewear.
Restores fabric performance and wicking
Safe for all fabrics and sensitive skin
No fabric softener or dryer sheets needed
MSRP: $19.99 for 45 oz.
6. Best Environmentally-Friendly Detergent for Odor and Sweat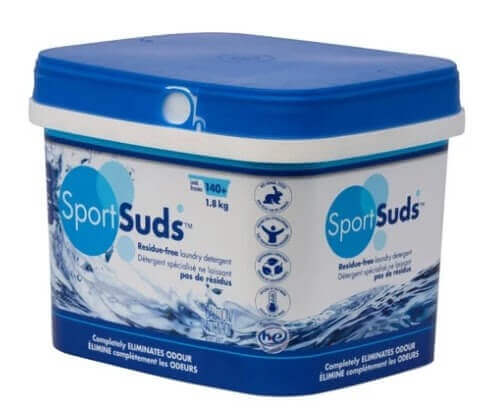 Sport Suds Laundry Detergent products contain naturally occurring ingredients of non-animal origin. They do not contain dyes, phosphates, UV brighteners, bleach or perfumes.
Hypoallergenic, biodegradable and non-toxic
Ideal for high-tech sports clothing
Allows waterproof breathable fabrics to breathe better
MSRP: $59.99 for 1.8 kg tub (140+ loads)
Minimize Laundry Woes With a Sweat Proof Shirt
While an effective detergent, pre-treatment or booster can oust laundry odors, there's no guarantee that your shirts will be free of stains — especially ones that are set in and too late to eliminate.
Instead, why not minimize odor in the first place by stopping it at the source?
Thompson Tees' premium anti-odor undershirts, available in crewneck or V-neck styles, are infused with OdorShield™ technology that keeps you feeling and smelling fresh all day.
Or, try Thompson Tees' bestselling sweat proof undershirts for men and women. These undershirts contain patented Hydro-Shield sweat proof technology that's guaranteed to stop armpit sweat from ruining (or stinking up) your clothes.
Wear, wash and try a Thompson Tee risk-free for 30 days to experience the OdorShield™ or Hydro-Shield difference!
Want more tips on combating sweat or body odor? Check out our sweat 101 page or body odor resource page for more information.