Anti Odor Spray For Clothes
Unable to do laundry often enough? On-the-go all the time? Anti odor sprays for clothes can be a total lifesaver.
Anti odor sprays help mask or even eliminate odors, keeping your clothes fresh in between laundry days. These sprays are easy to use and can be cost-effective if you're able to make them at home.
Curious to learn more about this lifehack? Read on to discover how anti odor sprays work and which ones are best, plus a few homemade DIY ideas.
What Are Anti Odor Clothing Sprays?
Anti odor clothing sprays neutralize or eliminate smells from clothing without laundering.
These sprays contain chemical ingredients that neutralize the pH of bad odors. Secondary ingredients trap odors and prevent them from escaping fabrics, rather than just masking them.
Why might you need an anti odor spray for clothes? Body odor can cause your clothes to smell. Everyone has a certain amount of body odor, but some have more than others.
Learn more about bromhidrosis, a chronic medical condition characterized by extreme body odor.
You probably associate body odor with sweat, but sweat is actually odorless on its own. Body odor occurs when your sweat reacts with the bacteria on your skin. This bacteria then transfers to your clothing.
When you don't launder your clothes quickly enough, bacteria gets comfortable. It settles into the fibers of the fabrics, causing them to smell.
No amount of perfume or cologne can mask the smell of old sweat or bacteria. It's best to wash your clothes regularly with a reliable detergent, but if you have trouble finding time to do laundry, an anti odor spray is your next best option.
Best Anti Odor Sprays for Clothes
We've rounded up five anti odor sprays for clothes that will keep you confident and smelling fresh in between laundry days.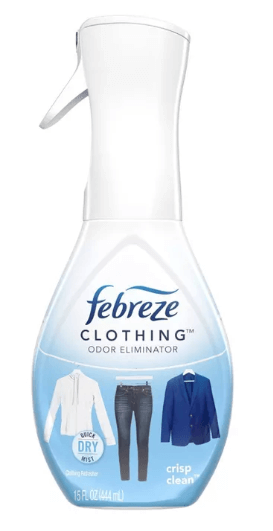 Safe for use on all fabrics
Scents: Crisp Clean, Downy April Fresh and Gain Original
How to use: Hold bottle upright and spray in a sweeping motion across clothing item to lightly mist and freshen your favorite outfits.
Tip: For extra freshness, spray inside AND outside of clothing.
MSRP $5.49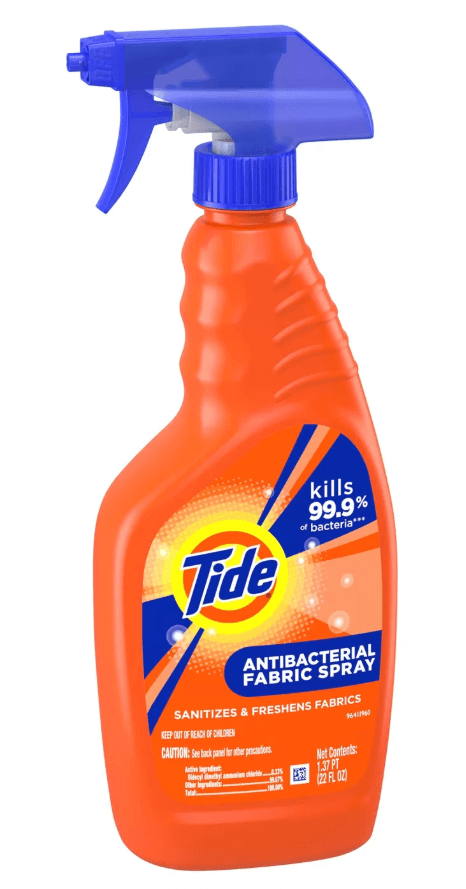 Safe for use on all fabrics except leather
Scent: Original
How to use: To refresh fabrics, spray on fabrics until slightly damp to eliminate odors. Air dry.
Selling point: Kills 99.9% of bacteria when used as directed
MSRP $5.99
Safe for use on all fabrics, shoes and gear that can get wet
Available in one fragrance
How to use: Soak the item you're treating, then air dry. FunkAway is not a spray-and-go solution.
Bonus: Hex products are biodegradable, eco-friendly and cruelty-free
MSRP $5.99
Safe for use on all fabrics
Scent: Fresh & Clean
How to use: Shake before use. Hold the bottle 6 inches away and lightly mist the entire surface. Let dry.
Tip: Awesome for shoes, gear, workout mats—anything that can't fit in a washing machine
MSRP $9.99 for a one-time purchase ($8.99 for auto-ship orders)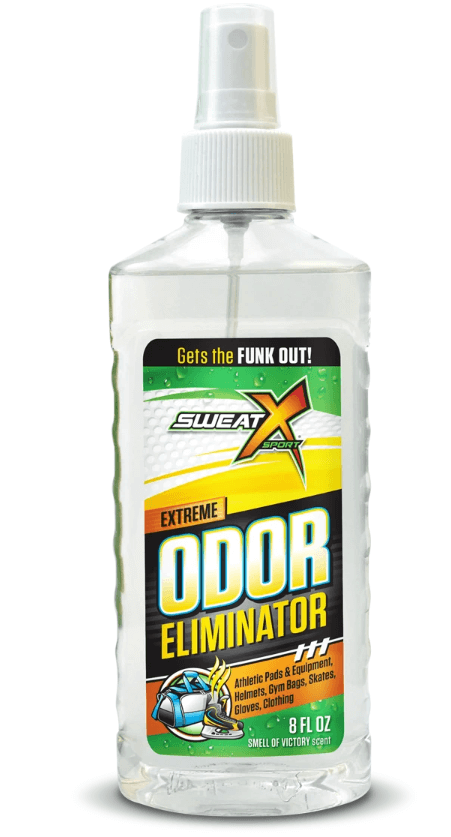 Safe for use on all fabrics, shoes and gear that can get wet
Scent: Smell of Victory
How to use: Best used when clothing is still damp/wet with sweat. Spray clothing after each use and let air dry.
Sweat X neutralizes odors by exfoliating the bacteria from your gear and clothing that causes the lingering smells.
MSRP $12.99
DIY Anti Odor Sprays
If you want to save money or use a more natural method to de-stink your clothes, look no further. Here are some DIY anti odor sprays you can make at home with everyday ingredients.
For all recipes, combine ingredients in a spray bottle. Shake to mix and spray lightly on clothing, then hang clothing to dry.
Vinegar Spray
You'll need:
2 cups of water
1 teaspoon vinegar
10 drops essential oil
Vinegar contains acetic acid, an effective bacteria fighter. Vinegar will kill up to 98 percent of bacteria causing the odor, and the essential oils cover up the smell.
Witch Hazel Spray
You'll need:
2 cups witch hazel
10 drops essential oil
Witch hazel is an herbal extract with exceptional cleansing, soothing and healing properties. Like vinegar, witch hazel fights bacteria but has a clean, mild scent. You can also buy scented witch hazel and skip the essential oil.
Lemon Juice Spray
You'll need:
1 cup water
1 tablespoon lemon juice
Lemon juice neutralizes odors and freshens clothes. If you have a lemon tree in your backyard, you'll find this lemon juice spray refreshingly convenient! Store this solution in your refrigerator to prolong freshness.
Vodka Spray
You'll need:
Any kind of vodka will work for this recipe, so there's no need to waste quality liquor on this. Vodka kills bacteria, dries without odor and will successfully remove smells.
Essential Oil Spray
You'll need:
1 cup water
5 drops essential oil
With so many essential oils to choose from, there are endless scent combinations you can create to freshen up a smelly shirt. Essential oils are readily available in many retail stores. Try your local Sprouts or Whole Foods market for good selections.
Essential oils have numerous benefits. Rosemary, peppermint and spearmint oils, for example, help disinfect and boost immunity due to their antimicrobial, antifungal and antibacterial properties.
Other Anti Odor Solutions
Keep these other anti odor hacks in mind. You'll thank us later!
Use Dryer Sheets
If you're in a pinch, scented dryer sheets are a good fallback. Toss one in your luggage or drawer for a quick fix, or rub a sheet directly on your shirt before wearing it.
You can also put your smelly clothes in the dryer (with a dryer sheet) for a few minutes for a temporary fix.
Air Out Clothing
Sometimes we overlook the simplest solutions. Hanging your clothes in sunlight and fresh air can release smells trapped in your clothes.
If hanging clothes outdoors isn't possible, you can place your shirt in front of a fan or an open, sunny window. The sun's UV rays can kill some of the bacteria that causes odor.
Get an Ounce of Prevention with Thompson Tee
The best defense is a good offense. If you struggle with smelly clothes and B.O., a Thompson Tee can help you fight odors before they even start.
Thompson Tees' premium undershirts are infused with revolutionary Odor Shield™ technology, a natural non-toxic hydrogen peroxide-based solution that eliminates 99.9% of bacteria. Choose from fitted crewneck or v-neck styles to wear under your clothes for extra protection, or on its own for warmer days when you sweat a bit.
Wear it and wash it (or spray it) for 30 days, risk-free. Your nose will thank you for it!
For more information about body odor and ways to combat it, check out our resource page.