Everything You Need to Know About Anti-Sweat Wipes
Is your regular antiperspirant not doing enough to combat armpit sweat throughout the day?
If you don't have any luck with all the spray and stick deodorants out there, you may want to give anti-sweat wipes a try. Anti-sweat wipes allow for precise application, are less messy and discreet enough to carry on the go.
We'll talk through what makes anti-sweat wipes unique and share which ones to try depending on your sweat needs.
What are Anti-Sweat Wipes?
Anti-sweat wipes are antiperspirant and deodorant towelettes that are one-time use and contain deodorant or antiperspirant active ingredients. They're one of the newer alternatives to traditional antiperspirants and deodorants.
Unlike traditional spray or stick products, anti-sweat wipes are suitable for your face, hands, feet, chest or groin - not just the underarms. For those with hyperhidrosis, anti-sweat wipes can stop sweat in places where regular antiperspirants can't.
It's important to note that not all armpit wipes are equal.
Antiperspirant wipes minimize sweat production. They're available in both over-the-counter and prescription-strength for those who have hyperhidrosis.
Other armpit wipes might only contain deodorant, which can help keep odor at bay but won't block or stop sweat.
Learn more about the difference between antiperspirant and deodorant.
As you're exploring anti-sweat wipes, keep an eye out for main ingredients like aluminum chlorohydrate or glycopyrronium tosylate. These chemical compounds treat excessive sweating by blocking sweat ducts or stopping receptors in your sweat glands.
Next, let's dive into the top-rated armpit wipes that are ideal for sweat and odor protection.
4 Best Anti-Sweat Wipes on the Market
When it comes to anti-sweat wipes, you have options. We'll run through the most popular armpit wipes so you can find the one that's right for you.
Pro-tip: For the best defense against heavy underarm sweating, combine a Thompson Tee sweat proof shirt with your favorite wipes.
1. Qbrexza Cloth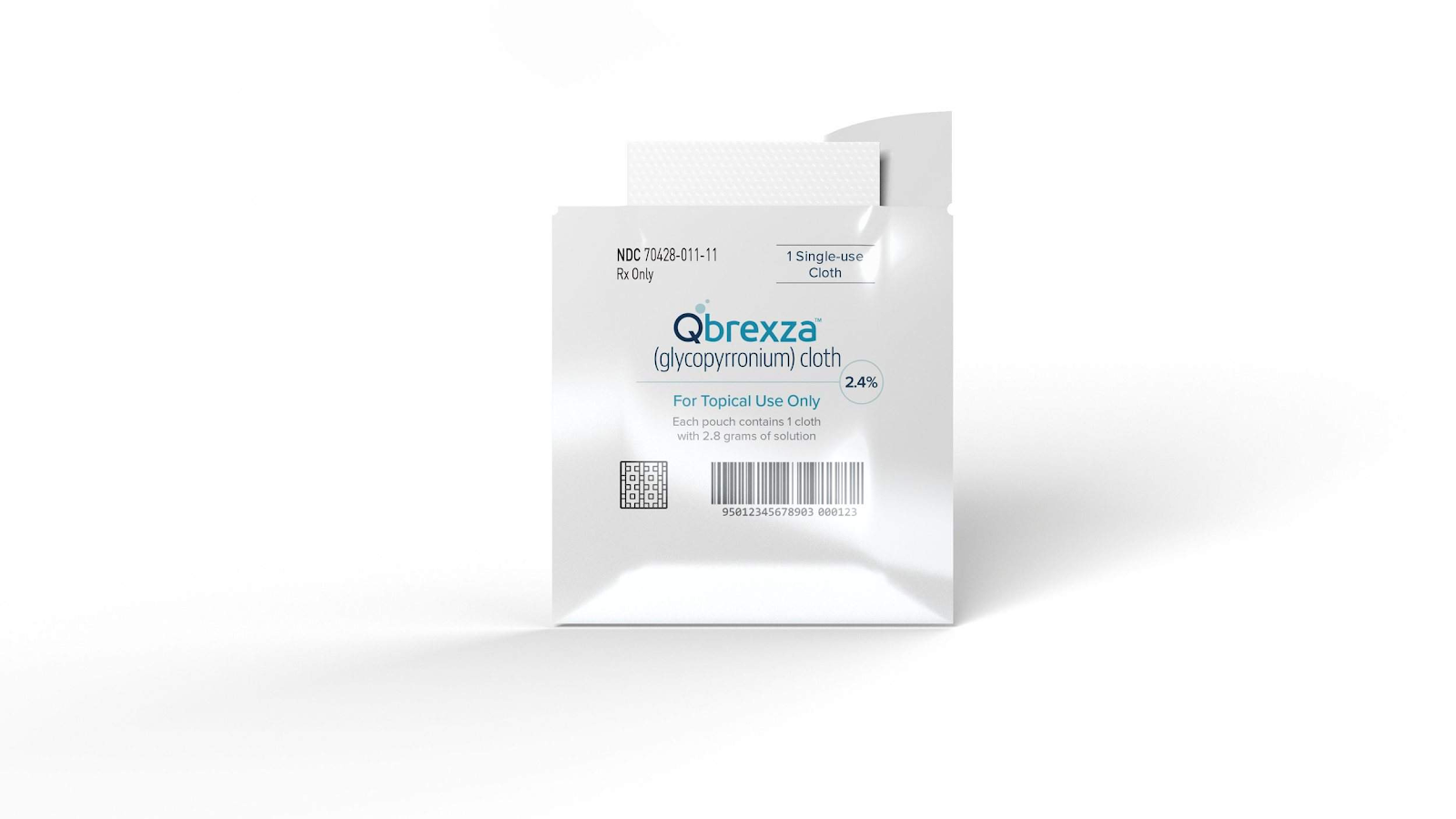 Qbrexza is a prescription-only medicated wipe recommended for treating primary axillary hyperhidrosis, a condition which causes excessive sweating, specifically in the underarms.
Qbrexza contains an FDA-approved chemical, glycopyrronium, to stop your body's sweat glands from activating. Qbrexza does not contain the same ingredients as an over-the-counter antiperspirant and comes with a few potential side effects, such as dry mouth, headache, sore throat, blurred vision and more.
Consider speaking with your doctor about Qbrexza if you have severe axillary hyperhidrosis. Pricing for Qbrexza can vary depending on your insurance coverage.
2. Carpe Antiperspirant Wipes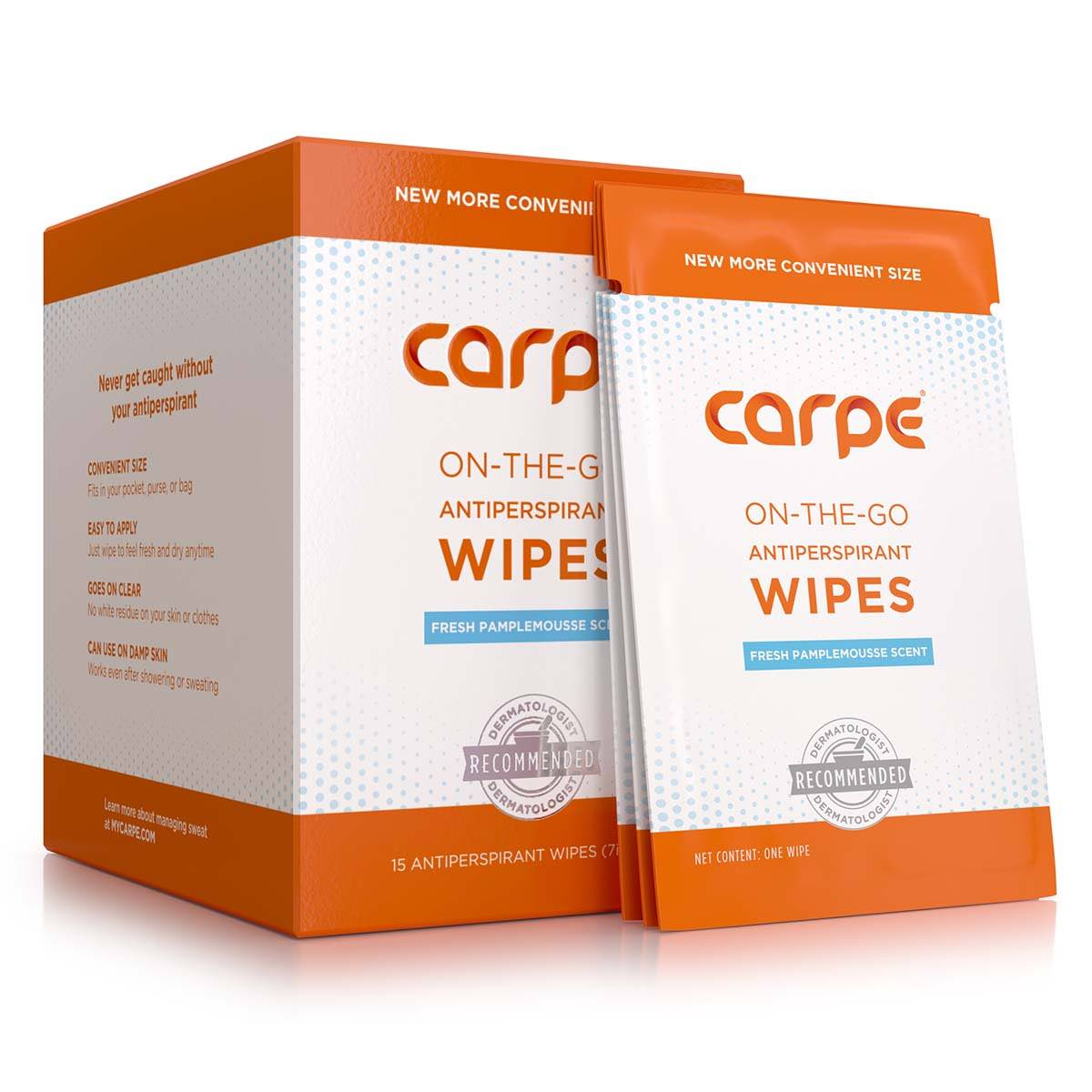 Carpe antiperspirant wipes are an over-the-counter solution that work by plugging sweat glands and limiting sweat production.
The active ingredient in these wipes is aluminum chlorohydrate, which you'll find in typical spray or stick antiperspirants as well.
Customers love Carpe's clear formula, which doesn't leave any stains or residue that will ruin your clothes. Carpe wipes also have vitamin E to soothe the skin.
One box containing 15 armpit wipes costs just under $20. You can also explore Carpe's line of other sweat-stopping products, such as anti-sweat lotions for the hands, feet and face, or anti-sweat powder for the groin area.
3. SweatBlock Antiperspirant Wipes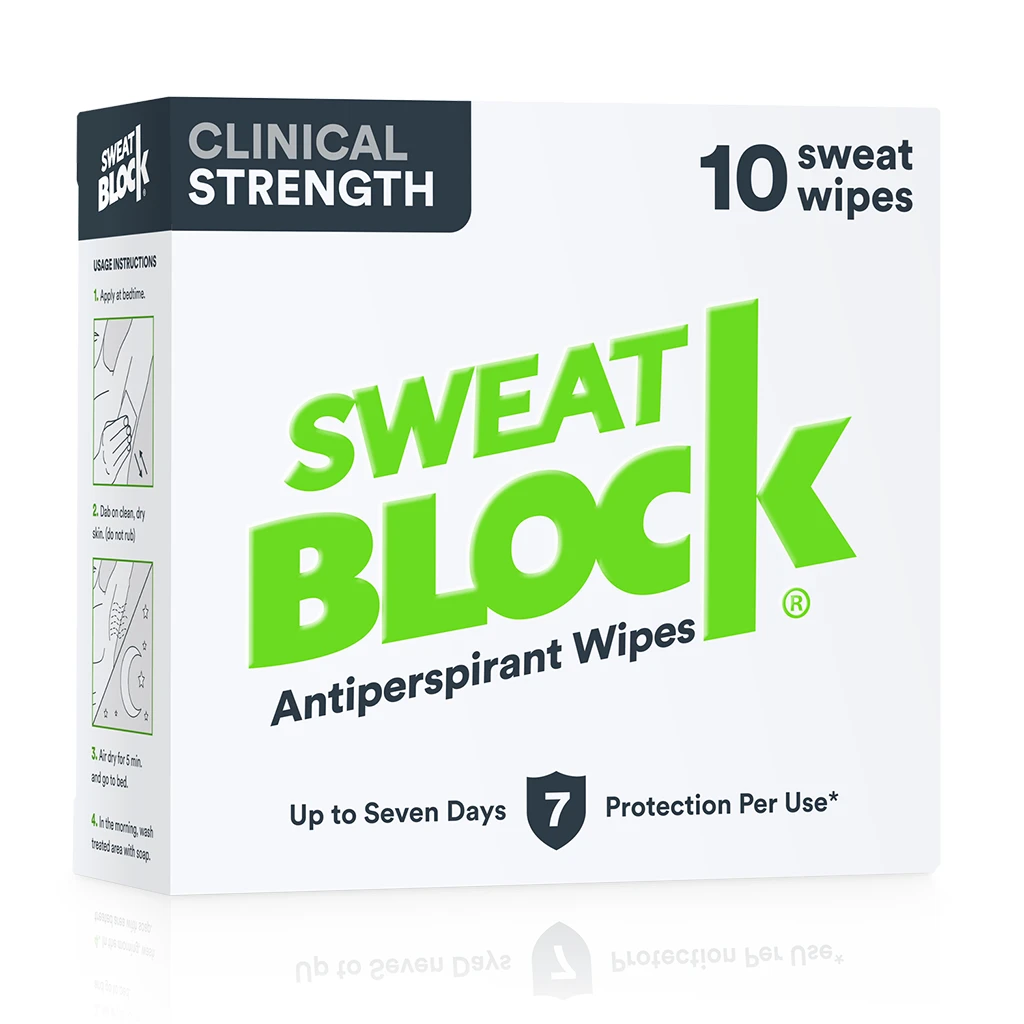 SweatBlock's antiperspirant wipes are also available over the counter and popular among those with hyperhidrosis.
SweatBlock antiperspirant wipes offer up to seven days of sweat protection, so unlike Qbrexza or Carpe, you only need to apply SweatBlock wipes once per week!
The active ingredient in SweatBlock wipes is aluminum chloride, which blocks sweat production by causing sweat ducts to swell up. SweatBlock wipes contain botanical extracts and vitamin E to reduce irritation.
A box of 10 wipes costs $18.99, and subscription plans are available on their website.
4. Deodorant Wipes
Many well-known deodorant brands offer on-the-go armpit wipes to stash in your gym bag or purse.
While these wipes don't stop sweat like the ones above, they're perfect for freshening up and wiping away odor throughout the day.
Check out these deodorant wipes from Degree, Pacifica and Dove that come in a variety of refreshing scents. You won't have to worry about rogue sweat or body odor before an important meeting or occasion.
Pair Your Deodorant Wipes with a Thompson Tee
Double up on sweat protection by pairing your favorite deodorant or antiperspirant wipe with a Thompson Tee.
Thompson Tee makes sweat proof undershirts with patented HydroShield technology for men and women, and premium undershirts infused with OdorShield technology. These shirts are 100% guaranteed to offer a solid line of defense against sweat and odor. Say goodbye to armpit sweat stains and yellow marks - for good.
Form the ultimate sweat-conquering solution, try a Thompson Tee risk-free today!