Thompson Tee on Shark Tank: Here's What You Missed
In case you went on a digital detox last week, Thompson Tee appeared on ABC's "Shark Tank"! On May 5, my co-founder Randy Choi and I faced the "Sharks" — a panel of 5 millionaire and billionaire investors — to pitch Thompson Tee's patented sweat proof undershirts.
Prepping for the Tank
Randy and I learned our segment would air on Shark Tank just 2 weeks before the show! Needless to say — those 14 days were a whirlwind of website prep (so the site wouldn't crash!), scrambling for inventory and sleepless nights.
(Despite our efforts, Thompson Tee blew through the added inventory in just a few days. If the shirt you want is out of stock, hang tight. We'll replenish the site within the next week!
You can shop our sweat proof tees here.)
A Deeper Dive Into the Thompson Tee Shark Tank Deal
In the show, we enter the tank seeking $700,000 in exchange for 7% of the business. With $4M in projected 2016 sales and the only patented sweat proof undershirt on the market, we were hopeful to close a deal.
The pitch began with this shot of Robert Herjavac experiencing the particularly "sucky situation" of underarm sweat marks: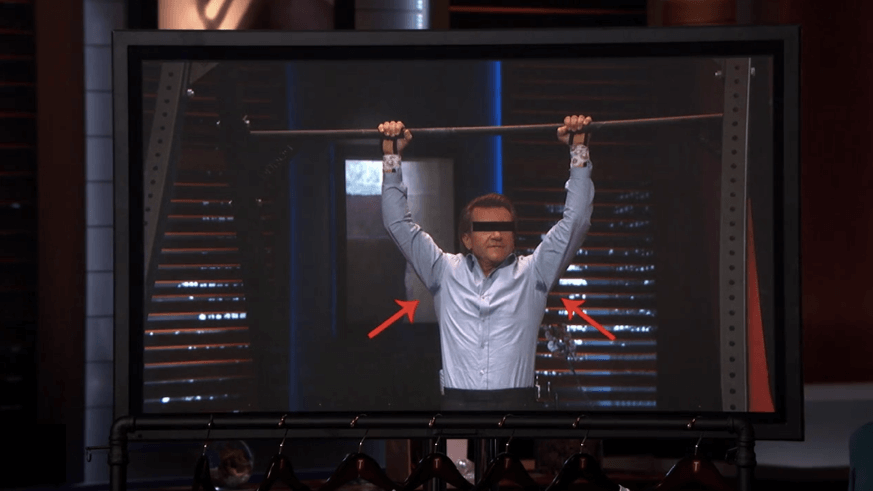 The sharks were instantly intrigued.
When asked how we got to a $10M valuation, I explained: The size of the market, historical growth and lack of alternatives. (Some sharks were more convinced of the valuation than others.)
To Randy and me, the overwhelmingly positive customer reviews have made the journey worthwhile. We wish we had the chance to share some customer reviews and stories on air. So instead we'll share some here!
Best undershirt ever! I sweat right through lightly colored dress shirts when I am giving a presentation or in a stressful situation (often all day long). With this undershirt, I did not embarrass myself and protected my dress shirt 100%. Best confidence boost ever and one less thing to worry about! I will be buying more!
I felt free again I'm amazed by your t-shirt and actually thought it couldn't work on me. I was truly amazed and as an executive who has hid this for years with jackets and dark shirts....... I felt free again.
Well worth the money! This was a great find and well worth the money! We love it. It's comfortable, the right size, soft and most importantly it absorbs and prevents sweat from showing through clothing. Will get a few more!
Want to watch the episode? Check it out here!
After declining a high-interest debt deal from Mr. Wonderful (Kevin O'Leary), we agreed to a $700,000 investment from Robert Herjavec for 25%. The sharks advised us to counter, but after watching past Shark Tank disasters, we decided not to push our luck.
Shark Tank has been the most thrilling, patience-testing and rewarding ride. Five short years ago, we started the company with $20k in combined savings and a vision to help people look and feel more confident.
Before Thompson Tee, embarrassing sweat marks literally controlled my life. Armpit sweat was not a sexy topic of discussion, and effective solutions didn't exist. (Randy even underwent ETS surgery for hyperhidrosis, which actually spread his sweating condition). The chance to open a dialogue around underarm sweat and help others live fully has been the greatest gift of all.
Thank you to all our loyal customers for sticking by us and the outpouring of support we received from new Thompson Tee fans. We would not be here without you!
What was your favorite moment from Thompson Tee on Shark Tank? We'd love to hear in the comments!