Lawrence Hunt Review: Everything You Need to Know About the Best Sweat Proof Dress Shirt
Disclosure: Some of the links below are affiliate links, meaning Thompson Tee earns a small commission if you click through and make a purchase.
Pit stains are mortifying. There's nothing worse than realizing you spent the last few hours flashing your sweat stains to everyone.
Maybe you waved enthusiastically to co-workers and received copious amounts of side-eye. Or, you got tagged in a less than flattering photo on social media from your buddy's wedding.
That's why we created the Thompson Tee, a sweat proof undershirt that prevents armpit sweat from soaking through.
But we're not the only sweat solution out there. There's a great sweat proof dress shirt on the market — the Lawrence Hunt No Sweat dress shirt.
---
Lawrence Hunt Sweat Proof Undershirt Review
Lawrence Hunt combines breathable, mesh performance fabric and 100 percent Egyptian Giza cotton into a stylish, sweat resistant dress shirt. In this blog post, we'll review Lawrence Hunt's No Sweat dress shirt based on four factors:
4. Sweat, Body Odor and Stain Prevention
Throughout this review, we'll also compare Lawrence Hunt's product to a traditional undershirt and two direct competitors: Mizzen & Main and Ministry of Supply.
Want to skip the content and get straight to sweat proofing your wardrobe? Get 30% off your entire Lawrence Hunt purchase with the code TT30.
Fabric and Design
Lawrence Hunt sweat proof dress shirts are made of cotton with recycled polyester, sweat-resistant underarm gussets.
Let's take a look at the benefits of each type of fabric.
Cotton
When it comes to sweat stain and odor prevention, cotton is best. "Quick-drying" synthetic materials like polyester and spandex push water away from your skin and onto your clothes faster than cotton. In other words, synthetic fabric typically show sweat quicker than cotton.
Cotton also tends to be more odor-resistant than synthetic materials. Why? The type of bacteria cotton attracts produces less odor than synthetic fabrics.
Recycled Polyester
Recycled polyester used in each No Sweat underarm is different from standard polyester used in Mizzen & Main and Ministry of Supply's shirts.
Recycled polyester is made from melted down plastic water bottles. It takes less energy to produce than regular polyester and produces a higher-quality fabric.
During production, plastic fibers pass through a machine that gives them a fluffier texture. Recycled polyester tends to be more lightweight, breathable and durable than traditional polyester.
The mesh-like design of the recycled polyester allows the shirt to evaporate underarm sweat and withstand plenty of washing machine cycles.
Feel
Lawrence Hunt prioritizes comfort. Their No Sweat dress shirts have a four-way stretch, similar to a baseball jersey.
Traditional undershirts can feel restrictive. With a Lawrence Hunt shirt, the cotton material moves with you for a more comfortable fit.
Another key differentiator is the way Lawrence Hunt's No Sweat fabric feels. The Egyptian cotton feels soft and luxurious, like a dress shirt you would buy at Nordstrom's. Once you put the shirt on, the material looks substantial but feels lightweight.
Fit
Lawrence Hunt offers sizes small to 4X.
It's small and medium shirts only come in the slim fit which tapers at the waist. The classic fit is the same width from the armpits down to the shirt tail.
Check out the sizing charts below to see exact shirt measurements.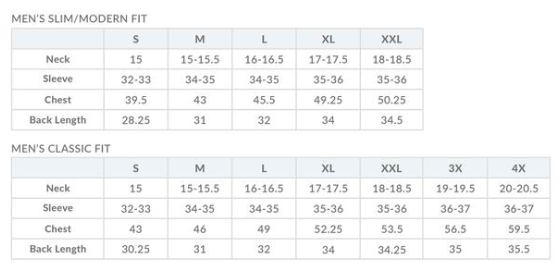 Sweat, Body Odor and Stain Prevention
Underarm sweat stains are far less visible on a Lawrence Hunt No Sweat dress shirt compared to a traditional dress shirt.
At most, light to medium sweaters will see a faint outline of sweat under their armpits when wearing a No Sweat dress shirt. Heavy to severe sweaters may want to wear a a Thompson Tee undershirt to add an extra layer of protection.
Lawrence Hunt's No Sweat shirt is as good as it gets when it comes to stain and odor prevention. No matter how much you sweat, the underarm gussets won't yellow or gray. Any odor that accumulates in the shirt when you wear it washes out after one cycle.
The Final Word on Lawrence Hunt Dress Shirts
Lawrence Hunt's dress shirts deliver on their promise. You get a comfortable, sweat-resistant dress shirt that looks like a top-of-the-line designer dress shirt.
Ready to sweat proof and step up your style? Try a Lawrence Hunt dress shirt today for 30% off with the code TT30!