The Fix for Excessive Underarm Sweat: Patented Undershirts
Whether you suffer from excessive underarm sweat or just need extra protection for a special event, you can't afford to waste time and money on failed solutions. You need a proven way to conceal sweat marks now.
Underarm sweat solutions aren't just for those with axillary hyperhidrosis. In fact, about 35 percent of people experience at least one sweat event, or feelings of underarm wetness, every week. Regardless of your situation, sweating is a natural process, and a sweat event could strike when you least expect it.
As a founder of Thompson Tee, I've dealt with excessive underarm sweat since I was 13 years old.
I remember talking to a cute girl in junior high school, feeling something in my armpits and almost instantly, sweat marks appeared. After that day, I started applying antiperspirant and changing my undershirts religiously throughout the day. Still, sweat marks still haunted me while playing sports or just sitting in class. It was a real problem that inspired me to develop a real solution.
We didn't just create a T-shirt with some extra underarm padding. We spent over 10 years developing the only patented sweatproof undershirt of its kind. Our mission is to keep you dry and confident all day long.
So how can you be sure you've chosen a scientifically proven solution to excessive underarm sweat? Don't go with just any T-shirt claiming to be sweatproof. Choose the sweatproof undershirt — the Thompson Tee!
Why the Thompson Tee Outperforms Other Tees
The Thompson Tee is the only undershirt backed by a patent from the U.S. Patent and Trademark Office for our Hydro-Shield sweatproof technology, which completely absorbs and blocks sweat while maintaining breathability. In short, it's the best undershirt for sweat on the market.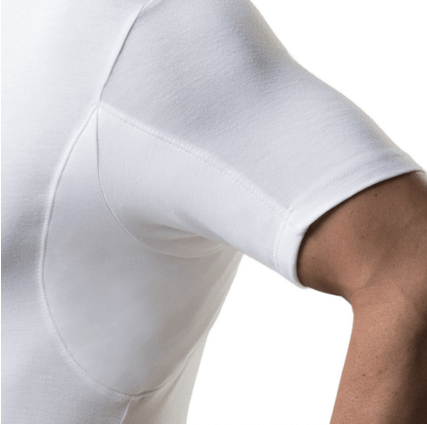 Although other brands might say "sweatproof," no undershirt can protect you like the proven Thompson Tee, and no other shirt has patented technology to back up such a claim. Just ask our customers spanning across all 50 U.S. states and over 80 countries worldwide!
Learn how Thompson Tee compares to Kleinert's, Sweatshield and other brands.
Here's how it works: Our patented design combines ultra-soft, lightweight premium fabric with an ultra-thin, waterproof material to completely block underarm sweat from passing while maintaining breathability. Our fully integrated construction allows your natural arm movement to create a billowing and evaporative cooling effect that minimizes body heat.
And because these breathable, sweat-blocking properties are native — not chemically treated like other knock-offs — they won't wash off over time. All Thompson Tees are also machine washer and dryer safe, so they're as convenient as your regular undershirt. Complete with odor-fighting qualities, the Thompson Tee keeps you confident and smelling fresh all day long!
Thompson Tee is more than a T-shirt. It offers the most advanced underarm sweatproof barrier available. As with any knock-off, you compromise quality, craftsmanship and service. So if you want to make the right choice the first time, try a Thompson Tee, and enjoy our 30-day sweatproof guarantee!