Comparing Thompson Tee, Knix and Numi in the Search For the Best Women's Sweat Proof Shirt
The summer heat is creeping in. It's time to get serious about your sweat management.
Managing sweat is a little different for women. Men's standard crewneck shirts don't fit under the majority of women's shirt necklines. They're also too loose and don't lay comfortably underneath clothing.
We've done sweat proof shirt reviews before, but women have different requirements, especially when it comes to fit and style.
To answer all your questions on women's sweat proof undershirts, we dived into product research, customer reviews and tried on three of the most popular women's sweat proof shirt options—Thompson Tee, Knix and Numi.
We'll cover what to look for in a women's sweat proof shirt, a side-by-side comparison of the top shirts on the market and share the personal results of our try-on sessions.
This post is for anyone who is looking for sweat proof options for women and wants to see how the different options and technology compare.
Whether you're a heavy sweater or want a little extra protection during your next big presentation, we're here to answer all your questions on women's sweat proof undershirts.
What to Look For in a Sweat Proof Shirt
Before comparing these top brands, ask yourself: Which qualities are most important in a sweat proof shirt?
Sweat proof technology: You want it to work. No sweat marks or pit stains, period.
Price: You want high-quality, but you don't want to pay an arm and a leg.
Design, fit and length: Undershirts and t-shirts are wardrobe staples. They should be high-quality, fit well and hold up to daily use.
If you're wearing it as an undershirt, you'll want to make sure it's comfortable under your clothes and it stays hidden with different tops and necklines. It also needs to be long enough to stay tucked in when needed.
Style options: It needs to be cute, duh. But you also want a shirt that works with your wardrobe.
Return policy: You want to test it out and make sure the technology works and it fits your wardrobe and lifestyle.
Company values: Brands matter. You want to know where your hard-earned money is going.
Women's Sweat Proof Shirts Review: Thompson Tee, Numi and Knix
Now, let's get into the details of each option.
Thompson Tee Slim Fit Scoop Neck
Thompson Tee has a few advantages at first glance. They invented the first sweat proof shirt and have the only patent in the market for their Hydro-Shield sweat proof technology.
Where other sweat proof products are treated, Thompson Tee built the sweat proof barriers directly into the armpits, meaning it doesn't wash out or lose effectiveness over time.
Thompson Tee also provides the most information on what their technology is and how it works. Each shirt has clinical-grade material held together with a proprietary stitching and layering system. It traps moisture and releases it as vapor, stopping sweat marks from seeping through.
Of the three options, Thompson Tee is the lowest price point and the only one that offers a free trial period.
It also has the following features:
Available in two necklines: scoop neck and deep-V
Available in two styles, original and slim-fit
Sweat and odor-blocking
Made of ultra-soft, lightweight premium cotton and rayon
Tagless lay-flat collar
100% made in the U.S.A.
Sweat proof guarantee: it works, or your money back
Thompson Tee Try-On
Here are our reviewer's thoughts on the Slim Fit Scoop Neck in beige.
"The Thompson Tee feels ultra-soft and lightweight when you take it out of the package.
In terms of underarm panel visibility, Thompson Tee's are less visible than Knix. The sweat proof technology stays hidden when you leave your arms at your sides.
On a personal note, I love that all Thompson Tee shirts are handcrafted in America. I feel good about supporting a company that stands by the fair treatment of garment workers and holds to environmental standards that aren't always enforced internationally.
I wore my beige Thompson Tee tucked into jeans with a dark green denim jacket. Even though I sweat the entire day through several client meetings, not a single drop of sweat showed through my armpits."
Pros, Cons and Overall Results
Pros
Highly effective sweat and odor protection
Ultra-soft, comfortable fabric
Stays tucked into jeans thanks to the extra length (great for tall ladies!)
Cons
The scoop neck isn't the easiest to hide under all blouses, especially low cut tops. There is a slim fit V-neck style for more wardrobe flexibility.
Fit tip: Some of the online reviews said the arm pads felt a little crunchy—this goes away once you wash the shirt! It's a medical grade material that needs a quick cycle in the washer.
Knix Don't Sweat It T-Shirt
Next up is Knix's Don't Sweat It T-Shirt.
The site doesn't have a ton of info about how their technology works. It's called Fresh Fix Technology® but doesn't provide any additional information about what that means or how it works.
Here are Knix's features:
Sweat blocking underarm panels
Fitted
Breathable
Four-way stretch fabric
Knix Try-On
Here's our reviewer's opinion after wearing Knix for a full workday.
"The Knix shirt feels thick and durable. The material reminded me of what a pair of great leggings feel like — stretchy, elastic and soft.
The shirt was super tight when I put it on, even though it was stretchy and moved with me. It's heavy and substantial enough to prevent super excessive sweating, but definitely not lightweight.
The underarm panels of the Knix undershirt are also long and very visible. They extend from the hem of the sleeve down to the waist.
Because the panels are noticeable, I wouldn't wear the Knix on its own. I wore it tucked into skinny jeans with a loose kimono over it."
Pros, Cons and Overall Results
Pros
Effective sweat protection
Soft, comfortable fabric that was easy to move in
Shorter sleeves than the Numi allow for more versatility with outerwear
Cons
The material felt a bit heavy
The shirt is extremely form-fitting and can feel tight throughout the day, making it a bit hotter than the Numi or Thompson Tee
Numi Signature Seamless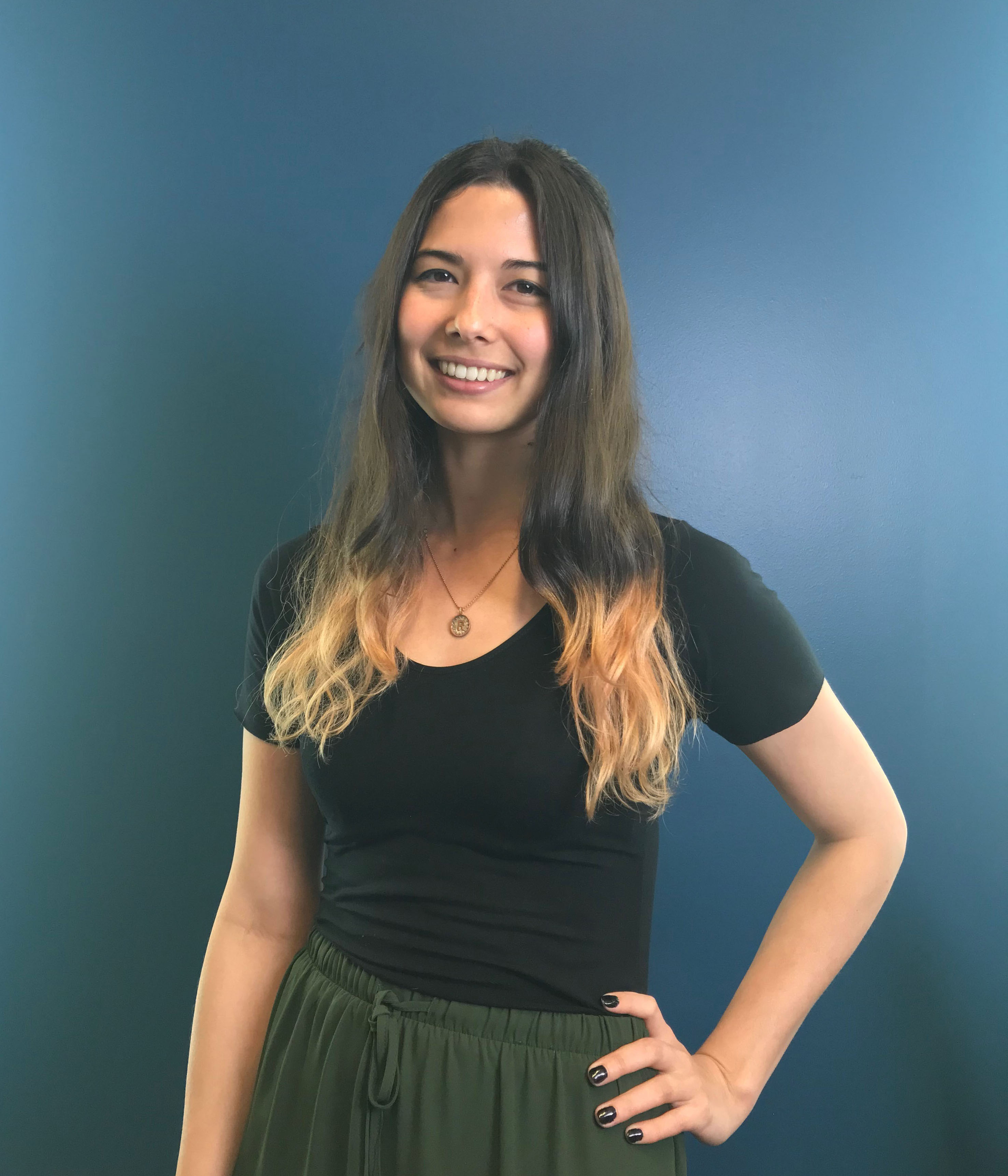 The final option we tested is Numi's Signature Seamless undershirt. At $59, it's the most expensive women's sweat proof shirt currently on the market.
Here are Numi's features:
Snug fit
Soft, fluid fabric
Reversible neckline
Laser-cut sleeves
95% Tencel, 5% Lycra
Numi shirts are built with Sweat-Secret™ Fabric Technology. Made of performance fabric, it's a "one-way moisture transfer system that prevents sweat from seeping through."
Numi Try-On
"My expectations were high for this shirt because it's almost double the price of a Thompson Tee. I was pleased to find that when I took the undershirt out of the package, it felt luxurious. It was soft to the touch and stretchy like spandex. It reminded me of shapewear, but without the silky feel.
The shirt was form-fitting and felt soft against my skin. However, after wearing it for a while, it felt a little tight and uncomfortable, especially in the padded, underarm area.
Since the stitching wasn't noticeable, especially on the black shirt, I wore it as a regular T-shirt without an outer layer."
Pros, Cons and Overall Results for the Numi Undershirt
Pros
Effective sweat protection
Seamless hemlines made the Numi easy to wear and layer with any outfit
Modified scoop neck was deep enough to wear with most blouses
Cons
Because of the seamless hem, the bottom of the shirt rolls up throughout the day
The underarm areas felt pretty tight with the extra sweat protection layer.
Even though the material isn't thick, it could be a little more breathable.
The Verdict: The Best Sweat Proof Undershirt for Women
First, let's cover the basics. Here's a side-by-side comparison of Thompson Tee, Numi and Knix.
Criteria
Thompson Tee
Knix
Numi
Premium, breathable, light-weight fabric
✓

95% premium rayon from bamboo, 5% Spandex

92% nylon, 8% Spandex
95% Tencel, 5% Lycra
Price
✓


$31.99

$48.00
$59.00
Money back guarantee
✓

Wash it, wear it and try it for 30 days

No trial period
No trial period
Try-wash-wear return policy
✓

30-day trial & money back guarantee

30 days — Unworn, must have tags

(Sale items final purchase)

90 days — Unworn, must have tags

(Sale items final purchase)

Extra length for tucking
✓
-
Hems roll up
Handcrafted in the USA
✓


100% U.S. made

Made in China & South Korea
Made in Canada

Discreetness
✓
Extremely large, obvious underarm panels
Sleeves tend to roll up.

Variety of styles

✓

Scoop neck and v-neck, slim fit and original fit options in beige, black, white

Only one style
Various sleeve options
Sweat-blocking technology
✓

HydroShield Patented, sweat proof technology designed specifically for excessive underarm sweating. The first sweat proof undershirt on the market.

Fresh Fix Technology®


(website vague/unclear on how the technology works)




Sweat-Secret™ Fabric Technology




Wicks and absorbs moisture.

Environmentally friendly
✓
While all three shirts combat excessive underarm sweat, Thompson Tee is the only one with patented, proven technology guaranteed to stop pit stains and sweat marks.When you're looking for a great sweat proof undershirt, the top priority is finding one that truly works.
Plus, when you add in price, the fact that they're 100% USA-made and their satisfaction guarantee, the clear choice is Thompson Tee.