All the Best Undershirts for Travel, Ranked
When it comes to traveling, it's crucial to pack clothing that's appropriate, comfortable and versatile. And undershirts are no exception - they're a wardrobe staple for any travel ensemble.
Choosing a high-quality undershirt that works with every outfit and can withstand any situation is vital when you're traveling. But with all the different fabric and style options out there, you might not be sure where to start.
Take a look at our roundup of the best undershirts for travel for your next trip:
What to Look for in a Travel Undershirt
When you're on the go, you need to plan your clothes and outfits strategically. Whether you're traveling for business or pleasure, packing the right undershirt ensures that you're ready for anything.
What are some qualities you should look for when choosing undershirts for travel?
Lightweight: Wearing several lightweight layers instead of one or two heavier ones is a wise strategy for travel. Layering your clothing helps you prepare for any kind of weather, no matter how extreme.
Absorbent: Being on the go can cause you to work up a sweat. Select fabrics that are breathable and absorbent, and don't trap heat or moisture.
Odor control: Whether you're packing for a hike or an important meeting, controlling odor is vital. Bonus points for undershirts that also have sweat prevention capabilities!
Comfort: If your clothes aren't comfortable, you won't wear them. Since undershirts are worn right next to your skin, choosing the right fit matters. Make sure your shirt moves with you and doesn't bind or pinch.
Drying time: Sometimes, you have to create a mini-laundromat inside your hotel room (or tent!). When it's time to wash your undershirt, you want it to drip-dry quickly and be ready by morning.
Versatility and style: Don't pack that grungy shirt you wear when mowing the lawn at home. Choose an undershirt that you can also wear on its own to make the most of your limited packing space.
Pro-tip: Learn how to build a travel capsule wardrobe to reduce excessive packing (and unpacking).
The Best Types of Undershirts For Travel
Different fabrics have different benefits and functions. See how various undershirt fabrics compare.
Natural Fiber Undershirts
Cotton: Cotton is a natural fiber that's widely considered the king of fabrics. Cotton is a classic, comfortable undershirt material - you probably have several cotton undershirts in your closet right now.
Pros: Hypoallergenic, durable and soft, absorbent
Cons: Doesn't dry as quickly, can wrinkle easily
Merino wool: Merino wool is a specific type of wool that comes from sheep in Australia and New Zealand. Unlike other types of wool, Merino wool is naturally lighter, softer and not itchy, and offers superior insulation.
Pros: Keeps you warm in the winter and cool in the summer, soft and lightweight, dries faster than most natural fabrics
Cons: Expensive (around $50 and $100 per shirt), not as comfortable as cotton, not necessarily cruelty-free. Consider clothing made from recycled wool.
Bamboo: Bamboo is a popular fabric due to its silky texture and sustainability. Bamboo fiber is made by breaking down bamboo pulp with enzymes, then spinning it into yarn and fabric.
Pros: UV protectant, naturally antibacterial and antifungal, dries quickly
Cons: Can shrink if laundered improperly, tends to wrinkle more than other fabrics, can be expensive
Synthetic Undershirts
Polyester: Polyester and cotton blends are popular due to long wearability and easy care.
Pros: Strong and flexible, dries quickly, resists wrinkling and shrinking
Cons: Not ideal for those who sweat a lot, not breathable, temperature-sensitive
MicroModal: Stretch modal blends are a great choice for undershirts. They're a combination of synthetic fibers and cotton that stretches well and retains its shape.
Pros: Breathable and soft, doesn't tear easily, absorbent and moisture-wicking
Cons: Doesn't retain body heat, can cause allergic reactions for some individuals, can change color when exposed to heat
FYI: Synthetic fabrics are often labeled as sweat-wicking, meaning they push sweat away from your body. While they might cool you down, they aren't the best option for preventing sweat stains. If you sweat a lot, consider natural fiber undershirts instead.
The Best Undershirts for Travel, Ranked
Let's dive into our top picks for travel undershirts!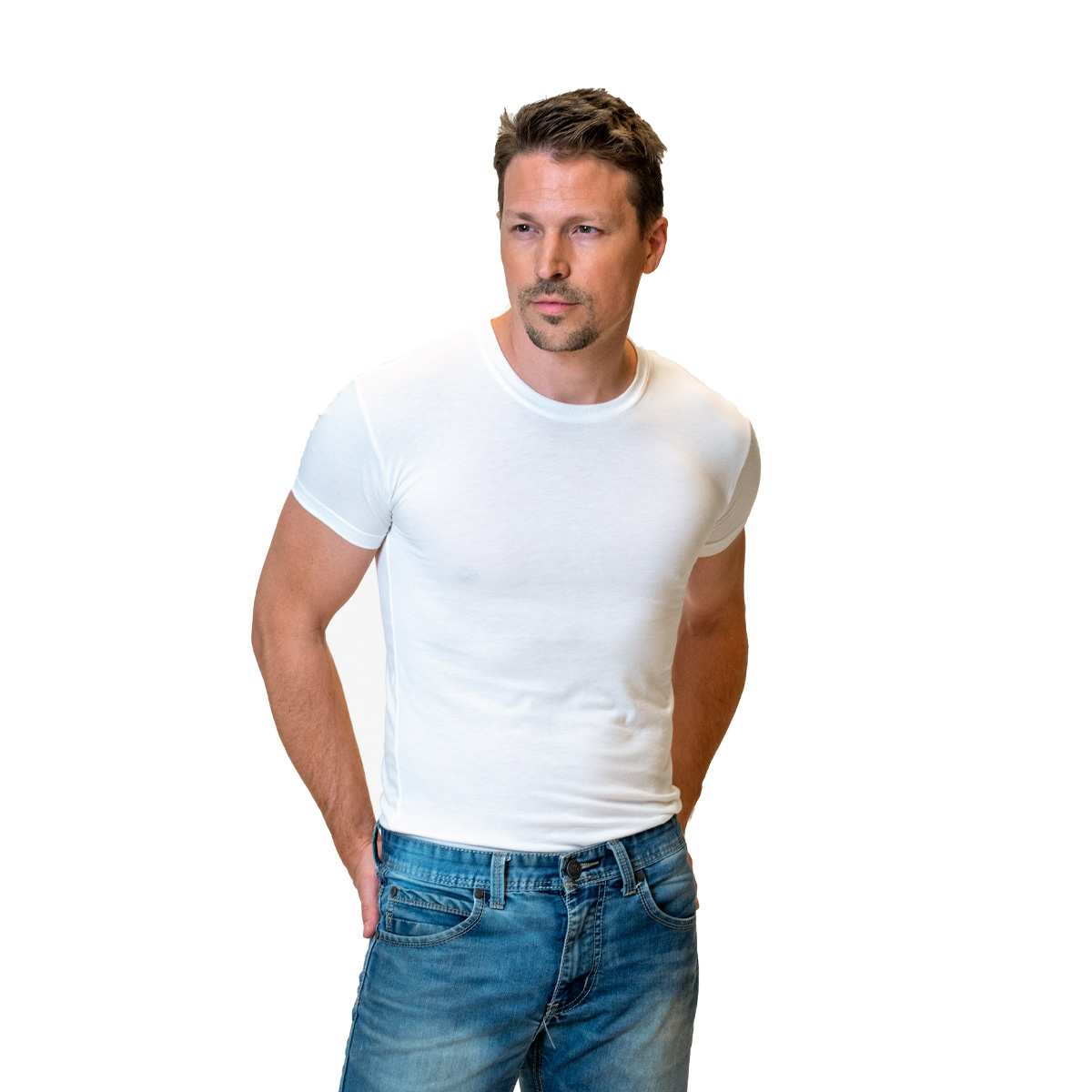 Named Best Men's Undershirt Overall by Business Insider in 2019, Thompson Tees provide the ultimate defense against sweat and odor.
The form-fitting style hugs your body for a streamlined look and provides a discrete layer underneath your clothes.
Choose from several options, including their bestselling sweat proof option in short sleeve or long sleeve versions, or the premium OdorShield™ option.
100% premium combed cotton
Prevents pit stains and odor day after day, wash after wash
Also available in a slim fit style (made from 95% rayon from bamboo and 5% spandex)
Price: Starts at $27.99 for sweat proof undershirts and $19.99 for OdorShield™ shirts
The Strongcore Merino Tee is an elevated classic, cut slightly lean with a dropped tail. It does double duty as an undershirt or an everyday wear shirt.
89% Merino wool, 11% nylon
Temperature regulating
Order one-half size larger to accommodate for shrinkage
Price: $96.00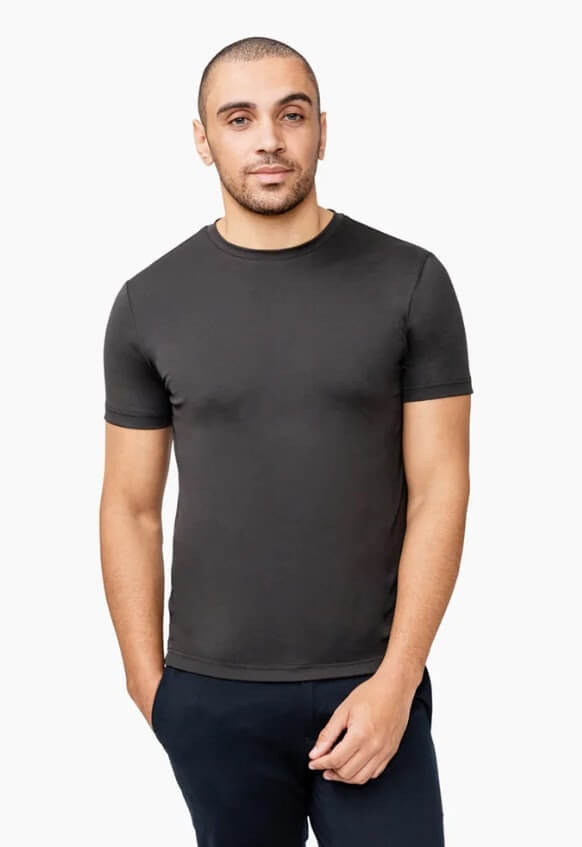 Ministry of Supply's Responsive line fits snugly next to your skin as a base layer under a dress shirt or sweater. The Responsive tee is made with recycled materials to lower environmental impact.
Made with 100% recycled polyester
Fits snug through the body and bicep
Quick-drying
Price: $35.00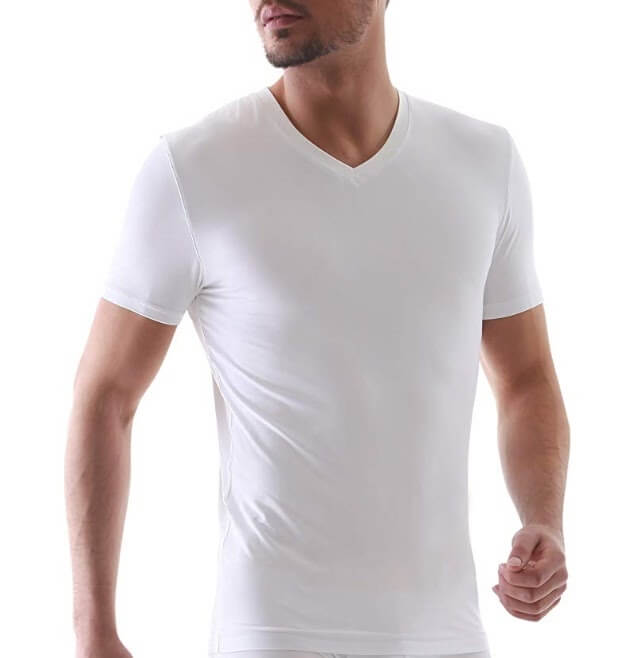 David Archy carries men's loungewear made from a variety of comfortable fabrics.
92% micro modal, 8% spandex
Close-fitting and tagless
Stays tucked as a base layer shirt
Price: $43.99 for a 3-pack
Travel Comfortably in a Thompson Tee
Preparing for travel can be a pain. Make your next trip easier by packing or wearing Thompson Tees.
Each sweat proof Thompson Tee contains patented Hydro-Shield technology that traps moisture, allowing it to evaporate and escape as vapor. Easily prevent 100% of armpit sweat from reaching and staining your outer layers of clothing.
If you're not a heavy sweater, Thompson Tee's premium undershirts have you covered. These shirts contain revolutionary OdorShield™ technology that keeps you smelling fresh all day.
Jetset with confidence and extend the cleanliness and lifespan of your travel wardrobe. Try Thompson Tee risk-free today!