The Best Deodorants to Get You Through a Sweaty Workout
Picture this. You just finished a long, exhilarating workout. You're pumped and ready for the day. Nothing can go wrong, right?
Until you get a whiff of something that smells all too familiar...B.O.
You instantly assume it's someone else, but the smell keeps getting thicker and stronger. You do the obligatory arm lift to smell your pits to double check.
And, boom, there it is – the smell, the sweat and humiliation you can't escape.
Working out = sweat. You don't want to be distracted by your own B.O. when you're in the middle of a hard, sweaty workout. That's why you need a strong deodorant to prevent the odor and bacteria buildup from happening in the first place.
But not every deodorant is created equal. It's not a one-size-fits-all approach (we're not Cinderella).
Body chemistry, the specific workout and skin type all impact which deodorant will work best for you. And, with so many deodorants on the market, it can be challenging to figure out where to start.
That's why we created a definitive guide to the best deodorants for working out. Learn what you need to look for in a workout deodorant so you can release those endorphins worry-free.
What To Look For In Your Workout Deodorant
First, let's cover what you should be looking for in a workout deodorant. Your skin type, personal preference and workout regimen all play a role.
Ingredients: There is a lot of misinformation around the makeup of antiperspirants, particularly aluminum. Most of the claims are unsubstantiated — aluminum is one of the most effective over-the-counter ingredients for controlling sweat.
Antiperspirants don't cure body odor, but they're the first line of defense against B.O. They clog your sweat ducts, preventing it from reacting with bacteria on your skin and producing odor. Antiperspirants are the best option for sweaty workouts, including HIIT, boot camp and running.
Scent: Fragrance is a highly personal preference when it comes to your deodorant. While a scent doesn't stop sweating, it can help to mask it, which can come in handy during and after a particularly sweaty workout.
Residue: There's nothing more annoying than swiping deodorant just before a big workout to find white remnants on your armpits or clothing. If it's a consistent issue, try a gel or spray formula.
Type: Deodorants and antiperspirants come in gels, sticks, creams and sprays. If you have sensitive skin, gels and sticks have soothing, non-irritating ingredients.
The Best Deodorants for Working Out
Best Spray Antiperspirant: Dove Dry Spray Antiperspirant
If you're looking for an easy-to-apply deodorant to store in your gym bag between workouts, check out Dove's Dry Spray antiperspirant/deodorant.
The alcohol-free formula stays on dry and leaves your underarms soft and smooth for up to 48 hours. You can choose from 20 different varieties, each with a unique quality and same overarching formula. Dove's alcohol-free formula is an excellent option for sensitive skin.
Best Antiperspirant-Deodorant: Degree Men Cool Rush Antiperspirant Deodorant Stick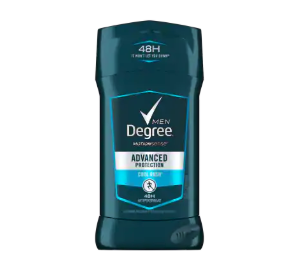 This powerful men's antiperspirant deodorant stick promises to tackle sweat and odor for up to 24 hours. Its long-lasting freshness is designed to throw your B.O. concerns out the window so you can focus on your workout.
Bonus tip: Apply in the evening before bed so it can fully absorb into your skin and boost your protection for the next day.
Best Prescription Deodorant: Certain Dri Prescription Strength Clinical Roll-On Antiperspirant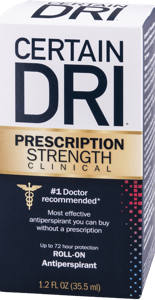 Certain Dri is a prescription strength antiperspirant developed with a high concentrate of aluminum chloride, the top doctor-recommended ingredient for excessive sweating. This ingredient penetrates sweat glands deep down to reduce excessive sweating before it starts. It's great for daily use to keep underarm sweating and odor under control and perfect for high-intensity workouts! Bonus: it's a certified cruelty-free product by PETA.
Best Natural: Tom's Natural Aluminum Free Deodorant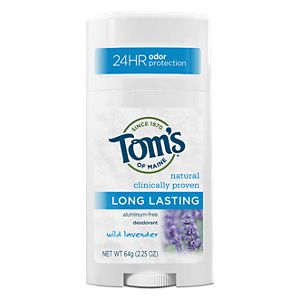 While aluminum is a powerful ingredient in most antiperspirants, some people like to go with a more natural approach. Just because it's natural, doesn't mean it's not powerful! With no artificial preservatives or fragrances, Tom's natural deodorants are long lasting and fight odors for up to 24 hours.
Best Unscented: Ban Unscented Roll-On Deodorant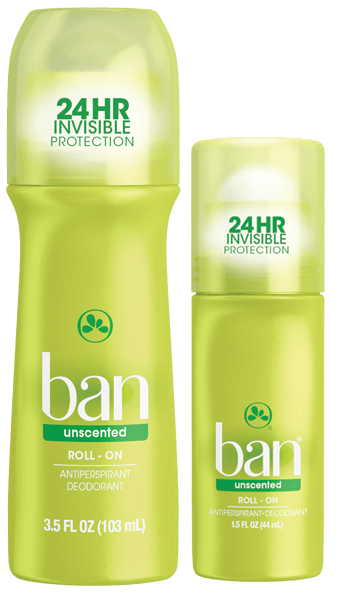 While fragrance can mask body odor, it can also irritate skin. Ban deodorants and antiperspirants are effective unscented options for men and women. Even though it's unscented, this powerful roll-on actively targets sweat and odors for up to 24 hours. It's ideal for sensitive skin and uses patented technology to eliminate odors rather than covering them up.
Ban Pit Stains With Thompson Tee
Still sweating after your workout? Throw on a Thompson Tee.
With Hydro-Shield sweat proof technology, Thompson Tee's patented undershirts will stop armpit sweat in its tracks, leaving you pit-stain free throughout the whole day.
If you're not a heavy sweat try a fitted Premium Undershirt from Thompson Tee. Made from a Supima cotton and MicroModal blend and infused with Odor Shield™ technology, this closet staple will keep you smelling fresh all day long.