SHAPE Magazine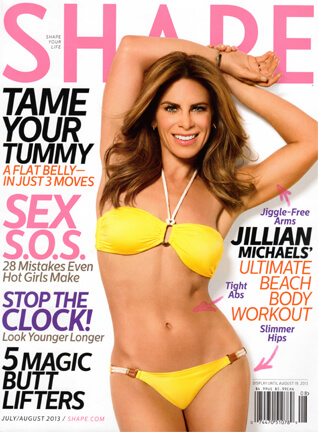 Our spotlight in SHAPE Magazine proves that our Thompson Tee products aren't just for men, but for the trendy fashion world of women as well. Receiving an "Editor's Pick" spot in the popular fitness publication, we are confident that our undershirts can be worn by anyone in any situation when you're looking to stay as dry as possible and look good at the same time. The SHAPE piece also demonstrates that Thompson Tee can produce sweat-proof shirts that are specially contoured for women with a fashion sense and can go with any array of outfits.
The issue features a lovely lady with one of our scoop-necked shirts that are made of breathable cotton to feel light and soft all day long for extra comfort. If you are worried about matching in your wardrobe ladies, we are working on bringing you a variety of new colors to fit every occasion and every season. Nothing says comfort and confidence when you're out and about like the Thompson Tee with Hydro Shield Technology! You can read what SHAPE Magazine had to say about our product line below: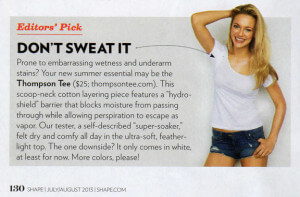 Remember ladies, you really can have fashion and functionality with a Thompson Tee!